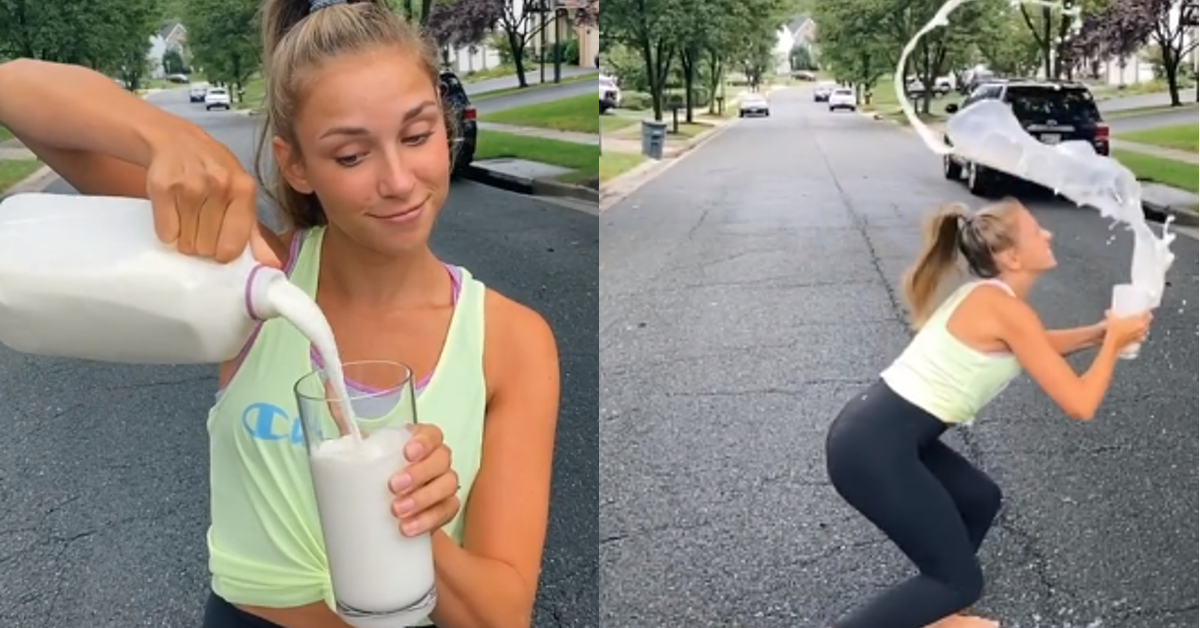 The TikTok Got Milk Challenge Can Get Really Messy if You Aren't Careful
There are plenty of methods one can implement to help stave off the looming crush of existential dread, that before you know it, one day you'll be on your deathbed and you'll realize you never went after the things in life that truly made you happy or worked hard enough to become the person you wanted to be. A good way to get your mind off of that silly business is taking part in TikTok challenges, and this Got Milk one is pretty darn popular at the moment, plus it encourages sheer excellence.
Article continues below advertisement
What is the TikTok Got Milk Challenge?
Katie Ledecky is an absolute legend when it comes to athletics and swimming in general. She won five Olympic gold medals and 15 World Championship medals, the most for any female swimmer ever. So if you find yourself rolling your eyes at social media challenges started by rich, pretty trust fund kids and want your TikTokers to have some serious accolades on their resume before you share that stuff (look at you with your high standards), then Katie's Got Milk Challenge is for you.
Just try watching her clip below and not have your mind absolutely blown. Katie pours a tall glass of milk, balances it on her head, and then proceeds to swim an entire lap in the pool without spilling a single drop of milk. That's how much control of her body she has. That's how good of a swimmer she is. Just watch this right now and tell me this isn't absolutely nuts.
Article continues below advertisement
Loads of other people are participating in the challenge, and while many of them are filled with the annoying and fake overly-expressive faces that have become the norm on social media videos, and nowhere near as impressive as Katie's glass of milk challenge, a lot of them are still pretty darn cool.
This guy's glide and moonwalk dance number is pretty good and he didn't drop any milk as per the official challenge's rules.
Article continues below advertisement
Article continues below advertisement
There were a lot of people though who must've not gotten the memo about not spilling the milk because they went and just did things that they love doing and spilled the milk anyway.
Some people wasted a lot more dairy than others.
Article continues below advertisement
And while there were lots of TikTokers who put their own spin on the challenge and utilized it as a way to crack a joke, there were a ton of others who legitimately did really cool stuff while not spilling (for the most part) any milk whatsoever. I mean, when's the last time you saw someone tricking out on a yo-yo?
Article continues below advertisement
Article continues below advertisement
There are a lot of folks who think that "Big Dairy" is behind the Got Milk challenge. The advertising campaign became a smash hit in the '90s thanks to Goodby Silverstein & Partners. Could it be that, like The Mannequin Challenge, loads of people are participating in the recorded feats of greatness because they've been duped or paid by milk companies to shill the beverage?
Article continues below advertisement
Whatever the reason, there are still some pretty awesome videos featuring big glasses of milk circulating TikTok. Are you going to participate in the challenge?