Tik Tok Users Are Supposedly Letting a Filter Decide Where to Pierce Their Faces
The latest social media challenge is the TikTok Piercing Roulette challenge — but are people really letting an app decide the fate of their faces or is this all for show?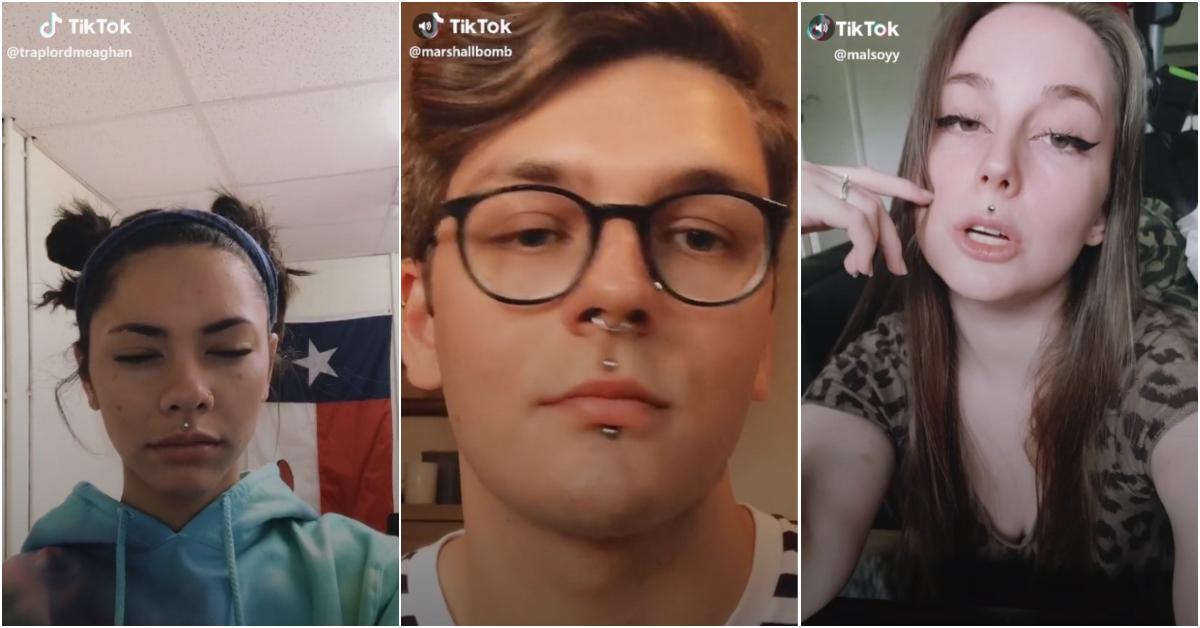 One of several recent "challenges" to sweep TikTok is "piercing roulette," where users on the social media app use a piercing filter on Snapchat to randomly select a facial piercing placement. And then they supposedly get that same piercing on their actual face.
Article continues below advertisement
Though it appears not a ton of people are flocking to tattoo and piercing salons because of the challenge, a few TikTok users have taken the dare seriously — in a few cases even piercing themselves, which is super not recommended. Most of the people who seemed to legitimately get pierced left the needle in the hands of a licensed pro, thankfully.
Is the TikTok piercing challenge fake?
Depends on the user and how pure you think the results should be. Someone with the username @traplordmeaghan didn't fake her piercing, but she did fake the randomness of the "roulette" aspect of the challenge — by her own admission.
Article continues below advertisement
"Yes, my eyes were open in my piercing challenge video," she says. "I'm not gonna get a random ass piercing. I planned it to where it would land on the septum piercing because I was already about to go get it." She continues, "I just wanted to make a funny video."
Article continues below advertisement
Most of the videos we've seen, however, either had people sporting fake magnetic piercings or in the case of the girl above, they faked piercing themselves when they already had an existing piercing in that spot. But hey, maybe some were just looking for a reason to change up their looks and used this viral challenge as the impetus.
Article continues below advertisement
It's safe to say the majority are fakes, based on some informal analysis by professional piercers. A lot of the post "piercing" subjects sported jewelry much larger than the standard studs you get as a starter when you first get pierced, and they don't have the telltale redness and swelling of a fresh piercing in many cases.
Article continues below advertisement
While we hope this goes without saying for most people, I'll just take this opportunity to stress that you should always use a professional piercer in a sterile piercing salon for any piercing, but especially when dealing with your face.
You could end up with an improperly placed piercing or a mild infection, and those aren't even the worst possible consequences. You could also contract all manner of illnesses, from tetanus to flesh-eating bacteria. It's just not a good idea.
Article continues below advertisement
What is the song in the TikTok piercing challenge?
Most of the #piercingchallenge videos use a mashup of two songs: "Loving is Easy" by Rex Orange County followed by "No Ex's" by Sage the Gemini featuring 03 Greedo.
So far, it doesn't appear the Bay Area rapper has reacted to kids pretending to or actually mutilating their faces to his music.