TikToker Sees Huge Group of Customers Headed Into Store While on Break, Sparks Debate
A TikToker went viral for her relatable reaction to seeing a throng of customers walk into her store while she was on break.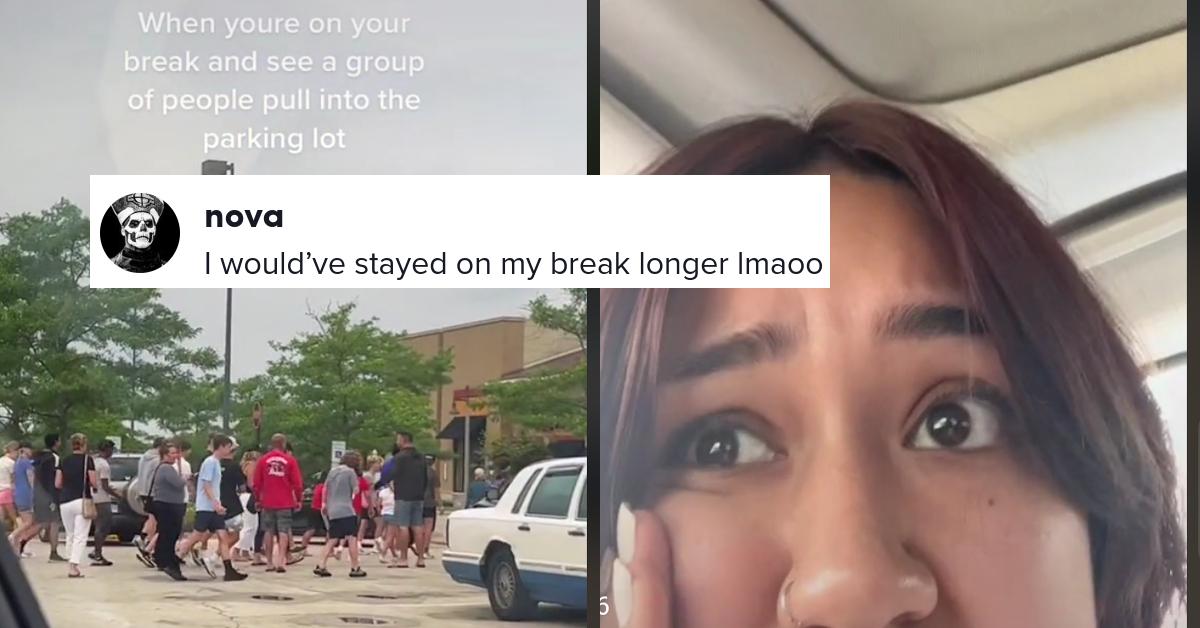 When you're in the midst of a strenuous work day without any relief in sight, that short break you get in the middle of your shift can start to look like a godsend. However, there are a lot of Americans who've stated that they aren't able to take lunch breaks and leave the mounting tasks they have piling up, or feel as if they need to assist fellow employees who may have been suddenly dealt a ton of extra work out of nowhere.
Article continues below advertisement
Like if you're a server or retail employee who's expected to stand on their feet all day, or are working any other job that requires you to do so, then you'll probably appreciate some time to sit down and rest your toes.
But what happens if, while you're on break, you see that you've got a ton of work just waiting for you once it's over. Would that put a bit of a damper on your personal time?
Article continues below advertisement
That seems to be what a lot of TikTokers thought after watching this now viral clip from a user on the popular video-sharing platform who posts under the handle @daydreamingmeli.
Mel uploaded a video of her sitting in her car while on break and she looked on in horror as she saw a massive group of customers walking into the presumed restaurant where she works in.
Article continues below advertisement

Mel looks on, worried that she's going to have to tend to this unwieldy gathering of customers once her break is over, and throngs of other users on the platform sympathized with her. A text overlay on the video reads: "When you're on your break and you see a group of people pull into the parking lot."
Article continues below advertisement

The caption in her video reads: "Send help," and many folks' sentiments echoed her forward-thinking worry.
"absolutely not"
"This is me almost every Saturday with AAU basketball teams"
"I would've stayed on my break longer lmaoo"
"I would go straight home"
Article continues below advertisement

So how did Meli handle the break? Well, as it turns out, she had nearly an hour left on the clock for her personal time, so she decided to just exit the premises and headed to a nearby Starbucks instead.
"I had like an hour left on my break LMAO i went to Starbucks"
Article continues below advertisement

Many commenters said they too would probably leave the premises because if their co-workers saw that they were in the area then they would probably be asked to lend a helping hand, despite it being their designated break time.
Article continues below advertisement

Others just said that the largest groups always seem to come at the most inopportune times at their own restaurant gigs.
"The entire west lake baseball team strolling into ihop 20 deep 40 minutes before close when im a solo waiter"
"I once walked into work early and saw a swarm of children and hid in the bathroom so they wouldn't ask me to clock in early"
Article continues below advertisement

"one time I got a walk in 18 top an hour before the entire bar side closed and I was the only bartender w a full bar and no tables"
"I walked into work the other day and there was at least half this amount of people just in the lobby waiting to get their order taken"
"Bc you know as soon as you get off it's back to HUSTLINGGGG"
Article continues below advertisement

Have you ever seen a mountain of work just waiting for you once you were done with your break? How'd it make you feel? Did you want to just get in your car and drive home for the day like a lot of TikTokers suggested?