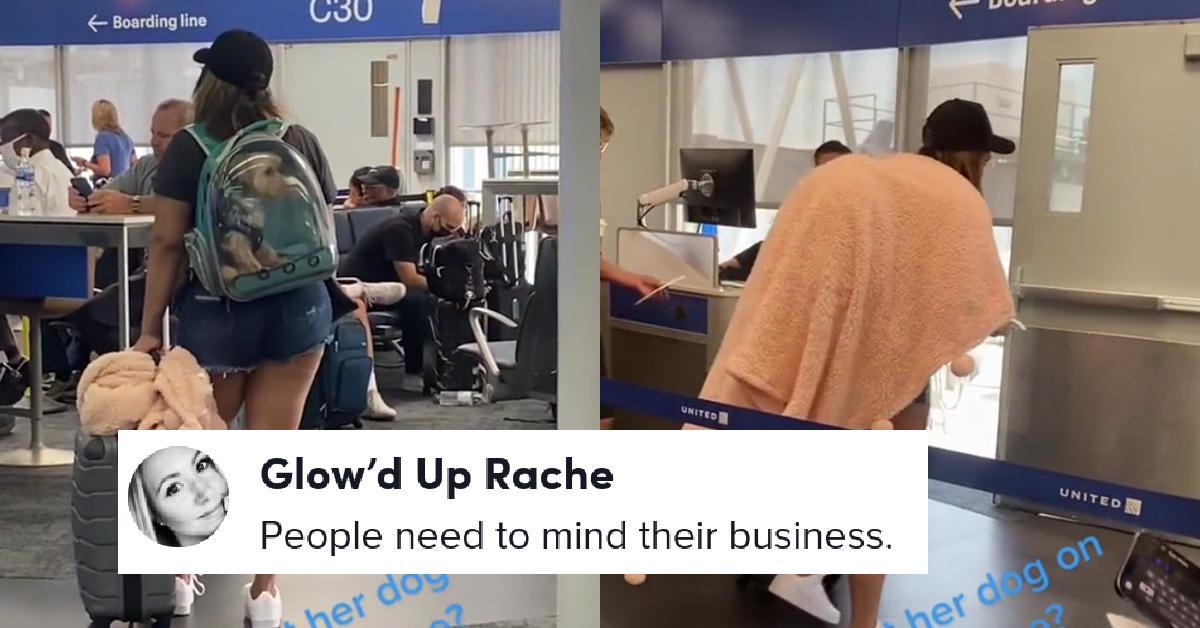 TikToker Outs United Airlines Passenger Who Tried to Sneak a Dog onto Her Flight
Years ago, it seemed like everyone and their mother was bringing all kinds of emotional support animals onto airplanes, like turkeys, squirrels, and probably tons of other untrained animals that have no business being in a confined space flying through the air 6 miles off the ground.
Article continues below advertisement
Airlines have plenty of programs and means of transporting pets, some of which have come under fire in the past for not necessarily taking the best care of folks' furry friends, like a United Airlines attendant who stored a puppy in an overhead bin that passed away. The statistics of pets dying mid-airline transit, however, are fairly slim. In 2018, 24 animals died of the 506,994 that flew on planes.
18 of these 24 fatalities occurred on United Airlines, which has given the airline a bit of a bad reputation when transporting pets. This might be why this woman was attempting to sneak her dog onto a U.A. flight. Either that or she was attempting to skirt the pet transport fee.
At least, that's what TikToker @heyguysitsaa312 thought was happening in a clip that's going viral on the popular social media platform.
Article continues below advertisement
A text overlay on the video reads: "Did she just get her dog on the airplane for free?" In the clip, we see a woman boarding an airplane with a massive blanket draped over her back. She's clearly wearing a backpack underneath the blanket.
Article continues below advertisement

The video then cuts to the woman standing around in the airport without the blanket on her backpack. It's a clear animal transport backpack and inside is a cute little dog looking around its surroundings. Draped over the woman's carry-on luggage is the same blanket she used to "smuggle" her pup onto the plane.
Article continues below advertisement

While it's unclear as to whether or not the dog was inside the backpack under the blanket, many TikTokers thought that there was no other logical explanation as to why the woman would be walking onto the airplane with the blanket on her person in that manner.
Article continues below advertisement

There are several rules and stipulations that accompany being able to fly with an animal accompanying you. Generally speaking, if someone has a service animal, which are usually dogs, these certified assistants are able to go on an airplane.
Article continues below advertisement

American Airlines, for example writes: "Fully-trained service dogs may fly in the cabin at no charge if they meet the requirements.
A service animal is defined as a dog that's individually trained to do work or perform tasks for the benefit of a qualified individual with a disability, including a physical, sensory, psychiatric, intellectual, or other mental disability, including but not limited to:
Visual impairments
Deafness
Seizures
Mobility impairments
Post-traumatic stress disorder
Our team members are trained to ask certain questions to determine if your animal is a service animal acceptable for travel."
Article continues below advertisement

A.A. also stipulated that there's a distinct difference between service animals and emotional support animals: "Please note, service animals in training, emotional support animals, and comfort animals may travel as pets, not as service animals. All requirements and applicable fees will apply."
Article continues below advertisement

Great Pet Care however states that "lap dogs" and other pets under 20lbs can usually board airplanes with passengers, but that varies from air travel company to air travel company: "Most airlines will allow dogs that weigh below 20 pounds in the plane's cabin as long as the dog is secured in a carrier at all times during the flight and is not a disturbance to fellow passengers. If a dog is larger than 20 pounds, the airline may require your dog to fly in the plane's cargo hold. Weight restrictions vary by carrier, so make sure to double check with your airline before booking a ticket."
Article continues below advertisement

The United States Department of Agriculture also cautions against flying with very young puppies who have yet to be weaned off of their mother's milk and recommend that they be at least 8 weeks of age.