Tori Roloff Teases Plans for Baby No. 3
Is Tori Roloff pregnant with Baby No. 3? Not yet, but she teased fans with the possibility of expanding her family with Zach Roloff.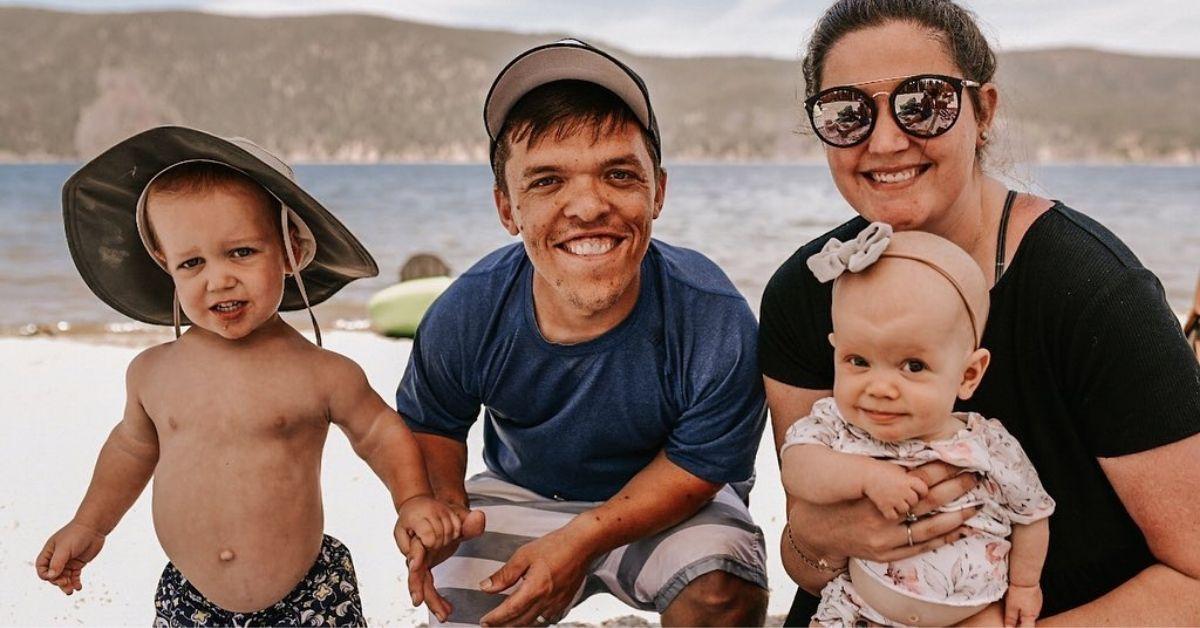 Tori Roloff has been sharing the adventures of her life with her husband and two kids on Little People, Big World. Tori is married to Zach Roloff, a member of the Roloff family who jumped into spotlight for their TLC show. Currently, the happy couple are raising their two kids, Jackson and Lilah, but it sounds like there may be plans for Tori to be pregnant with Baby No. 3 sooner rather than later.
Article continues below advertisement
Tori Roloff is on the latest season of 'Little People, Big World' and so are her kids.
In Sept. 2020, Season 21 of Little People, Big World debuted on TLC, and Tori and her husband Zach tackle issues surrounding their kids' health. Tori was seen in a sneak peek of an episode discussing her worries about her second child, 10-month-old Lilah, who has Achondroplasia, a form of dwarfism, being in pain.
Article continues below advertisement
The mom-of-two has her days filled with caring for her children who have a few extra obstacles since both Jackson and Lilah have been diagnosed with dwarfism, the same condition as her husband, Zach, and both his parents.
Despite being worried about her children's health, Tori teased she may soon be pregnant with Baby No. 3.
Tori has a very active Instagram page where she shares snaps of her growing gorgeous family and talks with her fans. She's got over 1.5 million people who follow her profile, and she's always engaging with her fans. So, when someone asked her what her family plans were, she didn't shy away from answering.
Article continues below advertisement
According to The Hollywood Gossip, Tori was recently asked by one of her fans on social media through Instagram Stories, if she would be interested and willing to expand her family. She answered the question in the clearest way as she could.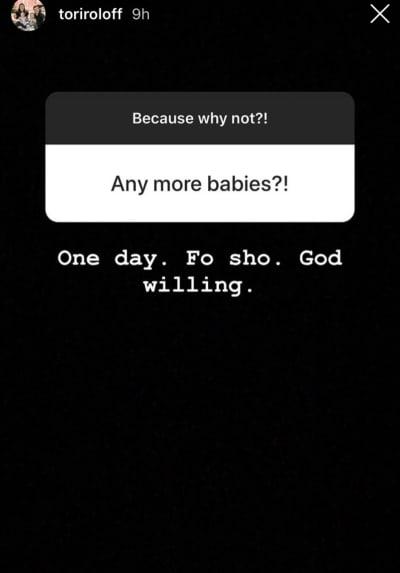 Article continues below advertisement
"One day. Fo sho. God willing," the 29-year-old TLC star said after opening an Instagram Q&A opportunity, in response to being asked if she and Zach would have "any more babies."
This isn't the first time Tori has hinted at wanting to expand her family and being open to the idea of becoming pregnant with Baby No. 3 — or even Baby No. 4.
In April 2020, during an interview with People, Tori said she's open to expanding their brood. "Originally I was like, 'Two kids is my max,'" Tori said to the publication. "But I can definitely see us having more."
Article continues below advertisement
Zach chimed in after with a number of kids the two could see themselves parent. "I could do three or four!" he said.
At the time, both Tori and Zach were on the same page that it may be too early to think about expanding, since Lilah was only 5 months old at the time. However, at the time of answering the Q&A question, their youngest was close to her first birthday, so they may be starting to think about their baby plans for the future.