TikToker's Dashcam Catches Toyota Dealership "Wrecking" His Stick Shift, They Refuse to Fix the Damage
A Toyota GR86 owner reviewed dash came footage after his car was serviced and caught an employee "wrecking" his manual car.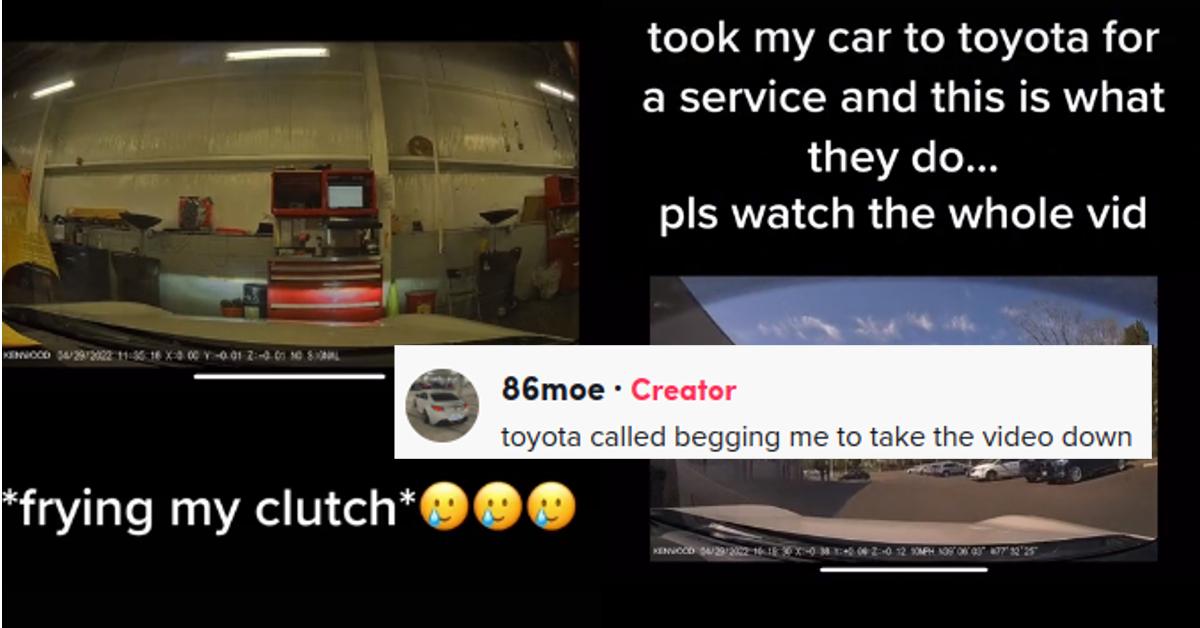 The automotive landscape is always rapidly changing from year to year in seems, with car brands in a race to always trying to outdo themselves. Well, for the most part anyway, let's just try and forget that Nissan and Toyota were trying to shove ancient infotainment systems down our throats before finally adopting Apple Car Play/Android Auto, but that's a digression.
Article continues below advertisement
For the longest time, there was always a debate about manual vs automatic transmission drivers. The overwhelming majority of cars were powered by internal combustion engines which required transmissions to operate. Now some manufacturers made auto transmissions that operated a bit more effectively than others, which meant that servicing/replacing them didn't need to happen often.
But adept manual transmission drivers could pride themselves on the fact they weren't beholden to the whims of a crumby batch of auto trans, no, they could shift their own gears thank you very much, and were the masters of their own driving fate. And while many PHEV and EV cars obliterate the need for "shifting," the majority of folks who drive cars still drive gas engines. And there are those who absolutely love driving a manual.
But what happens when you take a car that a lot of people don't know how to drive in for service?
Article continues below advertisement
TikToker @86moe uploaded a video that featured dashcam footage from his Toyota Gr86's visit to the AutoNation Toyota shop in Leesburg. The small sports cars carry on that old-school performance manual DNA of Supras and MR2s.
Article continues below advertisement

There seems to be a disparity between the number of people who actually drive a stick and those who say that they know how to drive a stick shift automobile. In theory, it seems easily enough: you engage with the clutch whenever you want to shift gears on the car, but each car is different, and if you don't time shifting correctly, well, you can end up frying the gears on the vehicle.
Article continues below advertisement

While replacing a manual transmission is oftentimes not as expensive as servicing or replacing an automatic one, if you're the kind of enthusiast who loves their car, and if you drive stick you probably do, there are fewer things that'll make you wince in pain more than someone destroying your gears because they can't drive a stick shift.
Article continues below advertisement

What's even worse is that if you don't change gears properly, you can blow out the engine by redlining the motor, all because you wouldn't shift up into a higher gear.
Article continues below advertisement

@86moe not only has footage of the AutoNation Toyota employee flooring it at 30 miles per hour in the dealership's back lot without shifting gears, but he's got audio of them saying that they "feel so bad for this car" and openly admitting to the fact that they don't know how to properly operate a manual transmission.
Article continues below advertisement

@86moe wrote in the comments section that the Toyota dealership is "begging" him to take down the clip, however he said that he's currently using it as leverage from the dealership in an attempt to have his clutch replaced, as he has some pretty solid evidence that the automotive could be responsible for "frying it" as the TikToker says.
Article continues below advertisement

The TikToker went on to say that he's taking the matter up with corporate.
From my own personal experience at a local NJ Toyota dealership I brought my car in to get serviced for an airbag recall, I noticed my car was leaking fluid afterward and the steering wheel was making strange clicking noises whenever I would turn. The shop and corporate pretty much ignored all of my correspondence and tried to charge more than $2,000 in repairs that I only seemed to need hours after bringing them the car.
Article continues below advertisement
However, they only seemed to care about my issue once I began posting about the incident on social media and upon logging complaints with the Better Business Bureau.

How about you? Have you ever had any less-than-forthright dealings with automotive repair shops?