Friends and Fans Pay Moving Tribute to Alex Trebek on Twitter
'Jeopardy!' Host Alex Trebek was in our homes for many years, a calm, authoritative voice of reason and an example of true character.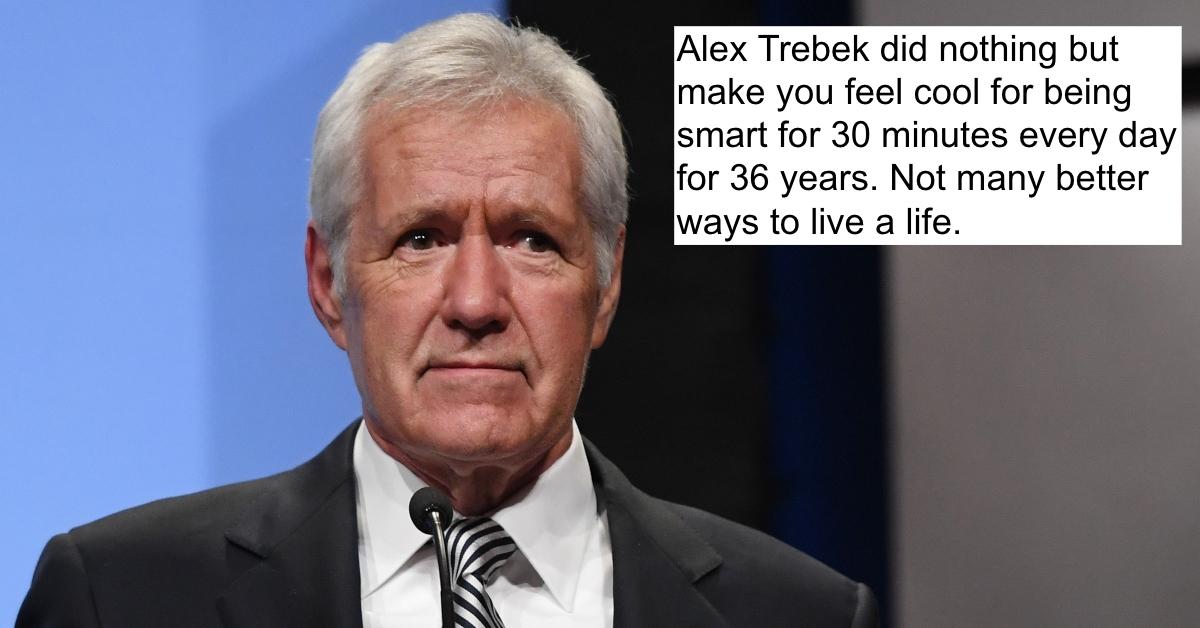 Alex Trebek was a lot of things to a lot of people. For many, he was a somewhat stoic but very warm TV host. We watched him on Jeopardy! nightly, letting him into our homes, always a pillar of solid strength, knowledge, and character. For others, he was an endless champion of education, a generous proponent of the cause. And for others, he was just one of the coolest Canadians out there.
Article continues below advertisement
No matter what Alex Trebek meant to you, it's clear he will be sorely missed by those whose lives he touched either directly or indirectly. When it was announced that Trebek died after being diagnosed with pancreatic cancer, friends and fans from all walks of life took to Twitter to share their tributes to the titan of trivia television.
Although Alex Trebek was a beloved staple of American television, he was Canadian first, and so it was only fitting that Canadian Prime Minister Justin Trudeau express his condolences. In an extended statement, Trudeau said, "Today, we lost a proud Canadian and beloved TV star who was a familiar face to millions of people across North American and around the world. For many of us, Alex Trebek was a daily part of our lives... We looked forward to his quick wit and wry jokes — and the questions about Canada he'd sneak into the show."
Article continues below advertisement
Legendary "nerd" Neil DeGrasse Tyson of course had strong feelings about Alex Trebek. He even posed his tribute in the form of a question, just like the answers on Jeopardy!
Wheel of Fortune aired alongside Jeopardy! for many years, so Wheel of Fortune host Pat Sajak was obviously extremely affected by the death of his colleague and friend. Similarly, Vanna White shared memories and photos on her Instagram. "There will never be another Alex Trebek and he will be truly missed," she writes.
Article continues below advertisement
Mara Wilson so eloquently captures what Alex Trebek meant to a lot of younger people. He valued education, shared that enthusiasm with the masses, and served as a hero and role model to so many.
Alex Trebek had a signature style of delivering the answers on Jeopardy!, an iconic cadence we'll always remember! And he never changed it, not even while quoting rap songs. This compilation is perfect.
Article continues below advertisement
Alex Trebek was so much more than a host of a TV trivia game show. He was a true supporter of education. What a guy.
Alex Trebek hosted Jeopardy! for more than 30 years. He made his living promoting smart people and being smart and making being smart look cool. Many have said that he inspired them to pursue higher education or even learn English. He had a real impact.
Article continues below advertisement
When Alex Trebek revealed his cancer diagnosis in 2019, the whole continent was rocked. He was so strong and forthcoming in his approach to fighting cancer, and likewise, Jeopardy! contestants and others couldn't help but outwardly express how much they loved and cherished him. This clip will never not make me tear up.
He was simply born to be a TV host. Calm, authoritative, endlessly cool... That was Alex Trebek from the very beginning to the very end.
Article continues below advertisement
I think the saying goes, "Being parodied on SNL is the sincerest form of flattery." And Will Ferrell's Alex Trebek impression was legendary. We also lost Sean Connery in the same week, which is one heck of a coincidence.
Finally, I'll leave you with the way Alex Trebek himself wanted to end his public run. Just a class act to the very end. He will be sorely missed.