Trisha Paytas and Nikita Dragun Have Been Battling It out on Twitter
Trisha Paytas and Nikita Dragun have been feuding on Twitter. The two have been trading insults about all the problematic things the other has done.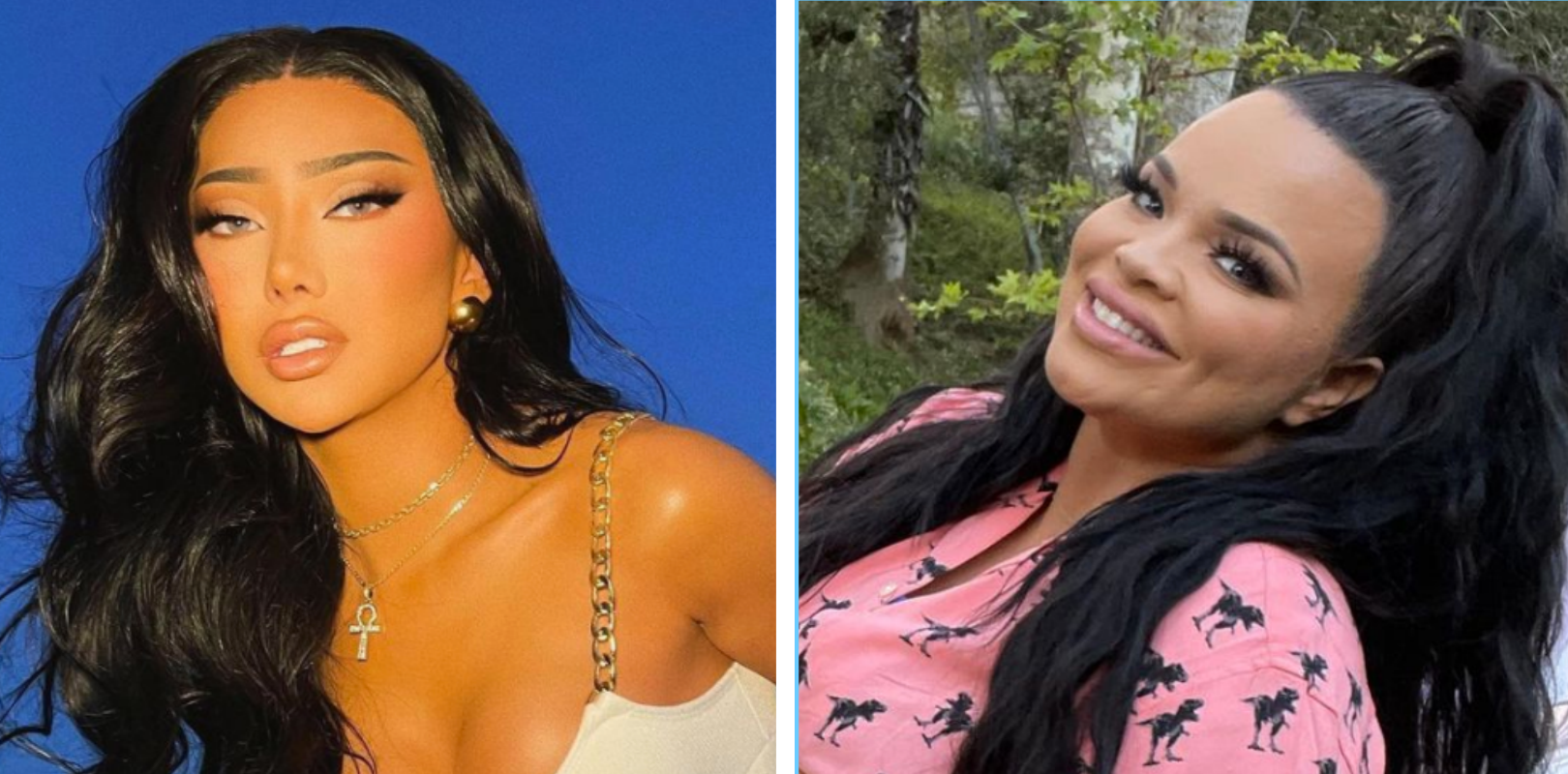 There's so much going on with YouTube influencers right now. David Dobrik is still being canceled, James Charles is being accused of some pretty serious crimes, and Shane Dawson is trying to make his YouTube return. It's a lot, to say the least.
But now, even more people are getting into drama of their own: Trisha Paytas and Nikita Dragun.
Article continues below advertisement
Trisha and Nikita may have never been friends. Or, at least, we haven't seen them in any videos together, but they do know the same people and are aware of each other since they both have such big online platforms.
And recently, the influencers have been clear about how they really feel about each other with all kinds of shady tweets and digs.
What's the drama between Nikita and Trisha?
These two have been going back and forth with each other for a while now. It all started in late March 2021, when Nikita posted about the upcoming second season of her reality show, Nikita Unfiltered.
Along with that, she posted on Instagram Live saying, "Cancel me as many times as you want... my show is still running." Trisha wasn't having it and tweeted, "On Snapchat *crying laughing emoji*," poking fun at the fact that the show is hosted on the social media platform.
Article continues below advertisement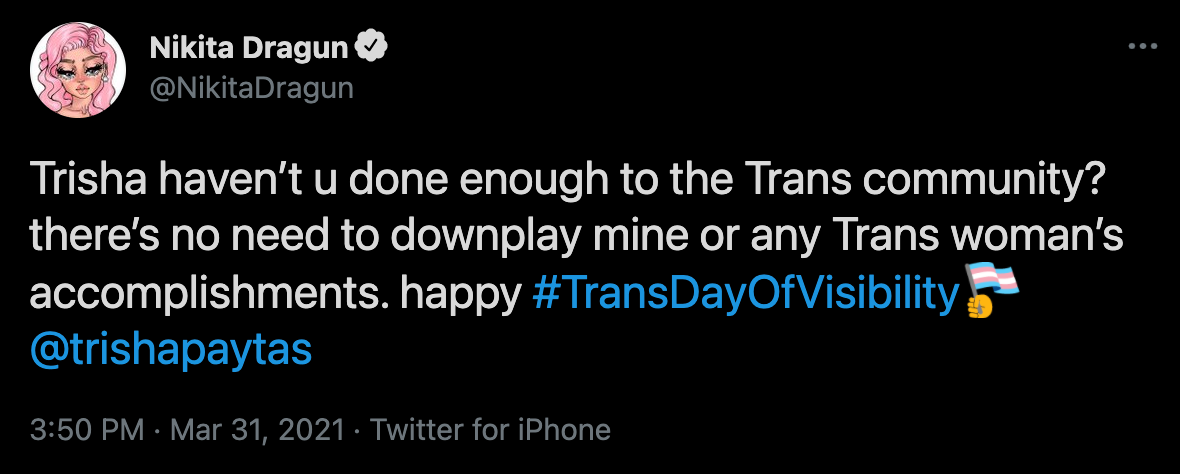 Obviously, Nikita didn't like this. She responded, "30 million viewers and a billboard on Sunset... but anyways let me go back to filming my Netflix show."
Some people called Trisha out because the drama happened on March 31, which is Trans Day of Visibility. It's a day meant to celebrate the success and achievements of trans people, and Nikita is openly transgender. So, to make fun of an accomplishment of hers on that day specifically, wasn't a good look.
Article continues below advertisement
And this is exactly what Nikita called Trisha out on. In a following tweet, she wrote, "Trisha haven't [you] done enough to the Trans community? There's no need to downplay [my] or any Trans woman's accomplishments. Happy #TransDayOfVisibility."
Back in 2019, Trisha posted a video coming out as transgender that wasn't well received. She later deleted the video but posted a follow-up, titled "I'm QUESTIONING." She said the video wasn't meant to offend anyone, and was made to share how she felt.
Trisha called Nikita out for not wearing a mask and hanging out with Tony Lopez.
The tweets didn't stop there. Trisha then came for Nikita for not wearing a mask during the coronavirus pandemic. Nikita has been called out by fans and even the paparazzi for refusing to wear one while out in LA. "How bout wear a mask," Trisha tweeted. "[You are] a trash human during this whole pandemic — [your] makeup ain't that cute."
Nikita fired back saying that Trisha was on Rodeo Drive filming TikToks with people without a mask.
Article continues below advertisement
Trisha also called Nikita out for hanging with people like Tony Lopez and Hair by Jay. Trisha and Hair by Jay had a huge fallout after he went on Instagram Live to trash-talk her. And Tony has been called out for allegedly messaging underage girls.
Trisha also called Nikita out for messaging someone to ask when they were turning 18, and dating Evan Fransisco Gomez, who was charged with taking photos of a young boy in a locker room.
Article continues below advertisement
Even though things have calmed down between the two, that didn't stop Trisha's Frenemies podcast co-host, Ethan Klein, from jumping into the Twitter war to defend her.
In one tweet, he said that he's sure Trisha regrets being friends with Shane Dawson, while Nikita is still friends with James Charles.
The two women also went back and forth about and their success. Nikita posted a pic of her billboard, congratulating Trisha on her "lil podcast," and Trisha said that Nikita doesn't have any real fans, but that's just not true. She's got tons of followers on social media and her videos still get tons of views.
Article continues below advertisement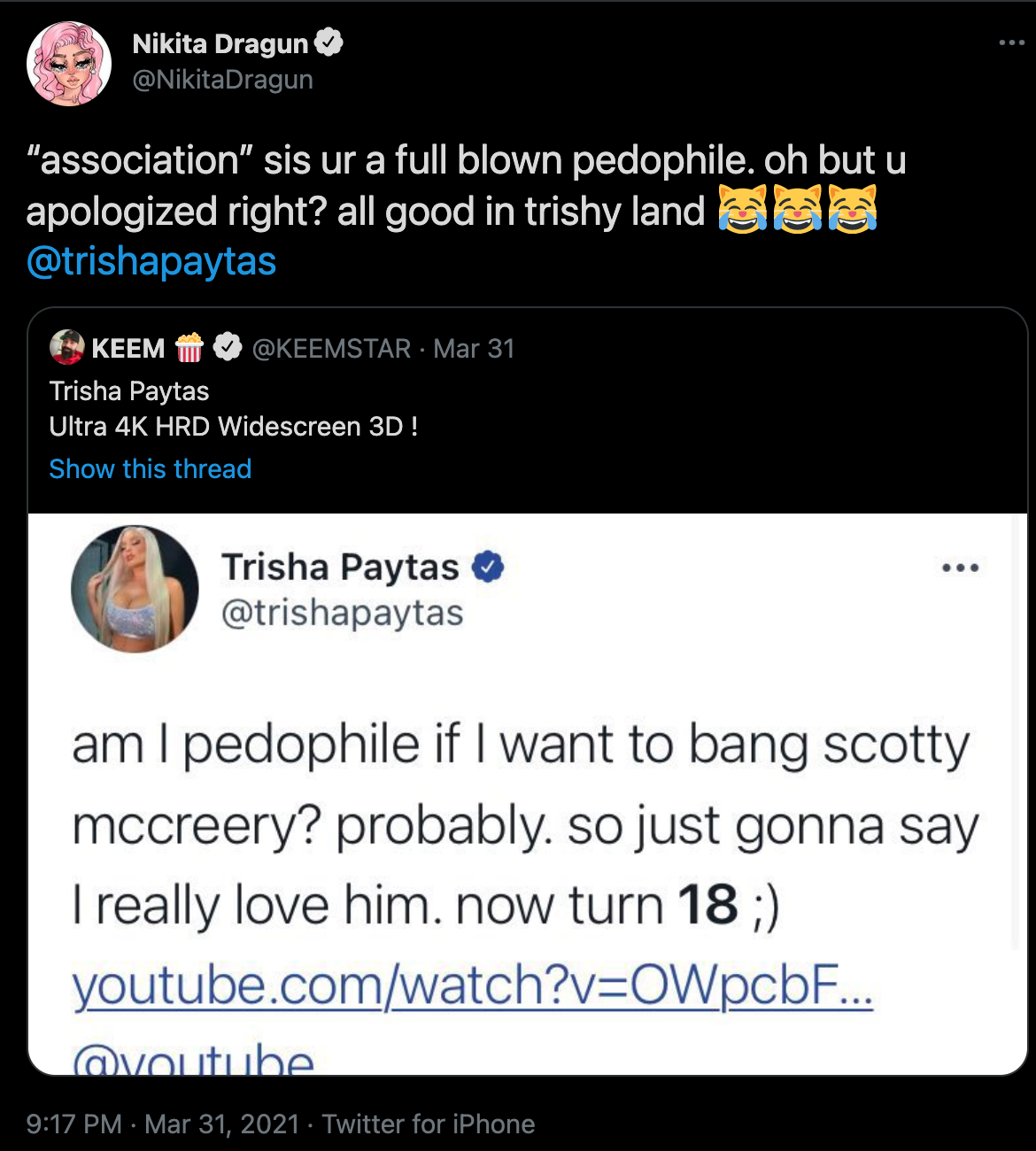 Nikita posted a video calling Trisha out.
At the end of this Twitter feud, Trisha posted a tweet saying Nikita had won: "I blocked her and [am] logging off. She won. I'm honestly so upset I'm shaking."
But Nikita ended her side of the debate with a video calling them both out. She first talked about supporting and uplifting trans people on Trans Day of Visibility, and later went into the drama between Trisha and her.
Article continues below advertisement
"I've been a fan of you even after all the things you've said about me, which, rightfully so," Nikita said in the video. "I've made mistakes and I've grown. I've learned from them. But being a hypocrite and trying to paint me out to be some crazy person and this, that, and the other, when I'm like, girl. You have a past of your own, honey."
Nikita goes on to say that it's "laughable" that Trisha gives herself a pass on problematic things she's done but continues to call out other influencers.