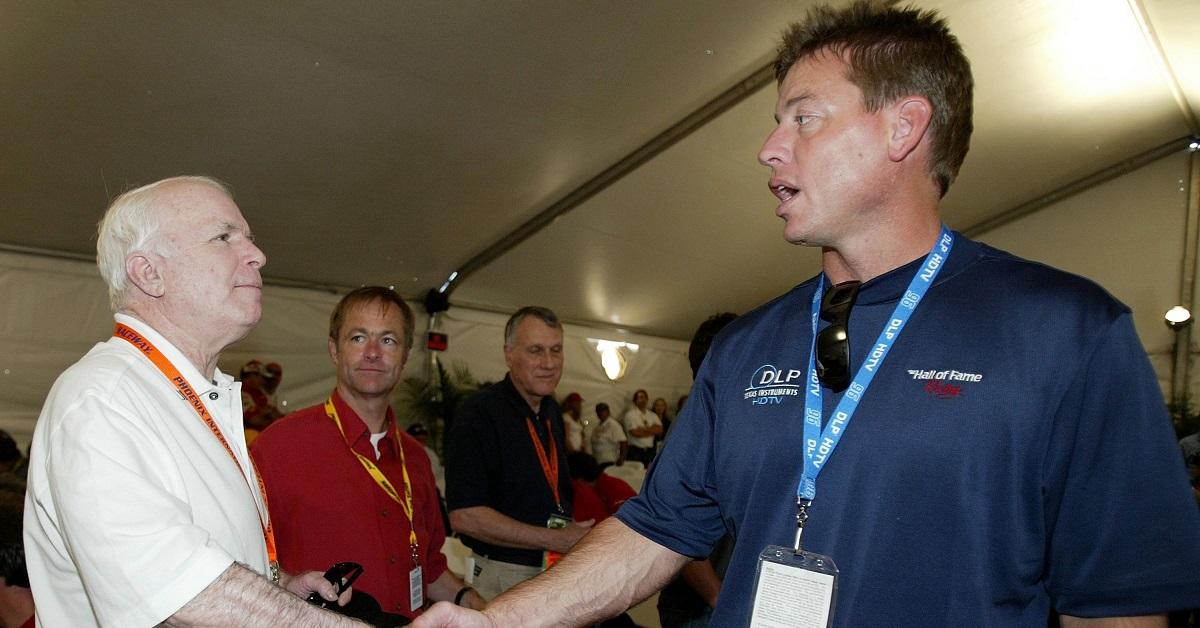 Fans Are Wondering if Troy Aikman Is a Democrat After Hot Mic Incident
During his decades in the limelight, former Dallas Cowboys quarterback Troy Aikman has avoided making too many public statements about politics. The Super Bowl Champion and current Fox commentator has, like many working in and around the NFL, realized that expressing political views is a good way to alienate a huge chunk of the football audience. Following a recent hot mic controversy, though, some are wondering what Troy Aikman's political views are.
Article continues below advertisement
Is Troy Aikman a Democrat?
People are wondering whether Troy Aikman is a Democrat in part because he was heard on a hot mic suggesting that military flyovers during the national anthem were a waste this year. Although the Democratic party doesn't have a unified position on military flyovers, some partisans wondered if these sentiments meant that Troy was a member of the party.
Article continues below advertisement
In fact, Troy is a member of the Republican party and has been for some time. According to publicly available donor information, Troy made substantial donations to Republican candidates in a number of elections. In 2016, he donated $500 to the Republican National Committee, and he contributed sums as large as $20,000 during the 2012 election. Troy is not just a Republican voter, he's a financial supporter of the Republican party as well.
There is not any information yet on whether Troy has made any contributions in the 2020 campaign cycle. In general, he avoids making comments on politics in part because it can cause such controversy among fans of the NFL, who do not come entirely from one party or the other. Still, his donation history speaks for itself, and he has never donated to a Democratic candidate at any level.
Article continues below advertisement
What did Troy Aikman say on his hot mic?
Ahead of the game between the Tampa Bay Buccaneers and Green Bay Packers on Oct. 18, Troy Aikman and Joe Buck were heard discussing how much of a waste the military flyovers are at games where only 25 percent of the stands are full because of coronavirus restrictions. In the hot mic, Troy says "That's a lot of jet fuel just to do a little flyover."
Article continues below advertisement
"That's your hard-earned money and your tax dollars at work," Buck says in response. Aikman concludes by saying, "That stuff ain't happening with [a] Kamala-Biden ticket, I'll tell you that right now partner." Given that comment, it's easy to see how some may have thought that Troy was a Democrat, but Troy has not clarified who he is actually supporting in the 2020 election.
At this time, it's unclear exactly how much that kind of military flyover cost. The Washington Post reported that having jets fly over in a ceremonial role costs roughly $60,000 per hour, which certainly does seem like a high cost. Given the fact that the stands are not filled with fans the way they usually are, it seems that Troy and Joe thought the cost of the jets was not worth it for the few people who actually get to see it happen.