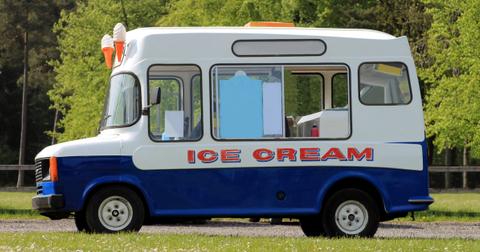 The Surprisingly Racist Roots of the Ice Cream Truck Jingle "Turkey in the Straw"
By Abi Travis

Updated
Every summer, ice cream trucks all around the country go about their daily business of driving up and down neighborhood streets and blasting happy-go-lucky music to announce the arrival of sweet, frozen treats. What many people don't realize, however, is that some of that "happy-go-lucky" music actually has pretty dark origins.
There's one song in particular that seems to be especially popular with ice cream trucks. You probably know it as "Turkey in the Straw." In addition to being the earwormiest earworm of them all, the song also has a somewhat convoluted history with some very racist detours along the way. Here's a quick summary of the history of "Turkey in the Straw."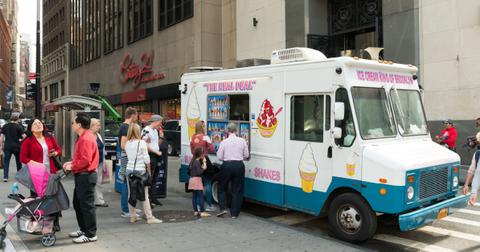 The origins of "Turkey in the Straw" go way back — and they take a deeply racist turn.
We should start by pointing out that when it comes to songs — especially traditional folk songs — history rarely takes a direct route from A to B to C. Many American folk tunes originated from other countries, then took on new lyrics and meanings (or several different versions of new lyrics and meanings) over time. "Turkey in the Straw" is one of them.
When new lyrics are associated with an old melody, the result is called a contrafactum. Even if you've never come across the word before, you've almost certainly come across contrafacta — one modern-day contrafactum is the "Jingle Bells, Batman Smells" version of "Jingle Bells."
Contrafacta are all over music history and are especially prevalent when it comes to American traditional folk music. In the case of "Turkey in the Straw," the melody can be traced back to an Irish ballad called "The Old Rose Tree."
Eventually, "Turkey in the Straw" had taken over as the most well-known contrafactum of the tune. That happened to occur in the early 19th century, right around the time that minstrel shows became popular in America. That's when another contrafactum — "Zip C**n" (using a slur referring to Black people) — started to flourish. Over time, Zip C**n wasn't just a character in a song — he became a stock character of America's minstrel shows.
We're not going to dig too deep into the racist history of minstrelsy in this article (we said this was going to be a quick summary, after all!), but suffice it to say that at this point, "Turkey in the Straw" was already pretty darn problematic. And then it became even more so!
In March 1916, Columbia Records released yet another contrafactum of "Turkey in the Straw." This one was written by American banjo player Harry C. Browne (who was white) and it was called "[N-word] Love a Watermelon." (Obviously, Browne did not censor the n-word in his racist version of the song.) The chorus went like this:
[N-word] love a watermelon ha ha, ha ha!
[N-word] love a watermelon ha ha, ha ha!
For here, they're made with a half a pound of co'l
There's nothing like a watermelon for a hungry c--n.
I think we need to be willing to let go of some old favorites once we know what they are really about. I'm feeling this way about "Turkey in the Straw" because I grew up thinking it was a silly song about a turkey but no... it, like so many things, is racist.

— Rhiannon Orizaga (@RhiannonOrizaga) July 28, 2020
As far as racist song lyrics go, you can't get much worse than that, right? So, why do ice cream trucks still play the tune in 2020? Great question.
In 2014, Theodore R. Johnson III delved into the racist history of "Turkey in the Straw" in two separate articles for NPR's race and culture outlet, Code Switch (we consider both articles required reading on the topic, BTW!). After explaining the song's problematic origins, he asserts that, even if ice cream trucks are playing an instrumental version of "Turkey in the Straw" (and not one of its popular, racist contrafacta), it's impossible to disassociate the tune from its history of blackface, minstrelsy, and racism.
"Turkey in the Straw" isn't the only problematic ice cream truck tune, either. Some ice cream trucks play "Camptown Races," "Oh! Susanna," "Jimmy Crack Corn," and "Dixie," all of which are also rooted in America's minstrel shows (and, therefore, racism).
Most likely, ice cream truck drivers are not knowingly blasting songs with racist roots at full volume as they try to entice kids to buy frozen treats. Still, it's definitely worth learning the history of songs that are widely used like this. And when problematic origin stories come up, maybe just… choose a different song to play, right?
Happily, that's exactly what well-known ice cream brand Good Humor has done. Given the problematic history of "Turkey in the Straw," the brand teamed up with Wu-Tang Clan's RZA to create "a new ice cream truck jingle for a new era."
And guess what? It's a great song that's not even a little bit racist, which is exactly what you look for in a good ice cream truck song, ya know? We're definitely looking forward to hearing ice cream trucks play this new tune instead of "Turkey in the Straw" — and now we're craving ice cream. Anyone else?