Someone Reposted Trump's Tweets Until He Got Suspended — It Only Took 3 Days
@SuspendThePres decided to do an experiment. It would repost every one of Trump's tweets verbatim and see how long it took for the account to get suspended. It look three days.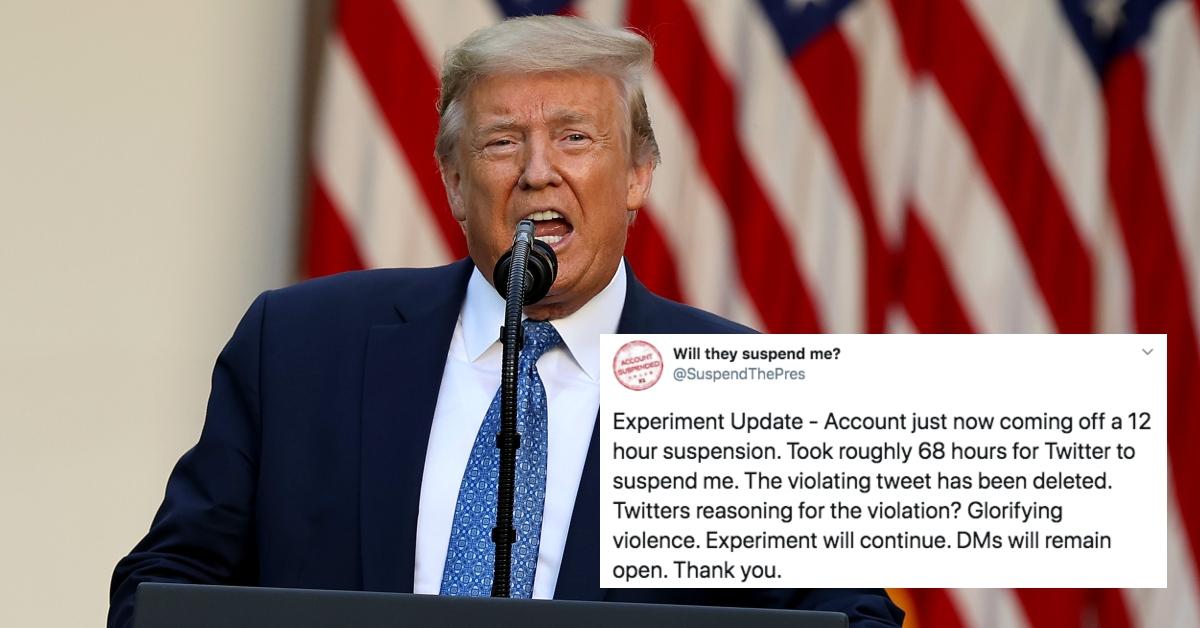 The experiment was simple. Twitter account @SuspendThePres would repost every one of Donald Trump's tweets and see how long it took Twitter to suspend the account. 68 hours later, we have the answer.
Article continues below advertisement
On May 29, @SuspendThePres started tweeting exactly what Trump had been tweeting. The account, run by the person behind @BizarreLazar, was expressly interested in finding out how long it would take Twitter to suspend Donald Trump if he wasn't the President of the United States. The account's bio encouraged people to report the tweets that violate the rules, as they normally would. Three days later, the account was suspended for 12 hours.
Article continues below advertisement
The offending tweet happened to be the very same tweet about which Twitter caused a stir by adding a "warning" to Trump's account on May 28. In it, Trump refers to those protesting the murder of George Floyd in Minneapolis as "THUGS," and states, "When the looting starts, the shooting starts."
The tweet violates Twitter's rules for "glorifying violence." Still, when Trump tweeted it, Twitter didn't so far as to make Trump delete the tweet and suspend his account, claiming that they "determined that it may be in the public's interest for the Tweet to remain accessible."
Article continues below advertisement
It was an interesting experiment because it exposed just how fast Donald Trump's Twitter privileges would be taken away if he wasn't the president. He's getting away with harmful, inflammatory, and offensive messaging precisely because he is in a position of power.
Article continues below advertisement
Speaking with Mashable, @SuspendThePress said, "I wanted to see for myself if he was indeed violating [Twitter's terms of service]. Figured what better way to test out the hypothesis than to see if they suspended me for the exact same language."
While the suspension for @SuspendThePres severely limited their Twitter capabilities for 12 hours — no tweeting, retweeting, or liking posts, just the ability to browse and direct message — the same restrictions were not placed on Trump when he posted that very same tweet.
Article continues below advertisement
@SuspendThePres says that the experiment is not over. He's gone back to reposting Trump's tweets since the 12-hour suspension ended. "I believe we as a free society which is more and more dependent on social media to gather our information are responsible for holding our elected officials accountable for the content they put out there," he said.
He continued, "Social media platforms themselves have the same responsibilities however they can be hamstrung by certain limitations. In a world leader's, case, Twitter makes the argument that their content is important to be able to to be viewed regardless of its content to further national interest in the conversation. While I don't disagree with that statement I feel we should also know if that content would otherwise violate a platform's [terms of service]."
Article continues below advertisement
Of course, Donald Trump doesn't agree. After Twitter put a warning on his tweet and started fact-checking his messages, he accused Twitter of stifling free speech and signed an executive order aiming to strip liability protection for social media companies and make them vulnerable to legal action if they allow defamatory posts on their sites, according to The New York Times.
Article continues below advertisement
However, as The Times points out, "Without a liability shield, [social media companies] presumably would have to be more aggressive about policing messages that press the boundaries — like the president's." In effect, he shot himself in the foot with that executive order.
Of course, legal experts mostly agree Trump doesn't have the power to do what he wants with this executive order, and it is expected to be struck down in court.
As for @SuspendThePres, they plan to continue the experiment for as long as they can. "No matter what happens in November, regardless of who is our president, I feel this type of social experiment can help people gain at least a little bit of insight," they said. "Here's hoping Twitter doesn't shut it down permanently." Although that would really say something, wouldn't it?