"I Am Not Trying to Get Kidnapped" — Man Praised for Helping Two Girls Who Got "Ditched" at Park
A motorcycle rider helped out 2 girls who were stranded in the park after hearing how they were ditched by their ride to a homecoming dance.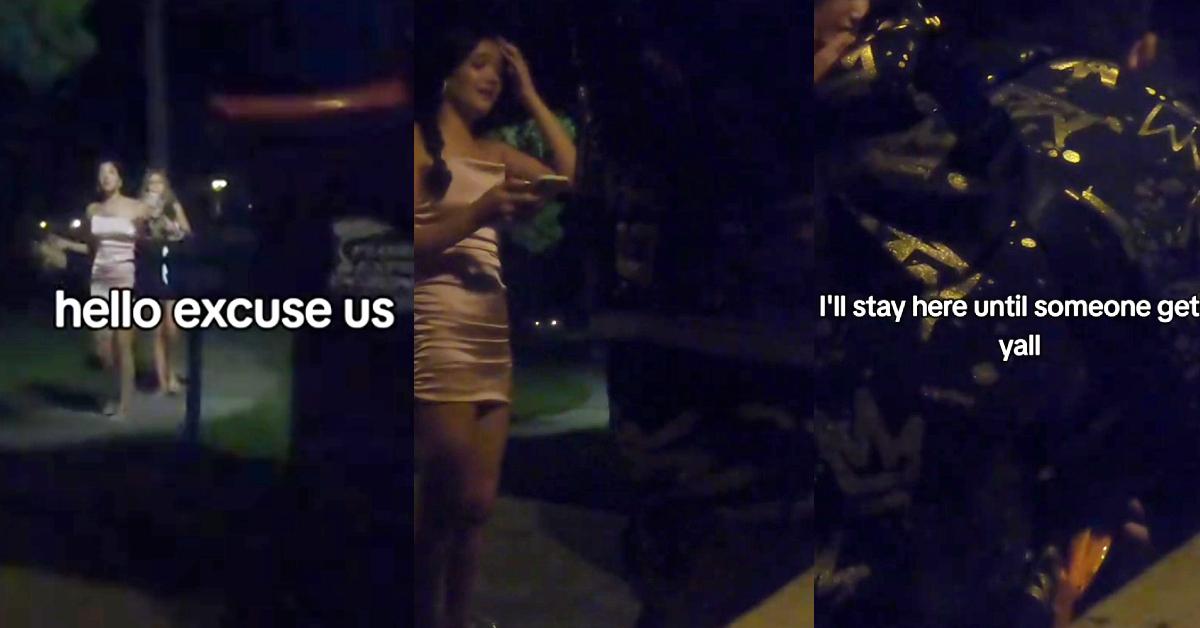 A social media user who regularly posts clips of him riding his motorcycle, and other adventures he gets into while on the road and taking his wheels out for a spin recorded an interaction he had with two young girls who were ditched after arriving late to a homecoming photo shoot they were supposed to have with their friends.
Article continues below advertisement
@2wheelmonster recorded the incident and is receiving a fair share of e-pats-on-the-back for the way he assisted the young women by standing by their side until help arrived.
The video begins with the TikToker recording himself at the park at night when two girls dressed up like they're headed to homecoming, show up asking him for help.
Article continues below advertisement
"Hello excuse me, do you have a hotspot or service on your phone we need to get a hold of somebody we're kind of stuck here alone," one of the girls asks.
"Why would you tell a stranger we're alone?" the girl's friend says.
Article continues below advertisement
"I'm just really scared," the other remarks before asking, "Do you have a hotspot?"
The man tells them that they're "all right," before offering up his phone's hotspot to them so they can have service to make a phone call.
The man tells the girls that he decided to hang out in the park for a bit in case they needed help because he could hear them "screaming" off in the distance. "That's why I stayed here. To make sure nothing happened to you." he says.
Article continues below advertisement
The girls then begin to explain how they got into this conundrum in the first place: she says that her father dropped her and her friend off because they were supposed to take photographs for homecoming with some other friends of theirs, but they couldn't find them.
Article continues below advertisement
In the second of three videos the man posted to his TikTok account, he tells the girls that he will stay in the area until someone comes and picks them up, and the high schoolers thank him for his kindness.
"I am not trying to get kidnapped," one of them remarks, laughing.
The clip then cuts and the girl can be heard talking on the phone with a young man that the TikToker further explains in a text overlay of the video was on the boys who ditched her at the park.
Article continues below advertisement
"Are you coming to get us?" the girl asks on the phone. A few seconds go by and the person on the other line can be heard saying, "No, I'm at the dance."
"Oh my God, come get us," she implores him before her friend chimes in asking why in the world would the boys leave the area if they knew they were on their way.
Article continues below advertisement
The TikToker recording the clip then tells them that they should simply have a seat and "calm down," telling them that nothing's going to happen to them and they should just have a seat while they figure out who is going to pick them up.
The girl's could then be heard having a conversation with another person on the phone where they further delineated how they were ditched: "Eric and Norman told us to come here and take pictures with them, but then they just ditched right when we got here. And now we're left here alone and we don't know, we don't have a ride or anything."
Article continues below advertisement
In the third video, the girls can be heard talking to Eric, one of the boys who up and changed plans at the last minute without telling them, and he's getting chewed out: "Eric, we're at this park that you told us to come to and when we got here, you guys were gone."
Article continues below advertisement
Eric explains why he decided to ditch them and it's a tale as old as time: they took too long to get ready and Eric wasn't having it: "Because you guys took too long."
The teen didn't seem too happy with that response, arguing that he still shouldn't have left because they were on their way. "You could have at least waited and now we don't have a ride back and we're stuck here at this park."
The girls then go on to blame Eric for what happened, "It's your fault Eric you're the one who f---- told us to come here and then left. After I texted one of you guys saying —"
Eric can be heard yelling on the other line, "Stop, stop. I am down the road."
"From here?" the girl asks.
Article continues below advertisement

At this point in the clip, their tone changes: "Can you come get us?
"Yes," Eric says before they thank him profusely for coming to get them.
He asks them their location and even though they aren't that specific, somehow Eric manages to find them. The clip ends with @2wheelmonster showing off the truck before the clip ultimately ends.
Article continues below advertisement
Multiple TikTokers praised the way he handled the situation, but they also had questions of their own — like why weren't the young girls' parents kept abreast of what was going on and why was Eric so willing to ditch them and leave them alone at a park at night, not caring about their whereabouts?
What do you think? While it was unequivocally nice of @2wheelmonster to wait with the young girls and let them use his hotspot until they could get a ride, do you think that Eric was in the wrong for ditching them even though they were late? Should the girls have had a back-up plan ready?