"Always Check Hotel Mirrors" — People Are Warning About Two-Way Mirrors, and Showing How to Spot Them
People are warning folks about two way mirrors on TikTok, and are providing a number of ways folks can find out if they're potentially being spied on.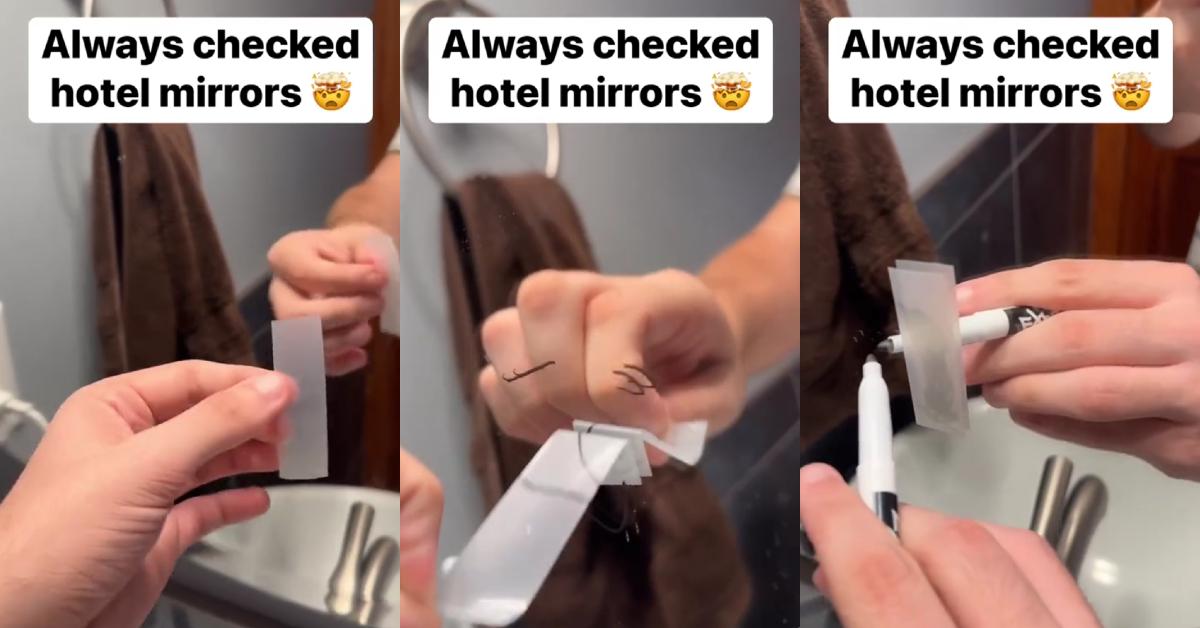 If you grew up watching action movies with interrogation scenes, you were privy to the magic of two-way mirrors. A cheesy plot device used in some films, or a means of letting the viewer know that the bad guy who knows he's being watched through the mirror is no one to be trifled with.
Article continues below advertisement
While they're a staple of any good cop/bad cop scene, they also carry some horrifying implications, especially if you're staying at a hotel or bed and breakfast designed by a deranged voyeur who revels in creeping on guests who are just trying to enjoy their time away from home.
So how does one know if the mirror they're peering into is a two-way one, with a possible psychopath creepily placing their hand on the glass while they hum Eva Maria to themselves and apply lipstick to themselves like Steve Buscemi's character in Billy Madison?
Article continues below advertisement
There are plenty of folks on TikTok who are willing to demonstrate how to do just that, and one popular method has folks grabbing a piece of Scotch tape and a Sharpie marker, then drawing across the glass, onto the tape, and then across the other side of the glass.
Article continues below advertisement
Then, as the video suggests, you'll know if the mirror you're inspecting is indeed a two-way one if you spot a "double" reflection of the marker in the mirror, suggesting that there's a secondary pane, and thus, a two-way mirror installed on the other side.
There are several TikTokers who showed off this hack, like @mindblowingreels above, along with another user on the platform who urges folks whenever they're traveling to grab a marker, along with a piece of scotch tape, to then go to town.
Article continues below advertisement
In the clip, the TikToker gives a more detailed breakdown of the trick, stating that if "there is no space, then leave the place." They begin the clip by poking their finger into the mirror.
Article continues below advertisement
"So yeah I got transferred to this room with this mirror, if there's no space, leave this place, right? Well, guess what else is f---- weird about this," the woman says heading out the door of her room. She steps out to reveal that her room was located right next to a locked "employees only" room adjacent to hers, right up against the same wall housing the mirror she was suspicious of.
The clip then cuts to a contractor showing folks how to easily tell if they're looking at a two-way mirror or not, demonstrating with a regular mirror and one that he verifies is a two-way one in another part of the video.
Article continues below advertisement
He says that if you put your finger up to a genuine mirror, you'll see that when your fingertip is right up against it, it'll look like it's not actually touching up to the glass. That's because you're seeing a direct reflection of your own fingertip, meaning you can never really "touch" (or appear to touch) your fingertip in a genuinely reflective mirror.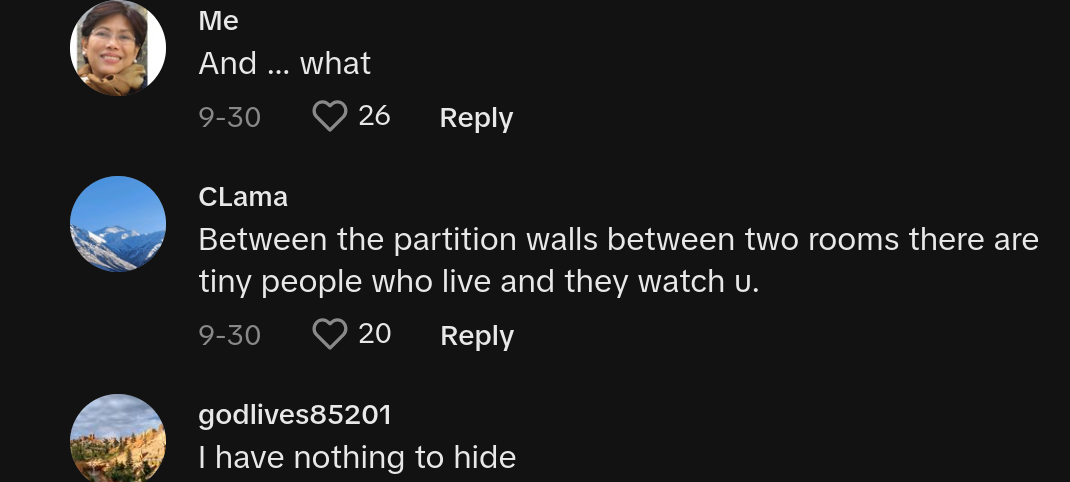 Article continues below advertisement
However, the contractor then goes on to show what the same type of reflection looks like in a two-way mirror: the person's finger "touches" itself in the reflection. The construction worker heads into a backroom where the two-way mirror was installed, showing a backroom with a false cupboard that, when opened, gives the viewer access to look into the bathroom via the two-way mirror.
It's after seeing this second half of the clip that the female hotel guest in the first part of the video's adage begins to fully make sense: "there is no space, leave this place."
Article continues below advertisement

There are also some other foolproof ways to see whether or not a mirror is a two-way one: shine a flashlight directly onto it. Wiki How says it can even be the flashlight on your smartphone. If you get your face close up enough to the mirror, the light should "illuminate" the room behind it and you'll be able to see whether or not there's a room behind it...and anyone creepily staring at you.
Article continues below advertisement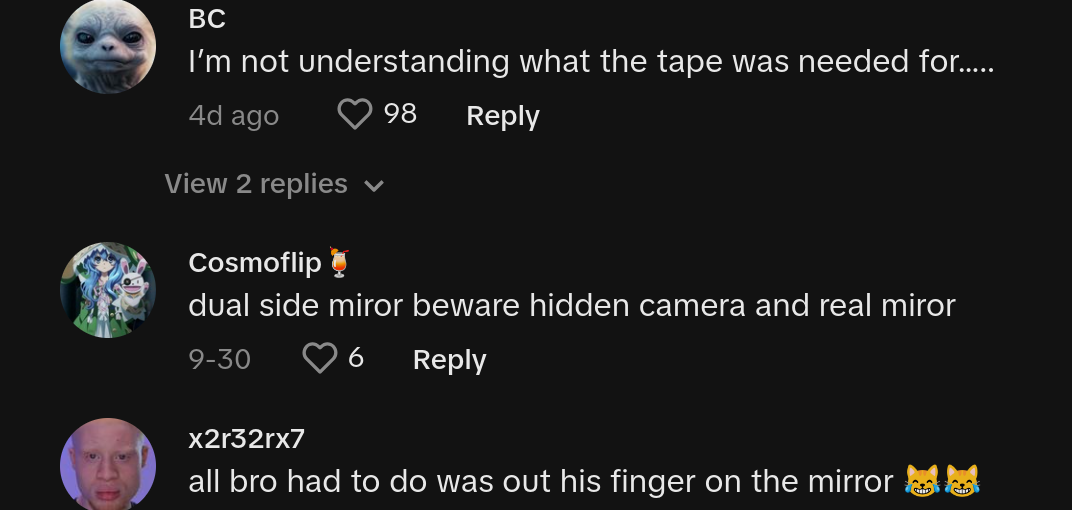 You could also knock on the mirror - dull and flat sounds on a mirror pressed up against a wall will let you know that there's nothing behind the mirror except some drywall, stucco, and probably a terrible paint job. But if the sound is hollow, well, then, you'll know that there's a space behind that mirror housing God knows what.