Viral LGBTQ+ Creator Tyshon Lawrence Talks the Importance of Going to Therapy (EXCLUSIVE)
Before reaching global success on social media, Tyshon Lawrence went viral accidentally. Like most, Tyshon viewed social media as a source of entertainment and never thought he could create a career off of posting comedic videos.
Now, the internet personality and model boasts almost 20 million followers on TikTok and has partnered with some of the most recognized fashion brands in the industry.
Article continues below advertisement
In an exclusive interview with Distractify, the 24-year-old LGBTQ+ TikTok star opened up about his first viral moment, being a Black queer influencer on the platform, as well as his mental health journey.
Article continues below advertisement
LGBTQ+ TikTok influencer Tyshon Lawrence talks viral video.
Tyshon's road to internet fame began after graduating from high school. Though he was studying to become a nurse, the internet had other plans.
"At the time, I wasn't really taking social media too seriously because I was working my nine-to-five," Tyshon told us. "I had like three jobs."
Between helping take care of his great-grandmother and making a living, he had little time to focus on his dreams. However, that changed after he posted the video that catapulted him into the spotlight.
"I never expected [the video] to go viral [because] I didn't try at all," he said. "When I had the viral moment, I was just like, 'Wow, this is cool. I feel like I want to actually give social media a try.'"
Article continues below advertisement
Since then, he's amassed millions of followers across all of his platforms. But the TikToker told us that he'll never forget where he came from. "I would never like want to go back and change anything because I feel like it made me who I am as a person," Tyshon shared.
While he wholeheartedly maintains that his internet fame is "a blessing," Tyshon noted that "there are some things that people don't warn you about" — one of which is the burden of burnout.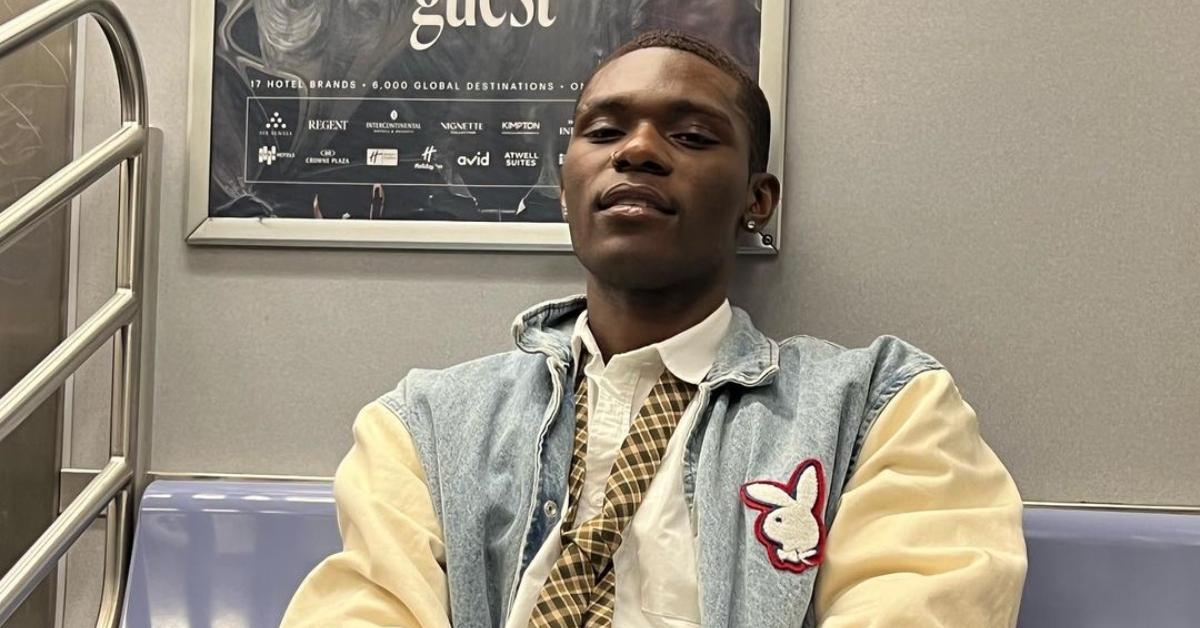 Article continues below advertisement
Tyshon Lawrence talks mental health and therapy: "It's not an easy task".
Tyshon let us know that being a beloved LGBTQ+ influencer isn't as glamorous as he makes it look. After spending some time in the public eye, he found himself disconnected — both from himself and his loved ones.
Thanks to advice from friends, he decided to give therapy a try.
"It took me a minute to speak for myself," he shared. "Because in the Black community, that's not something that people really do. But for me, I kept hearing it, people were telling me, 'Maybe you should try it, you should talk to somebody.'"
Article continues below advertisement
"It's not an easy task for people because you're opening up old wounds that you didn't think affected you. And it's like, 'Oh my God,'" the influencer went on.
But now that he's committed to self-care, Tyshon has the creative energy to explore his other talents. "I really want to go in on my modeling, I feel like that's my priority," Tyshon said of his goals for 2023. In addition, Tyshon hopes to launch his acting career.
"That's truly something I've always wanted to get into. But I kind of put it to the side and just focused on like, nursing," he revealed. "I want to see myself getting into movies, getting into TV shows, getting on commercials, doing that comedic acting, but also doing that serious acting."