Meet the Fury Clan! All About Former Pro Boxer Tyson Fury's Family Life
Retired professional boxer Tyson Fury is ready for the world to meet his family! Here's what we know about his wife, Paris, and their six kids.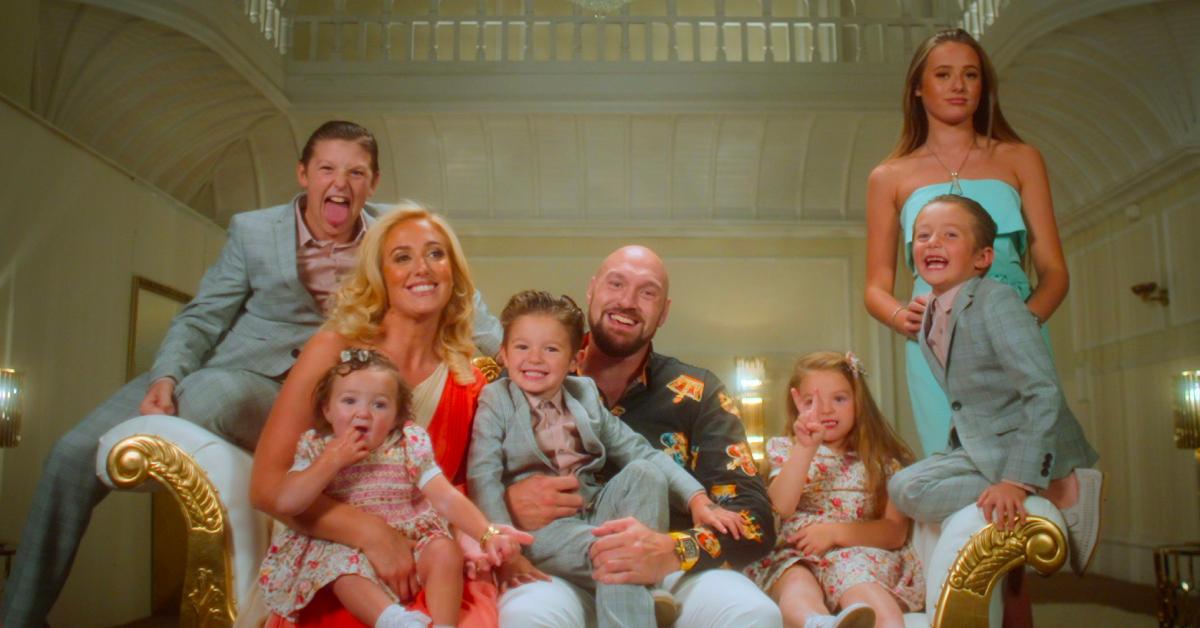 Many of us know Tyson Fury as a professional boxer who overcame plenty of obstacles in his life to become a two-time heavyweight champion. However, others know the "Gypsy King" as a certified family man.
Article continues below advertisement
With that said, let's get to know the domestic side of Tyson Fury: Who is his wife? How many kids do they have? Read on for all the known details about the British superstar's family life!
Article continues below advertisement
Tyson Fury is the proud father of six (soon to be seven) kids.
For those wondering, Tyson Fury has a big family. He and his wife, Paris, share six kids: Venezuela, Prince John, Prince Tyson II, Valencia Prince Adonis, and Athena. At the time of writing, Paris is pregnant with their seventh child.
In 2014, right before Tyson's canceled fight with Ustinov, Paris suffered a stillbirth and delivered the couple's child at six months. Unfortunately, they faced more heartbreak in 2018 when Paris had a miscarriage before Tyson's comeback fight against Sefer Seferi. In an interview with the Sunday Mirror, Paris said she chose not to tell her husband about it until after the fight, as she feared the news would break him and impact his performance.
Article continues below advertisement
Venezuela is the couple's eldest child, and she's 13 years old. She followed in her mother's footsteps and left school at age 11 after Paris insisted on keeping up with the Irish Traveller tradition.
"We finish school at primary age, which is the traditional traveller way," Paris told The Daily Mirror. "Venezuela wanted to leave school, and all her friends were leaving. Her tutor is going to keep her up to date with all of her tests. She will also be having piano lessons."
Article continues below advertisement
Prince John James Fury is the couple's second child and first-born son; he's 11 years old. Tyson revealed he named his first son Prince after Prince Naseem, his favorite British fighter.
In an unexpected turn of events, Tyson and Paris named all of their sons Prince. In his 2020 documentary Tyson Fury: The Gypsy King, the former professional boxer explained the reason behind his sons' names: "I'm a king, and they're princes until they earn their rightful name." OK, we're actually obsessed!
Article continues below advertisement
The couple's third child is Prince Tyson II Fury, who's 7 years old. His nickname is "Tutty."
Valencia is Tyson and Paris' second daughter and fourth child overall. She's 5 years old. During an interview with OK! Magazine, Tyson revealed the inspiration behind his daughters' unique names: "My wife is called Paris. I'm Tyson, and [gesturing to his son] he's called Prince John James. If the girl had a normal name it wouldn't fit in, would it?"
Article continues below advertisement
Their third son, Prince Adonis Amaziah Fury, is four years old. And last but not least, there's Athena! She's the couple's youngest child (not for much longer) and recently celebrated her second birthday.
Tyson and his wife, Paris, have been together for two decades.
Tyson and his wife, Paris, have been married for 15 years; they first met as teenagers at a mutual friend's wedding in November 2005. The pair began dating a year later and officially tied the knot in 2008 at St. Peter in Chains Catholic Church in Doncaster, South Yorkshire.
Article continues below advertisement
Paris is a published author; her first book, Love and Fury: The Magic and Mayhem of Life with Tyson, was released in October 2021. The memoir touched on everything in Paris' life, from her upbringing to starting a family with Tyson. In May 2023, Paris announced her second book, How Does She Do It?, will hit bookshelves on Sept. 28, 2023.
Article continues below advertisement
For those unaware, Paris almost called off her wedding to Tyson. She mentioned this in her first memoir, writing about how their "schedule was thrown into the air" when Tyson didn't land a spot at the 2008 Beijing Olympics. She planned a winter wedding, but Tyson wanted to move up the ceremony by a few months because of his newfound free time.
The two butted heads, which resulted in Paris calling off the wedding: "After an ugly slanging match with him outside Mam's house, I decided to call time on the wedding and our relationship," she wrote, per The Sun. "He thought I was joking, and when I dropped the big bombshell, then he realised I was deadly serious."
Article continues below advertisement
After a few weeks, the pair reconciled. Paris asked her mom to cancel the wedding plans and venue, but she predicted her daughter and Tyson would "patch things up" and never did.
'At Home with the Furys' offers fans a peek into Tyson's family life.
Since retiring, Tyson has put all his time and energy into his family — and fans will get a glimpse of this (and more) in the Netflix reality series, At Home with the Furys. The nine-episode docuseries premieres on Aug. 16, 2023.
Article continues below advertisement
According to the official synopsis, At Home with the Furys will have "exclusive access to the heavyweight champion of the world as he exits the ring and tries to embrace retirement with his extraordinary family, including wife Paris, father John, his six children and his brother Tommy Fury with his girlfriend Molly-Mae Hague."
The synopsis continued, "Alongside the chaotic school run, the series will see Tyson constantly looking for projects to keep him busy — from a national tour to meet his fans, to lavish weekends away and impromptu family camping trips — all while trying to resist the urge to return to the ring."