Uber Eats Customer Orders Panera Tuna Sandwich, Receives Wrong Order with 40 Instead
An Uber Eats customer ordered a single tuna sandwich and instead ended up with a company's catering order with 40 of them instead.
There's been a lot of talk about the ways that food delivery drivers on popular applications like Uber Eats and DoorDash get back at customers who don't pre-tip. There was this one viral story about a driver who gave away a "cheapskate" customer's food, and this other person who blasted the AC on an order to intentionally cool down the customer's food.
Article continues below advertisement
And now there are slews of TikTokers who are speculating that an Uber Eats driver intentionally gave away 40 tuna sandwiches meant for a catering order to another customer who only ordered 1.
A TikToker by the name of Sabrina (@hazellikesducks) showed off a big box filled with tuna sandwiches that were left at the front door of her home. She writes in a text overlay in the clip, "Ordered 1 tuna sandwich" from Panera.
Article continues below advertisement
The clip then transitions to a photo of the total order for all of the food, which includes 40 tuna sandwiches that came out to a grand total of $312.63. It doesn't indicate that a tip was left on the card the order was placed with.
Article continues below advertisement

"Uber Eats delivered...40!" the video then transitions to three plastic trays, showing off 40 tuna sandwiches along with 40 bags of Panera potato chips.
Article continues below advertisement

She writes in a caption for the video: "Uber Eats Fail! Company luncheon gets delivered my one tuna fish sandwich and i get their catering order for 40 people!"
Article continues below advertisement

A number of viewers who saw Sabrina's video remarked that they believed she was brought the 40 tuna sandwiches on purpose from a disgruntled Uber Eats driver who wasn't happy that they didn't receive a gratuity for their services.
Article continues below advertisement

"Yea he did that on purpose he didn't get a tip," one user wrote. Another penned, "What kinda of people order $300 of food and not tip the delivery driver." Someone else remarked, "And they tipped $0. That's karma!"
Article continues below advertisement

Others said that companies not tipping on catered orders is par the course in the business world, presumably because some say that corporations advise against adding gratuity to a card and instead those buying the meal on the business' dime pool together their cash to take care of whoever is delivering the meal.
Article continues below advertisement

There were some users who expressed how bad they felt for the team that didn't get the lunch, a sentiment that Sabrina said she echoed when she responded with: "I know!! I called those people and let them know and panera and Panera had to make the order all over!"
Article continues below advertisement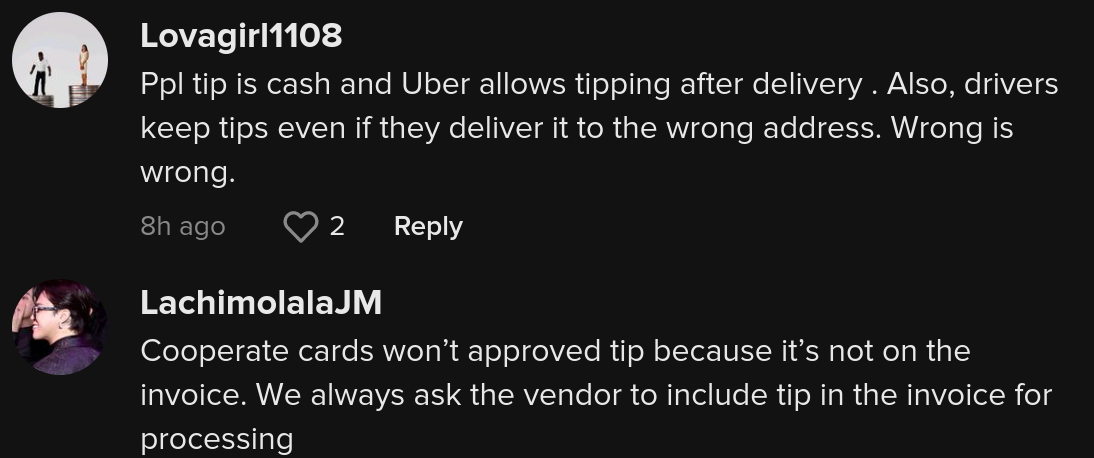 There were some TikTokers who said that the delivery driver, however, may've lost out on a potentially great tip if this really was the case: "heck yeah!! I pay for mine with card but always try to give cash tip. receipt will still say $0 tip"
Article continues below advertisement

"It's possible they could have collected the tip from everyone to give the driver cash. I tip drivers cash all the time. especially with gas prices."
Someone else thought the same way: "Lots of business is too big catering orders in tip cash when it gets there because everybody chips in. Those are the best orders and big tips"