This Italian Art Museum Is Officially Winning TikTok
The Uffizi — an art museum in Italy — has officially joined TikTok, and their posts are nothing like what you'd expect. The TikTok teens love it.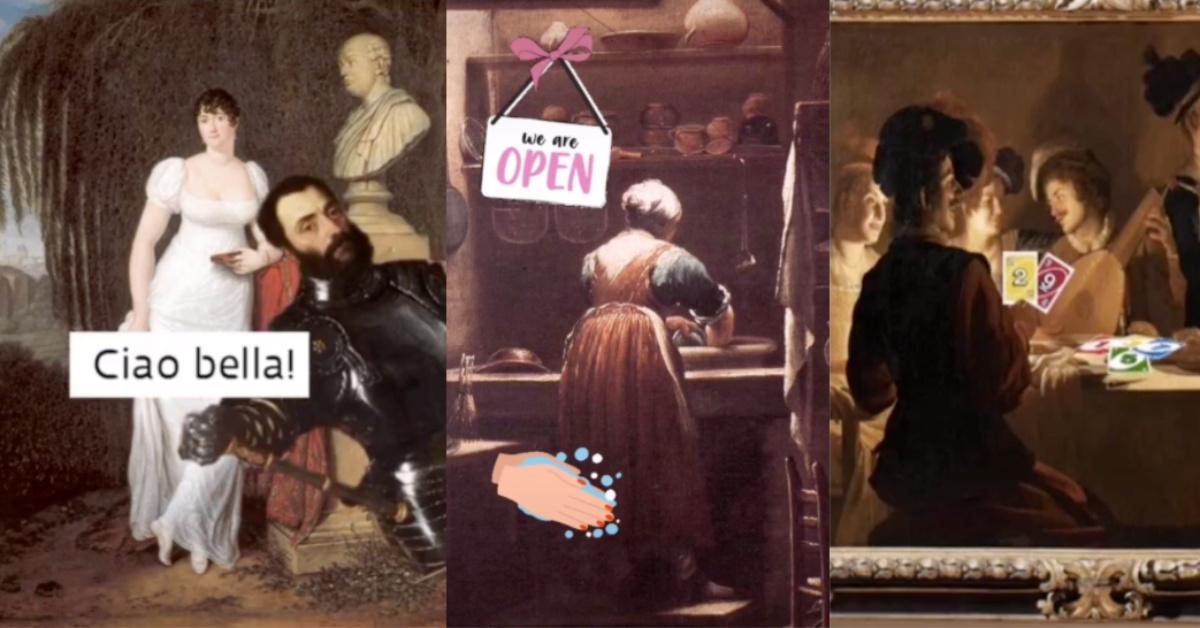 When you think of an art museum, you might picture a stodgy, airless room filled with crusty old paintings and stagnant sculptures. And, to be fair, a lot of art museums are exactly that. However, there's a whole contingent of museum workers who are putting a lot of effort into changing that perception. After all, if the art world wants to continue past the current generation, we're gonna need a bunch of younger people to get interested in art. Naturally, that calls for one thing: TikTok!
Article continues below advertisement
In what may at first seem like a slightly ridiculous (and maybe even slightly desperate) move, several prestigious art museums are joining TikTok — and the content they share is irreverent and hilarious (like all the best TikTok videos). The Uffizi in Florence, Italy is one of the latest art museums to join the TikTok trend, and we have to say their videos are works of art unto themselves.
Article continues below advertisement
The Uffizi is on TikTok — and the videos are incredible.
There were so many ways for this to go wrong. The Uffizi could have decided to post simple videos of some of their most famous works of art with dry commentary about the history of art. They did not do that. Not even a little bit. Instead of sticking with what most people probably would expect from an art museum, The Uffizi decided to post a bunch of incredible memes. They're basically turning classic art into a new art form, and we are 100 percent here for it.
In an interview with the New York Times, Ilde Forgione (who runs the account) admits, "Maybe it looks a little stupid, but sometimes you have to give people a different point of view, something that says, 'Art is not boring. Art is not something you just learn at school. It's something you can discover for yourself.'"
Article continues below advertisement
And sure enough, people seem to be enjoying The Uffizi's TikTok debut. The museum already had more than 27,000 followers on the video-sharing platform and all of its videos have tens of thousands of views (one of them has 10.8 million views!). The comment sections are always filled with people singing the praises of the museum's creativity — as well as demanding the social media manager gets a raise.
Article continues below advertisement
The Uffizi hasn't always been quick to adopt new techniques.
Prior to 2015, the museum didn't even have a website. It didn't have its own Facebook page until March of this year — and it only set one up after it had to close due to COVID-19. Museum director Eike Schmidt admits the museum was "pretty much in the stone age" — but that seems to have changed forever now.
Article continues below advertisement
He asked Ilde, an administrative assistant at the museum, to lead a team producing content for TikTok after he learned that she loves funny social media posts (who doesn't?). The museum decided to target TikTok (rather than Twitter, Facebook, or Instagram) in hopes of reaching a young audience and instilling an appreciation for classic art in them.
Ilde says the hardest part about running the account is trying to get the content right for the younger audience. At 35, she's the youngest person on The Uffizi's TikTok team. She says she runs ideas by her younger cousins, and her colleagues consult their teenage kids about the videos, as well. Clearly, they're doing something right. Now that the museum is once again open, we hope the TikTok videos get even wackier.