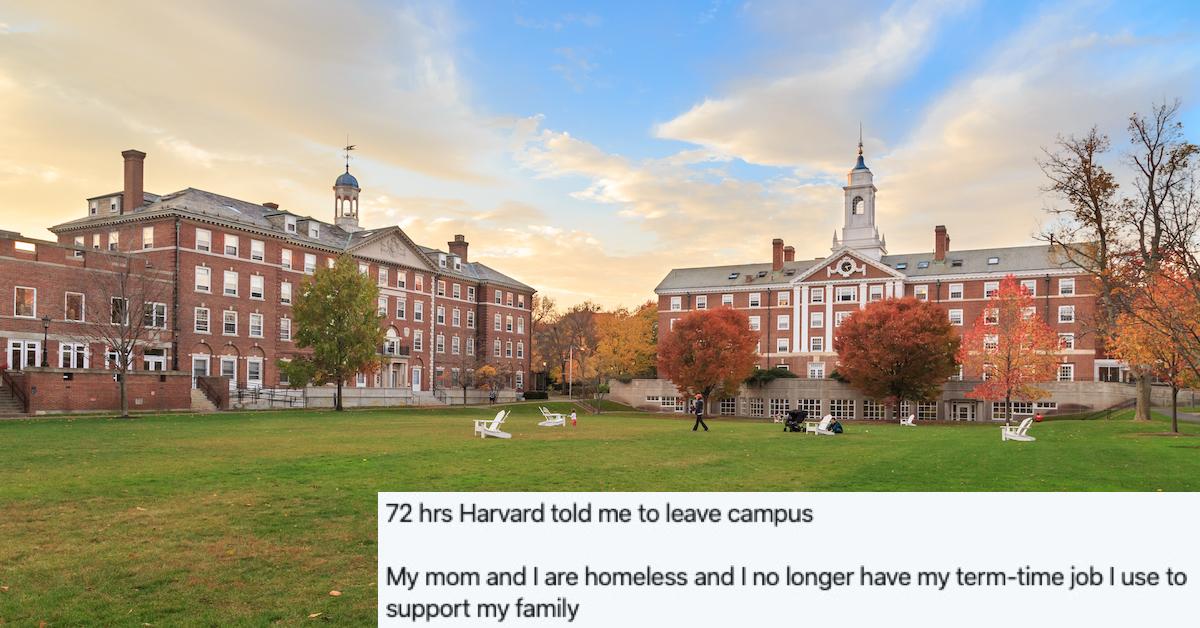 University Closures Are Causing Catastrophe for Low-Income Students
If you are a student from a relatively well-off family, the nationwide closures of colleges and universities may be an inconvenience or mild hardship. But if you're one of the first-generation, low-income students attending a school that has shut down for the foreseeable future, the consequences are chaotic.
Article continues below advertisement
While some schools are only urging students with the means to return home for the rest of the semester, some institutions like Harvard have made no such accommodations for low-income (FGLI) students. Everyone must leave campus, whether or not they have a home to return to or the funds to buy a ticket home. And for some, leaving school also means losing the jobs that help keep them afloat.
Article continues below advertisement
Students like Alejandra Iglesias, Harvard class of '21, who has had to resort to requesting money on Venmo to help support herself and her family. The ethnic studies major is also a member and former board member of Harvard Primus, a campus organization for students like herself who come from low-income families and are among the first of their family to attend a four-year university of any kind, let alone an Ivy League school.
Many of those students are in situations similar to Alejandra's, uncertain of how they will shelter and feed themselves for the remainder of the semester, let alone continue their studies online.
Article continues below advertisement
The Harvard Primus board has issued a statement reflecting on the concerns they have about the university's policy to address the outbreak:
"While many students can handle unexpected costs, this sudden change in housing highlights the large disparity within our student population concerning students' access to disposable wealth and the resources necessary to evacuate and move off-campus," it reads "In addition to costs associated with unexpected flights home, students are being asked to ship or store all of their on-campus belongings with no promised full financial support. Students relying on term-time employment face additional financial concerns without their typical source of income in the coming months."
Article continues below advertisement
And the group of students affected is by no means insignificant. "First-generation students make up 15 percent of Harvard's current undergraduate body, and over 20 percents of students are on full financial aid at the college. FGLI students often come from under-resourced households and unstable home environments. The student body has been left distraught with this sudden news, and many of our questions remain unanswered."
And, as Alejandra points out in an earlier tweet, at least one other Ivy school understands that not all their students can easily evacuate to their homes. Princeton's statement on Twitter implies that students who don't have the means to return home are not being forced out, and their full official statement includes guidelines for students who qualify to remain on campus.
Article continues below advertisement
These criteria also include allowances for international students from areas with higher risk or low internet connectivity as well as those who would face visa restrictions.
Article continues below advertisement
Since making her initial pleas on Twitter, Alejandra seems to have had some contact with the powers that be, who aren't too pleased with her complaints.
Happy or not, here's hoping Harvard and other universities will follow Princeton's lead in creating a safety net for vulnerable students who already face so many barriers to higher education.