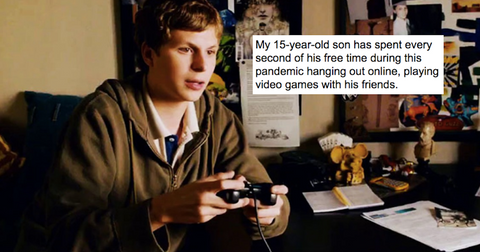 Mom's Argument for Letting Son Play Video Games Nonstop Is Actually Pretty Airtight
By Robin Zlotnick

May. 12 2020, Published 4:22 p.m. ET
"Are video games good or bad for kids?" is a question and an argument that has been plaguing parents all over the world for decades now. But more recently, ever since the world has practically shuttered due to a global pandemic, the question has become more like, "How many video games are too many video games?"
Article continues below advertisement
One mom, Tiffany Pitts, is here to tell you that you should let your kids play video games all day every day. Nonstop. In a viral thread, she explains how her 15-year-old son's life has been so enriched by the video games he's been playing lately, and I have to say, it's pretty convincing.