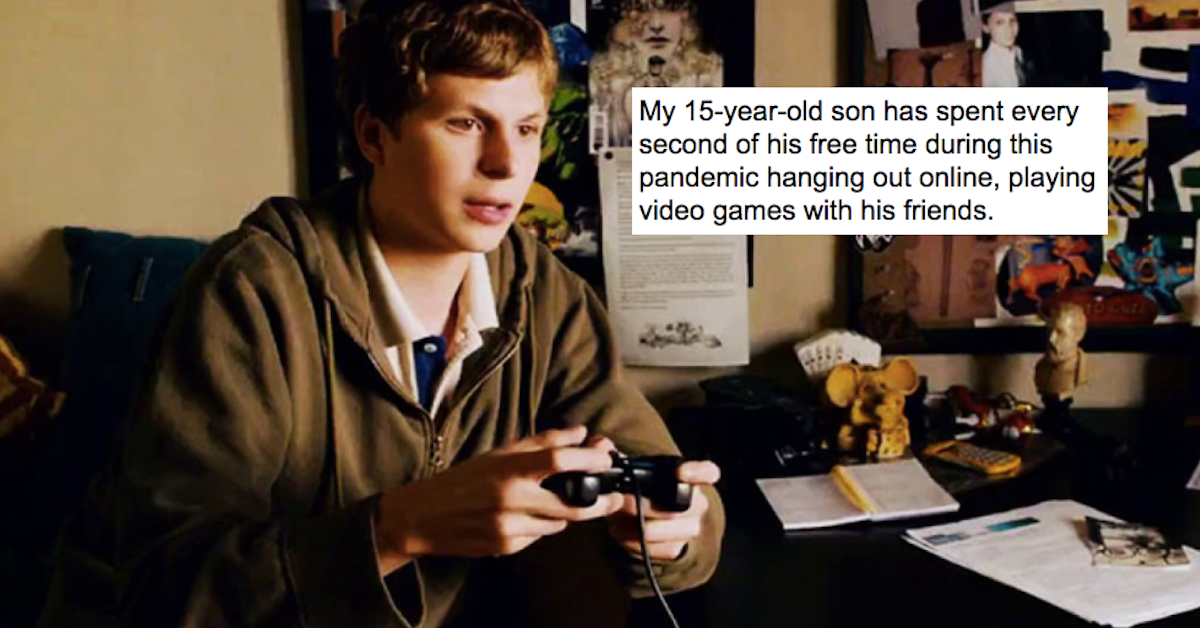 Mom's Argument for Letting Son Play Video Games Nonstop Is Actually Pretty Airtight
"Are video games good or bad for kids?" is a question and an argument that has been plaguing parents all over the world for decades now. But more recently, ever since the world has practically shuttered due to a global pandemic, the question has become more like, "How many video games are too many video games?"
Article continues below advertisement
One mom, Tiffany Pitts, is here to tell you that you should let your kids play video games all day every day. Nonstop. In a viral thread, she explains how her 15-year-old son's life has been so enriched by the video games he's been playing lately, and I have to say, it's pretty convincing.
She doesn't mince words. Her 15-year-old son has been spending "every second of his free time" playing video games and hanging out online with friends during the pandemic. We're sheltered at home; video games offer stimulation and community. It seems like a no-brainer. Anyway, he's been working hard with a friend to rise to the top tiers of Apex Legends. But that's only where this story begins.
Article continues below advertisement
When you can't hang out with your friends in real life, it's kind of nice to be able to get together in a digital realm and hang out, play a game, and work toward a goal. Hey, it's something to do. How many of those do you have these days? But it gets even better.
Article continues below advertisement
Do you know how hard it is to make new friends in real life? In a game, it's as easy as, "You're chill, we're chill, let's hang." This group of teenagers took JamMaster under their wing and taught him everything they could about the game, which is just adorable.
Article continues below advertisement
This was a 10-year-old kid sitting at home, playing video games alone. And suddenly, he has a whole group of new friends. The day before his birthday. As hard as it is for adults to shelter in place right now, it's got to be harder for kids. They only sort of understand why they can't be with their friends or why they can't have a birthday party this year.
Article continues below advertisement
This poor kid was going to be alone on his 11th birthday. That sucks! But Tiffany's son and his friends stepped in and knew they had to do something to celebrate their new friend.
Article continues below advertisement
So they threw him a party in the game. They stayed up all night and then sang "Happy Birthday" to him at midnight, when it officially became his birthday. How sweet is that?
Article continues below advertisement
I get it! It's so moving, and it's something that couldn't have happened if these kids didn't meet inside a video game. This is a really tough time for everybody. The fact that they could give this 11-year-old kid a nice birthday adventure means so much.
Article continues below advertisement
As with anything, there are advantages and disadvantages to spending vast amounts of time playing video games. Probably not great for your eyes or your carpal tunnel. But it's hard to argue against playing video games at all when something this lovely happens.
Article continues below advertisement
So yes, as Tiffany says, "In conclusion: video games, hell yeah." Why not?! We're all stuck at home. Video games are a chance to travel and use imagination and problem-solving skills and connect with other people and throw birthday parties for lonely kids. You can't beat that right now.