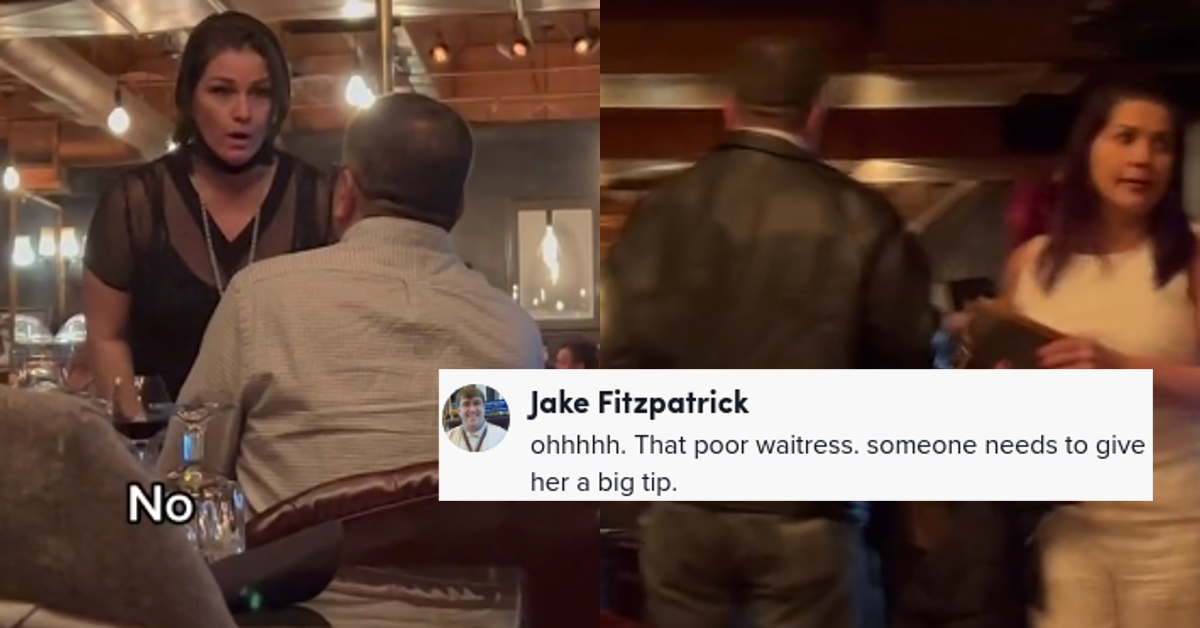 Restaurant Worker Forced to Kick out Customers Who Overstayed Reservation in Viral TikTok
It's understood that restaurants want to turn tables. The sooner customers can get their food and drinks, pay their bills, and head out the door, the sooner that table can be cleared and can be prepped for other diners who are waiting to get in on some grubbing action.
And while this is common knowledge, this "all right if you're done, then pay your bill and go" policy operates on an unspoken level.
Article continues below advertisement
Servers can't exactly say that you need to get up and head home, but restaurants rely on customers to "read the room," so to speak. However, on super packed nights in super packed restaurants, it's not uncommon for reservation "windows" to be implemented, i.e. a couple will only have a table for a pre-set amount of time that they must adhere to.
And if said customers lose track of time, then it's up to the restaurant's wait staff to then gently remind them that they agreed to head out after a set amount of time.
There are a couple of ways customers can respond to this: apologize profusely and leave, or make a big scene about how they're being persecuted and the server is in the wrong for even bringing that up.
Guess how the diners in this now-viral TikTok reacted?
Article continues below advertisement
In a clip uploaded by user @Santanahhh, viewers can see a woman berating a member of the restaurant staff who had to remind the customers that their reservation was only for a specific amount of time and that they would have to get up from the table.
Article continues below advertisement
In the clip, a visibly flustered restaurant employee is speaking to customers saying, "No, because I will show you all of the tables that have been — sir, I'm telling you that when you made your reservation online, the reservation policy clearly states that there's a specific length of time that your table, that you can have your reservation."
Article continues below advertisement

She continues, "I apologize — sir." In the middle of her statement, the customer then questions how long another group at another table has had at the restaurant. She continues, stating, "Sir, because you were assigned one of these tables and you did not want to sit there—" and then the video cuts out.
Article continues below advertisement

More context on the situation was provided in a follow-up video, which shows that the restaurant they were seated at was a burlesque show/dinner theater performance situation. Apparently, the couple wanted to have a table that was situated closer to the performers, meaning that they were only allowed to stay there for a particular duration, a fact the worker attempted to explain to the couple.
Article continues below advertisement

The restaurant informed them that they would be able to sit there but that they would have to leave once the other couple's reservation began, which the couple reportedly acquiesced to.
However, when it came time for them to leave, they gave a member of the restaurant a hard time.
Article continues below advertisement

The manager of the restaurant informed the table that their reservations were "only good for two hours anyways." The customers in question accused the establishment of racism and they refused to get up from their table.
Article continues below advertisement
Article continues below advertisement
Yet another video shows the couple at the table angrily getting up from their table as a woman in a white pantsuit begins angrily shouting at the restaurant manager as they get up to leave the establishment.
What do you think? Do you need to see further context to know if the customers were being mistreated throughout the night, indicating there's more to the story? Or do you think it doesn't make sense for a business to treat their customers poorly and that they were basically at their wit's end when dealing with these diners?