Walgreens Employee Says He Was Cross Trained in Every Aspect of the Store, Even the Pharmacy
A Walgreens employee went viral on TikTok after showcasing the variety of different job duties he performs at the popular pharmacy retailer.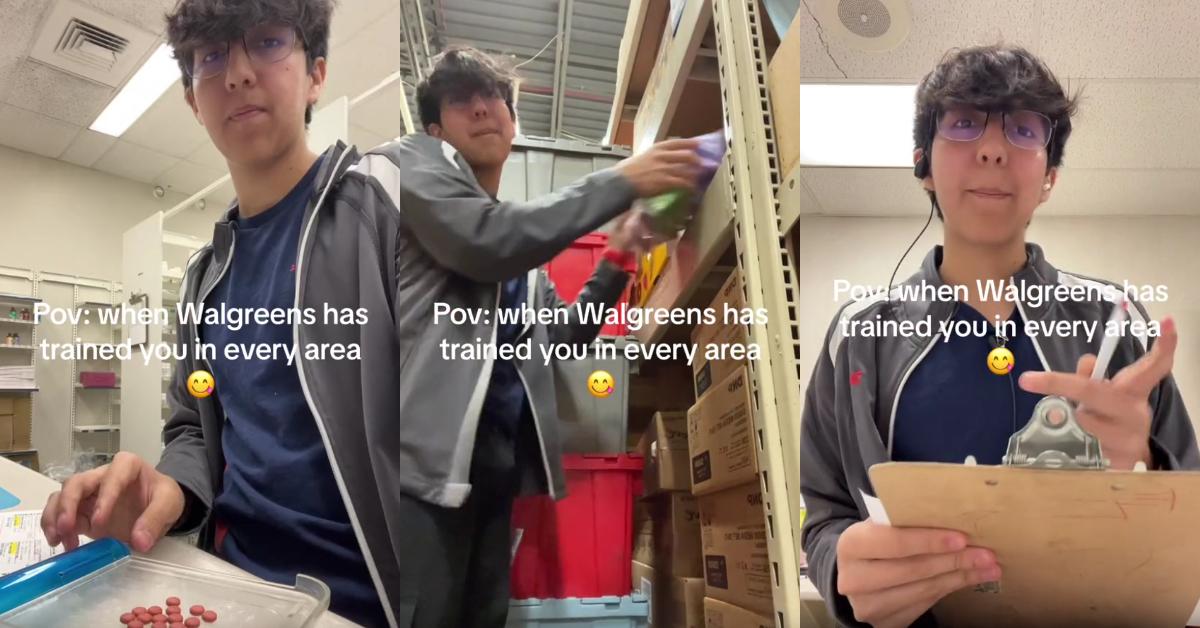 Pharmacy retail stores are a strange thing when you really think about it. In the same place you can buy an ear wax removal kit, or frozen pizza rolls, and discounted Valentine's Day chocolates. You can watch folks with covered faces rush into the store and pillage shelves as minimum-wage retail employees urge them to stop stealing.
Article continues below advertisement
And just a few feet away from them, medically trained professionals are handing over potentially life-ending medicine (If it isn't taken properly) to customers who might pick up A container of their favorite body lotion on the way out.
When It comes to retail stores that contain pharmacies, there is usually a stark contrast between the types of job responsibilities that the pharmacists working behind the medicine counter perform, versus the job tasks and duties that individuals who work the rest of the store engage in on a daily basis.
Article continues below advertisement
However, this doesn't seem to be the case with TikToker @christhewalgreenemployee in a now-deleted video of himself that accrued over 69,000 likes, where he performs a litany of different tasks for the Walgreens store that he works in.
Article continues below advertisement
In the video, he shows himself counting pills in the pharmacy, which then transitions to him stocking a shelf with a box and what appears to be a storage area, and then to him ringing up items, and then finally the video ends with him writing on a clipboard while looking into the camera.
Chris writes in a text overlay of the video Multifacetedness at the retail location is a direct result of being cross trained in the various roles required of employees to fill out Walgreens: "Pov: when Walgreens has trained you in every area"
Article continues below advertisement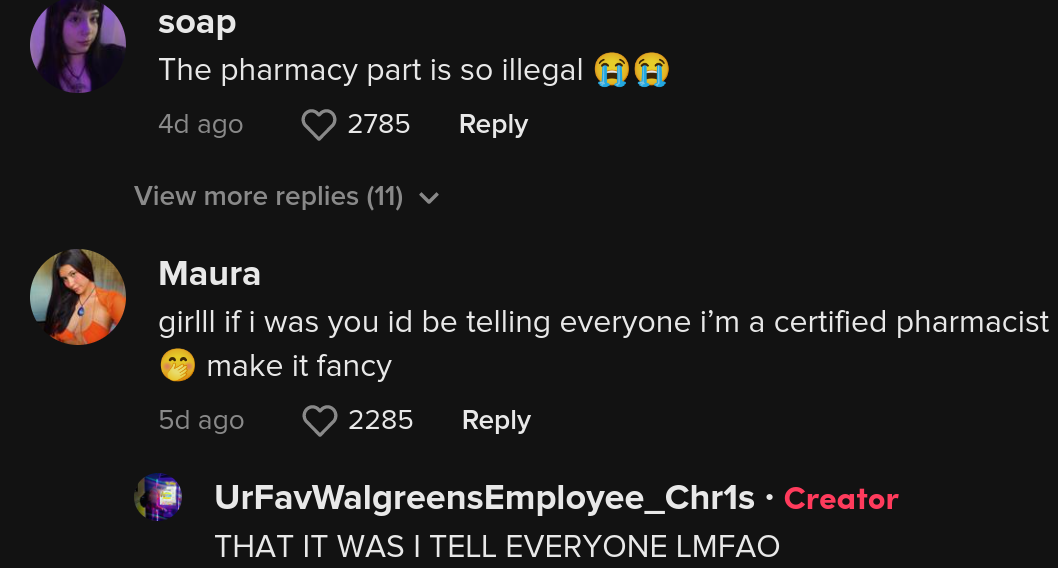 According to a 2017 Glassdoor post, one person who said they were formerly employed with Walgreens stated that they were cross-trained to work in the pharmacy as well. However, they did not delineate whether or not they were a certified pharmacy in their review.
Article continues below advertisement
One Indeed user also stated and their assessment of working at Walgreens that they were cross-trained: "We were all thoroughly cross-trained in all departments," and this one says the same.

Article continues below advertisement
A recurring question that seems to pop up again and again in the comment section in response to Chris' video was whether or not it was legal for Walgreens employees to be taught to work in the pharmacy, and for the TikTok user's situation, he could very well either be a certified pharmaceutical tech or in a training program that allows him to work in this department of the store.
Chris also said that yes it was legal for him to work all of these various roles at Walgreens in a reply to one of the users who posed this question.
Article continues below advertisement

According to the retailer's website, Walgreens does offer a training program for employees to become certified pharmaceutical technicians.
Article continues below advertisement
The company's career development website reads: "Our Pharmacy Technician Certification and Training program was the first of its kind to be accredited by the American Society of Health-System Pharmacists."

Article continues below advertisement
There are even job posts on Indeed about pharm tech apprenticeship programs Walgreens employees can participate in. So, if somebody's interested in becoming a pharmaceutical technician without having to pay for school in order to do it, they could work at Walgreens, enroll in the apprenticeship program, undergo the chains certification regimen, and then become a certified pharmacist that would allow them to work in a variety of different pharmacies, or continually with Walgreens so they choose to do so.
According to the US Bureau of Labor Statistics, the average national salary for a pharmacy tech ranges from $29,640 a year to $50,640 per year, with the median salary coming out to $37,790.