Walmart Customer Accused of Stealing Returns Everything They Just Bought Out of Spite
A Walmart customer said that they were wrongfully accused of stealing, so they turned around and returned all of their items as a result.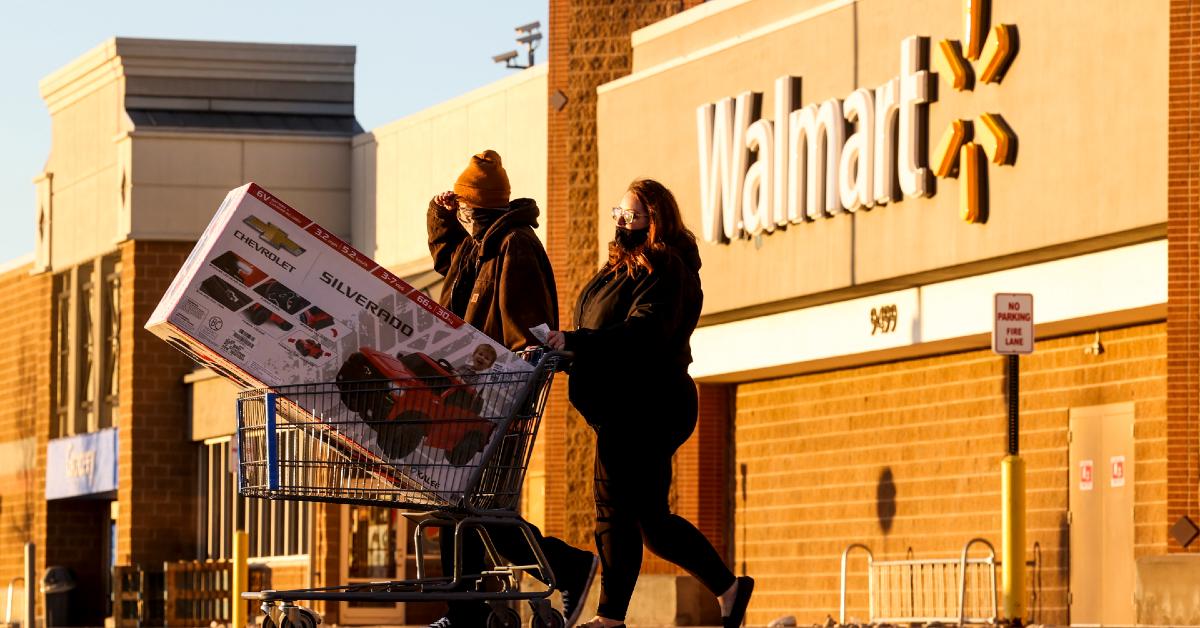 Walmart has had a purported history of accusing customers of stealing, like Lesleigh Nurse from Semmes, Ala. who was awarded $2.1 million in damages after she was arrested following a Walmart store's false claim she shoplifted from the location.
Article continues below advertisement
There are various videos on social media too where customers have recorded themselves arguing with employees who either want to check their receipts or carts because they don't believe shoppers paid for every item they're walking out of the location with.
This is what TikToker @gregmurphy77 said happened after checking out at Walmart. He decided to no longer give the store his business following the incident, however, and walked his cart right back to customer service to return everything he bought.
Article continues below advertisement
"When they accuse you of stealing you return that s**t," a text overlay in the clip reads. Greg walks right back to return the items he bought. The video begins with him pushing his cart through the store and then ends with him at the customer service desk, plastic bags filled with items resting on top of it. His cart is empty.
Article continues below advertisement

According to other TikTokers who viewed Greg's video, which amassed over 120,000 likes as of this writing, they too have been wrongfully accused of burglarizing Walmart's unjustifiably.
Article continues below advertisement

"Once a Walmart was accused of stealing a water bottle. It was a target exclusive item so I was like unless you sell target items leave me alone," one user wrote.
Someone else said, "A Walmart worker tried to stop me to check my receipt I said 'you're not a Costco I'm not paying to be here I don't owe you anything & kept walking"
Article continues below advertisement

There were plenty of other users who also mentioned the fact that Walmart has lost money in the past for falsely accusing other shoppers of stealing, and some even suggested that Greg explore legal options to address his grievances with the store.
Article continues below advertisement

"If they accuse you of theft and you didn't take anything you can sue and Walmart will settle for $25k," a TikTok user said. "You know get a check if you get wrongly accused of stealing from Walmart," another wrote.
Article continues below advertisement

Others appreciated Greg's reaction to the situation and thought that this should become a trend among other Walmart shoppers in order to curb sales enough to halt this practice: "I agree with this post. Every time they want to stop and accuse you, return all that refrigerated stuff and let them deal with it. We have the power."
Article continues below advertisement

He's recorded other videos of himself shopping at Walmart, like another incident where an employee of the store asked to check his receipt. He tells the woman that he doesn't have one and keeps walking throughout the store. In a caption for the video he claims that the same employee "bear hugged" him previously and prevented him from exiting the establishment.
Article continues below advertisement
The clip ends with him rolling his shopping cart to the vehicle with a child seat up front. He places the items in his car while the child leaves the cart. A commenter said that they found the store's policy ironic because Walmart "always catch people who actually paid but never the actual thie[ves]."