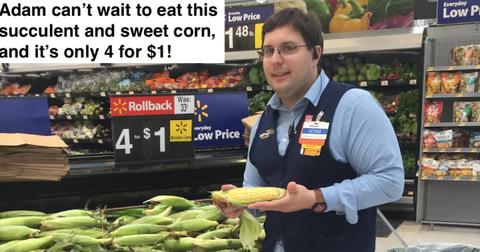 Whoever's in Charge of This Walmart's Facebook Page Deserves a Raise
By Robin Zlotnick
The Walmart in De Pere, Wisconsin has a true gem of a person on their staff. Whoever is in charge of posting to their Facebook page is doing something incredible. It's art, I tell you. In each post, a wary-looking staff member poses with a product, and the photo is accompanied by a caption that truly captures the innocent yet unhinged psyche of someone forced to pretend to care deeply about selling "succulent" corn on the cob, for instance. The Walmart De Pere Facebook page is the new Banksy. You heard it here first, folks.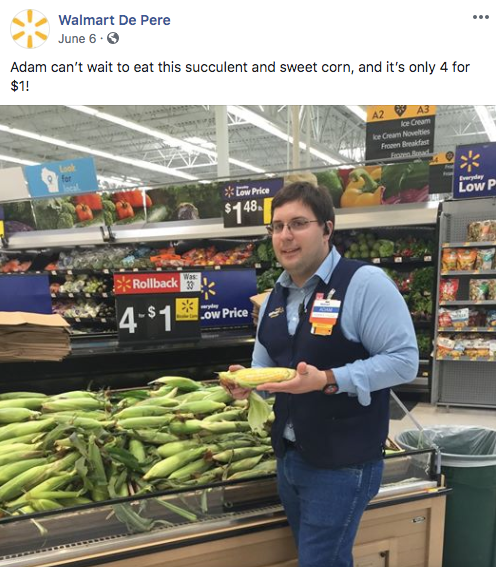 Adam looks like he'd rather be anywhere else than in this picture holding a "succulent and sweet" ear of corn. That's what makes this so perfect. Poor Adam really is the star of the Walmart De Pere Facebook page, as you will continue to see in a moment.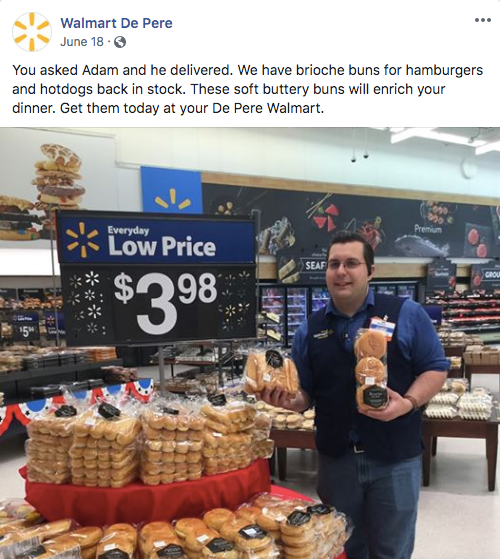 Having to read the sentence, "These soft buttery buns will enrich your dinner" while looking at Adam's reluctant, terrified face pretty much sums up 2019. Just as cringe-worthy as humanly possible. And I cannot get enough of it.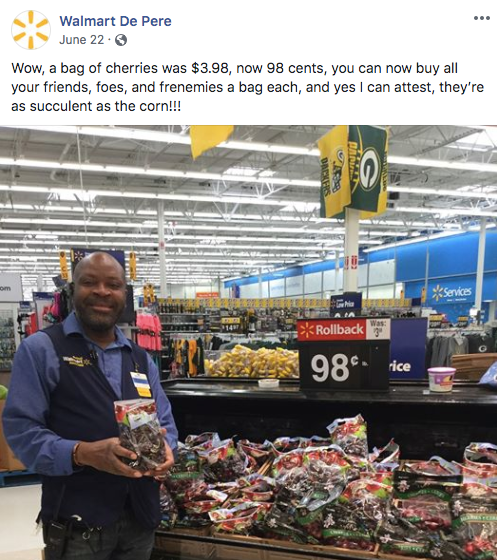 Adam takes a break for a moment to let someone else sell you "succulent" produce from Walmart's grocery department. As uncomfortable as this post makes you, you have to admit that 98 cents for a bag of cherries is a very good deal.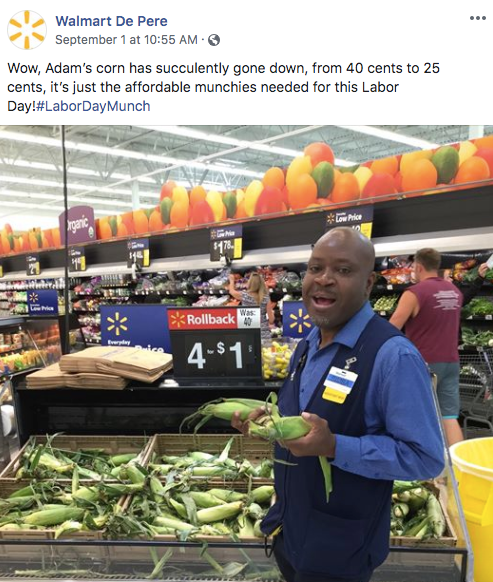 "Adam's corn has succulently gone down"?! Are you kidding me with this? And what is that man doing with those ears of corn? Is he making his very own pointy Madonna bra? At least this dude seems to ham it up for the camera more than Adam. He was born to star in the Walmart De Pere Facebook posts.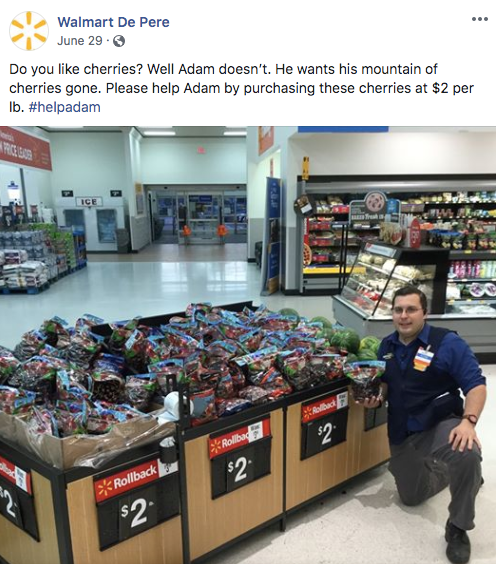 We're learning so much about Adam through these posts. I wonder if, when you are hired at the Walmart in De Pere, you have to agree to share your life story on the store's Facebook page. If so, Adam is clearly regretting signing that piece of paper.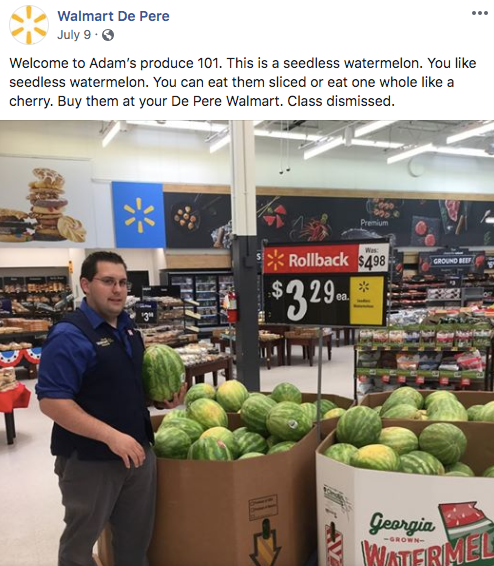 Who can eat seedless watermelons "whole like a cherry"? Maybe giants! But that's pretty impossible for us normal humans. This caption is a wild ride, and Adam looks like he was caught red-handed holding this seedless watermelon.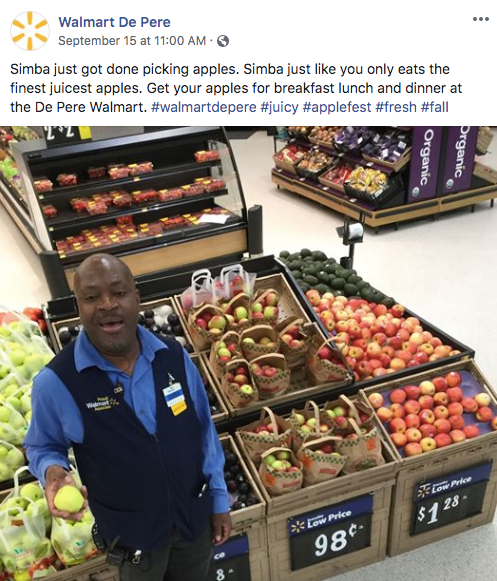 I...um...did this person climb a ladder to specifically take this photo of Simba holding an apple? What is this insane angle? I suppose this is the best view of all those juicy apples. I'm surprised they didn't describe them as "succulent."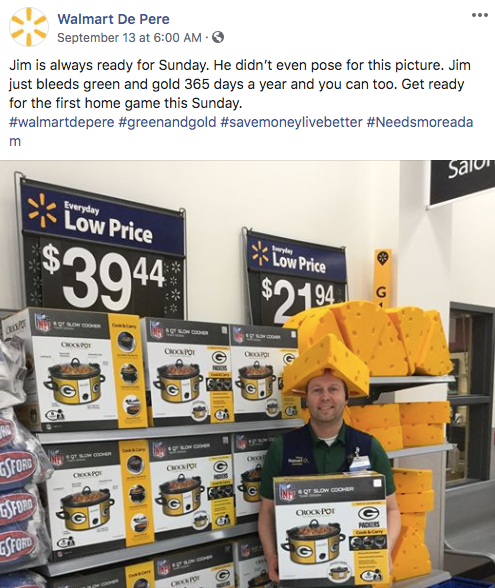 Jim didn't even pose for this picture. In fact, this is a photo of Jim trying to steal a crockpot while wearing a cheesehead hat. They caught him cheese-handed. Jim is going to have to answer for his behavior. You know who would never try to steal a Green Bay Packers slow cooker? Adam.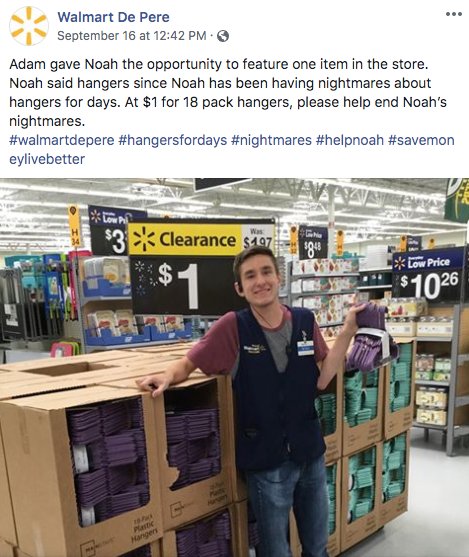 Noah's new! But he's clearly a veteran employee of Walmart since he's "been having nightmares about hangers for days." Please, for the love of all that is good, go buy these hangers so Noah can stop obsessing about them.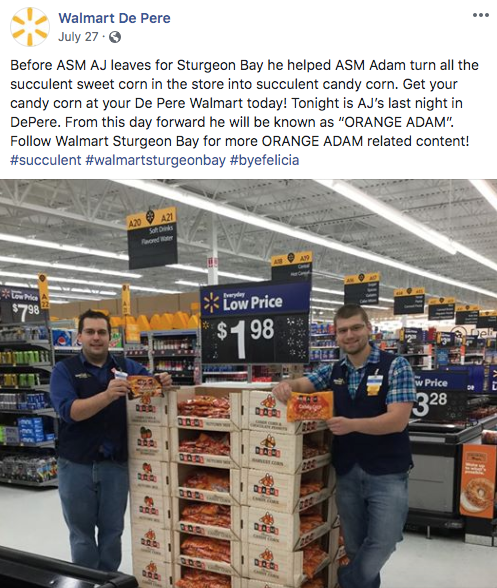 They're really milking this "succulent corn" thing, and I don't blame them! It's genius and it's unparalleled in the world of corporate social media efforts. And there's a new ORANGE ADAM in town...at least for a little while, before he moves stores and we're left with original, sad Adam. I'm now so invested in this narrative that I will be checking the Walmart De Pere Facebook page regularly. Join me, won't you?