Mom Slams Walmart for Selling Children's Book About Beer
There's a consensus that children's books are usually overwhelmingly wholesome. That was not the case when one mother encountered 'Daddy Likes Beer.'

From The Rainbow Fish to Goodnight Moon, there's a consensus that children's books are usually overwhelmingly wholesome. The purpose of stories catered toward kids is typically to send a positive message — whether grounded in fantasy or reality.
Article continues below advertisement
However, that was not the case when TikTok creator @ashliann0214 (Ashli Ann) encountered a kids' book about beer in the children's section at Walmart. Let's get into what the story contained.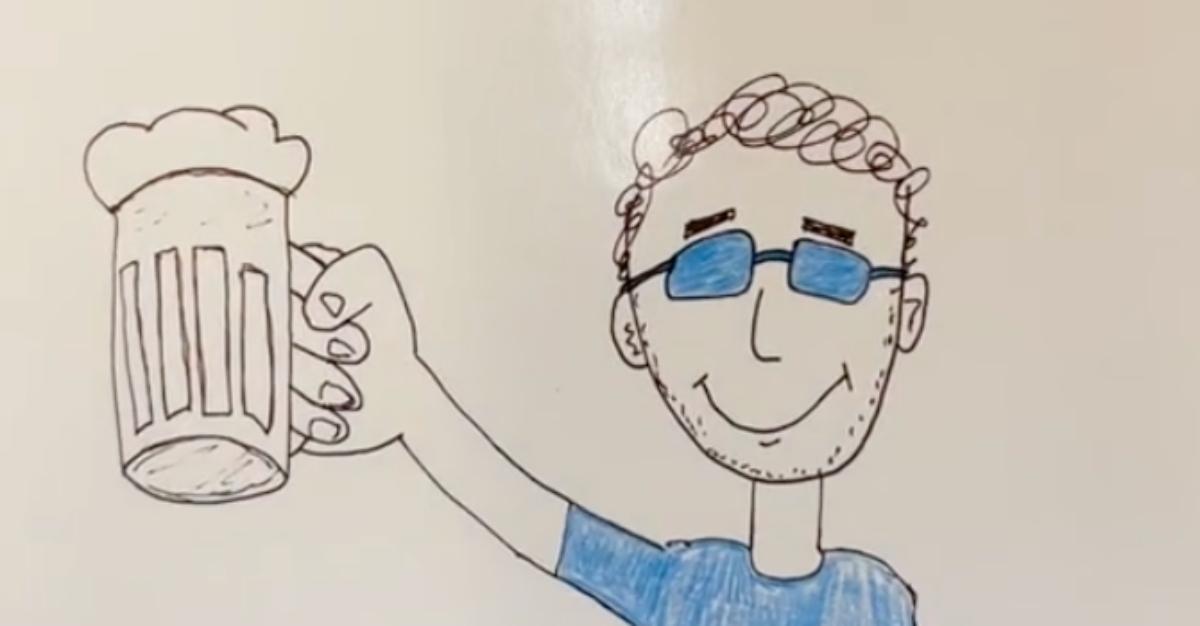 Article continues below advertisement
A woman slammed Walmart for selling a kids' book about beer.
In her video, the outraged creator read each page from the book aloud to demonstrate why she was so appalled. "Way to go, Walmart!" Ashli Ann said. "So many homes are broken every day [because of] alcoholism!"
The mother explained that her 12-year-old daughter was the first to notice the book, which she found horrifying. "Substance abuse in a parent can literally ruin an entire childhood," Ashli Ann continued. So, what did the book contain that sparked such a visceral reaction?
Here's what it consisted of.
Article continues below advertisement
Featuring pages that depict a cartoon father drinking different types of beer, falling asleep with a bottle in his hand, and a cartoon mother cleaning up after the passed-out father (and then finishing his beer), Daddy Likes Beer by Mike Lukaszewicz appears to be normalizing binge drinking for parents and children alike, according to the TikToker.
Article continues below advertisement
In a separate video, Ashli Ann responded to a user who said the book was catered toward adults instead of children. Ashli Ann showed a screenshot from Walmart's website, which contained a product description of the book that included the phrases "family-friendly" and "something that adults and kids can read together."
(Editor's note: The product description likely came from the book's publisher. If you look at a cached version of the publisher's page for the book, you can see the same product description as the one Walmart had. However, if you visit the publisher's page now and not the cached version, you can see that the wording is different and calls it a gift for "dads," indicating a sort of gag gift for adults. So, it seems like Walmart was just using the original description that the publisher gave them.)
Article continues below advertisement
Ashli Ann reiterated in another video that the book wouldn't have been as bad if it was strictly marketed as a gag gift for fathers. However, because it was located in the children's section at Walmart and used the term "family-friendly" in the product description featured on the website, it's in poor taste.
Article continues below advertisement
Many users agreed with Ashli Ann's take, and the general consensus in the comments section was that the mom was right.
"Only ones who haven't been through it with an alcoholic think it's funny," one individual pointed out. "Those of us [who have been] affected are disgusted."
"The book is completely out of line," another person said. "I support your message 100 percent."
"You're def in the right. Thank you for exposing this," said another user.
Distractify reached out to Walmart for comment.