Woman Claims There's a "Hack" to Finding Real Clearance Price on Items at Walmart
An extreme couponer is urging folks to not be so quick to trust clearance stickers, says you should always scan for online prices before buying.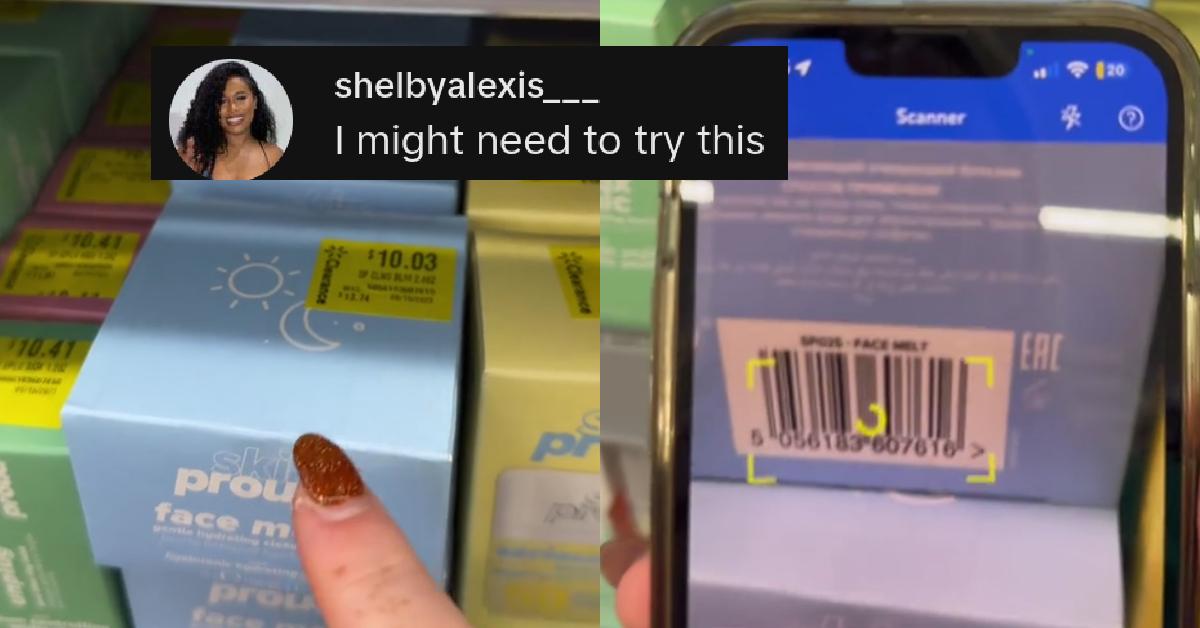 There are some die-hard extreme couponers who seem to derive pleasure from scouring the annals of the internet, mailers, stores, promotional press releases, and maybe even some esoteric smoke signals (the stuff of myth) about the latest and greatest deals that shoppers can secure for themselves while on the prowl for savings on a variety of different products.
Article continues below advertisement
Some folks have dedicated a significant portion of their time to this endeavor and have managed to create a pretty sizable online presence for themselves in the process of sharing the work they've done in this specific niche.
They then use this platform to alert folks to the bevy of deals that await them, putting in the work to discovering these deals and bestowing this knowledge upon denizens of the internet who can hopefully enjoy these savings too.
Article continues below advertisement
Popular TikToker Kayla (@couponwithkayla) is one such extreme couponer, and a recent video she posted about Walmart clearance items went viral, accuring over 237,000 views.
In it, she urges folks to "never trust the price tag" of clearance items and demonstrates why.
Article continues below advertisement
"This is your reminder to check the prices, even if there's a clearance sticker because for example, these say that they're $10, but if we scan them and check the price on the Walmart app,..three dollars."
Article continues below advertisement
The psychology of the sticker's color, along with the word "clearance" probably gets folks to think that they're getting a good deal on the item, however, Kayla shows why this isn't the case.

Article continues below advertisement
Using an item that most folks have access to: a smartphone with a camera, she's able to scan the UPC code on the product to see what the price of it is on Walmart.com, and wouldn't you know it, it's almost $7 cheaper online: $3.44.
Judging from the comments left by some viewers, however, it would appear that the online price of items isn't necessarily always cheaper. In fact, one person said that they experienced the opposite effect: "my Walmart is opposite. When I scan it gives a higher price than the sticker price"
Article continues below advertisement
Another TikTok user said that they have difficulty even scanning the UPC codes of the items as they won't pop up on Walmart's website or that they're redirected to an error message stating that the item couldn't be found.

Article continues below advertisement
But then there were those who said that they, too, noticed clearance products were significantly cheaper online when they've scanned so-called "clearance" products while out cruising for deals: "the other day i bought a nightshirt clearance at 10$ but in reality it was 5$"
One TikTok user wanted to know if the feature Kayla was using would only work with Walmart's "+" shopping service, to which Kayla, to which the extreme couponer replied: "Nope! It should work for everyone as long as you allow location settings for the app"
Article continues below advertisement
Walmart + is kind of like the retailer's version of Amazon Prime, which costs $49 per year or $6.47 a month (for college students) or $98 per year $12.95 for standard plans. The service comes with free same-day delivery of groceries, 5% Walmart cash back, and free shipping from Walmart.com "with no order minimum."

Article continues below advertisement
It also comes with a free Paramount+ streaming subscription, probably in a bid to try and compete with Amazon Prime's free entertainment offerings as well.
It did seem like there were a lot of folks, however, who had pretty much the same experience as Kayla with the sticker/online pricing disparities: "Yesssss I wanted this spf stick so bad to try it out …in app $4 in store $12 on the yellow sticker! Regular price: arm and leg !"