Woman Fired from Walmart Immediately Re-Applies for Same Job and Gets Re-Hired — "They'll Hire Anyone"
A Walmart employee shared a "hack" to getting your job back if the retailer ever fires you: simply re-apply and voila, you're back in. At least for her.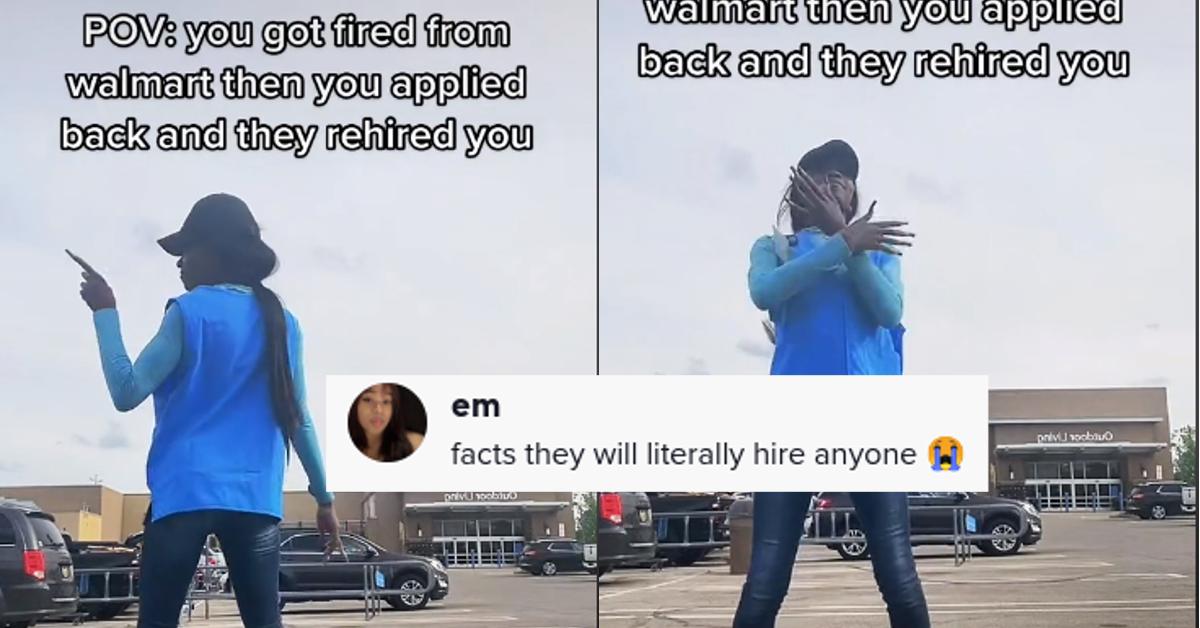 A TikToker who goes by Ameliya, who posts on the platform under the handle @ameliya_0 uploaded a now-viral clip where she claims to have been immediately re-hired by Walmart after being let go by the global mega-retailer.
In the video, which isn't uncommon on TikTok, she is dancing in public. In her case, she's wearing a Walmart uniform and appears to be in the parking lot of the store she was fired/re-hired in.
Article continues below advertisement
She writes in a text overlay for the video: "POV: you got fired from Walmart then you applied back and they rehired you."
"They will literally hire anyone," Ameliya wrote in the caption for the now-viral clip.
Apparently, she isn't the only Walmart employee to whom this has happened to.
Article continues below advertisement
"same got fired 3 times & got rehired twice"
"lol I left with no notice then got rehired"
"i had enough points to get fired and they knocked them off because they couldn't afford to lose anyone"
"They was just playing"
"Bro's fired me too but they literally called me within two days and asked me to come back"

Article continues below advertisement
But there were other TikTokers who expressed that they didn't have the same luck at Ameliya. Some said that they attempted to re-apply after either leaving or being let go from the retailer and were still waiting to hear back from them.
And then there were those who said that they couldn't even secure an interview in the first place.

Article continues below advertisement
"nah walmart denied me 3 times and the last time they told me "come back when your 18!" i was 16"
"Depends on the situation. I'm still banned after 7 years"
"Not in Texas thoo"
"but won't give me the time of day ever again i be reapplying for 3 months now"
"Walmart used to be an exclusive club now they hire anyone but me cool cool"
"I applied and they never got back to me"

Article continues below advertisement
There were throngs of other commenters who pointed out how desperate the retail locations in their particular areas are for new employees.
According to Business Insider, per resources from CareerCloud, the states that have been hit hardest by the labor shortage are Nebraska, Vermont, and New Hampshire.

Article continues below advertisement
And while there are still plenty of businesses, especially in the restaurant industry that are still scrambling to staff locations, Walmart and other retailer chains have said that they're actually "overstaffed" as of May 2022, according to Marketplace.

Article continues below advertisement
The outlet interviewed Alan Benson, who said that over-staffing is actually a part of company strategy, i.e., keeping part-time workers on hand just in case another situation like the pandemic arises that threatens the efficacy of a retail location: "short term, overstaffing is a better option than missing sales. And it means some retailers are hiring more people part-time, according to Alan Benson, who studies staffing strategies at the University of Minnesota.
'Companies are going to be experimenting with more models of achieving greater flexibility, and that could very well be a long-term trend to come,' he said."

Article continues below advertisement
In an article published by Forbes on February 17, 2022, the business outlet remarked that "the labor shortage is easing."
In the piece, contributing writer Richard Kestenbaum cited research from Capitial Economics, a firm that showed while "the numbers are better than what they were [mid-pandemic]...they're hardly low."

The outlet also added pertaining to labor shortage numbers that: "there's no guarantee that they won't turn around and rise again. But the trend is in management's favor now and notwithstanding some other shock, should revert to the norm."