Walmart Employee Decides It's Easier to Put in 2 Weeks' Notice Than Ask for Vacation Time
A Walmart employee who just started working at her job put in her 2 weeks notice because she wanted to take an extended vacation.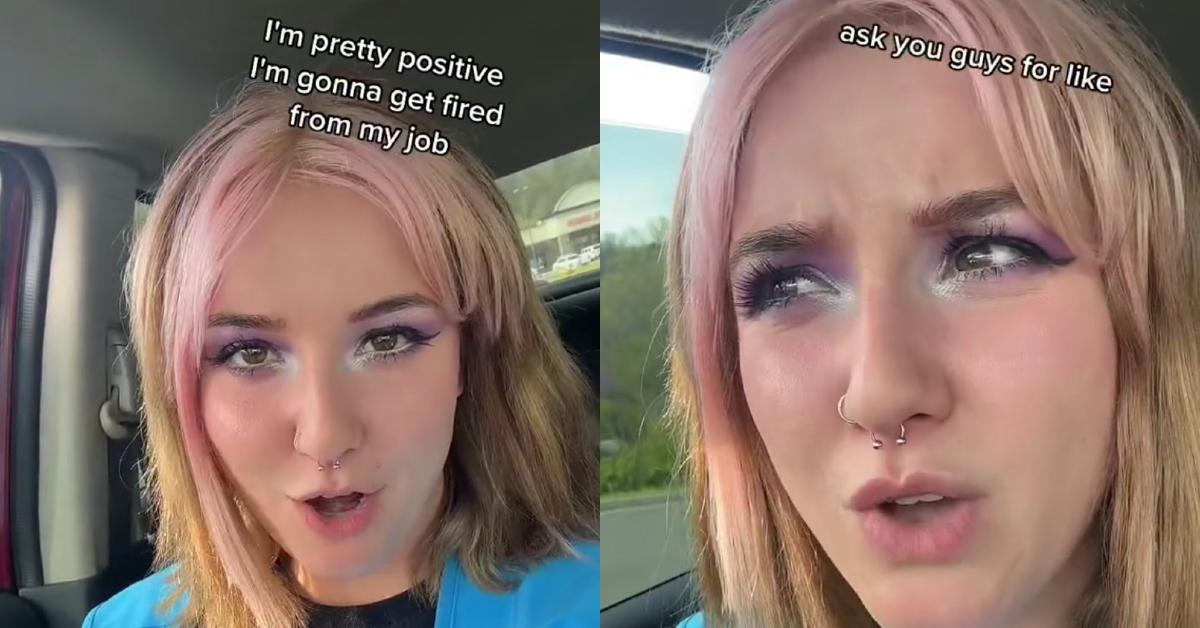 If you just started working a new job, it's not a very good look if you ask for a vacation that's equal to about half of the cumulative time you've put into the gig. In fact, it's probably a surefire way to get you fired, because, again, that initial impression you're making is that you seem to be more concerned with taking personal time off than putting in hours at your job.
Article continues below advertisement
But what if you've already got yourself a vacation lined up before you interview for a position and get a job? It's probably best for you to let your employer know beforehand so they can adjust your pay schedule accordingly and ensure that they've got the business/operation properly staffed while you're gone.
But for this Walmart employee, she decided that the best way to ensure that she could go on her vacation was to instead put in her 2 weeks' notice because she knew that management wouldn't allow her to take three weeks off of uninterrupted time.
Article continues below advertisement
However, she was shocked to discover that her job would still be waiting for her when she returned from her trip, and the ensuing conversation she had with her manager ended up becoming a strange verbal stand-off about upper management power struggles over employees, along with the realization that some retailers really can't be choosy when it comes to who they hire.
Article continues below advertisement
Alanah, who posts to TikTok under the username @kyfriedcooch delineates the strange situation with her former manager in a now-viral clip that's amassed over 150,000 views. "So essentially like I pretty much got offered to go on a vacation for like three weeks. And I knew the job wasn't gonna give me off but I wanted to leave on good terms so I could come back in a few months."
Alanah was of the mind that if she exited the store with the professional courtesy of putting in her two weeks' notice, that would look better, however, her manager was pretty miffed that she wanted to leave in the first place, "Well I come in yesterday and they approach me, my manager in like a f------ I don't know, the store coach if you will, and they're like hey we don't want you to quit, we want you to keep working here."
Article continues below advertisement

Alanah said that management told her that she shouldn't have asked to quit but instead should've "just asked for the days off." She tells her followers that while that all sounds fine and dandy she knew that she wasn't going to get the amount of time off that she wanted (three weeks) and that she wanted to do the "respectful thing" and just put in her two weeks' notice.
Article continues below advertisement
The TikToker adds that while she was told she could keep her job, "the store coach was like f------ p----- off" and told her "just so you know you're lucky I was in a good mood today because if I wasn't I would have just told you to f------ leave."
She said that she apologized and said she was "trying to do the most responsible thing," by putting in her two weeks' notice and not ask for almost a month of vacation time when she only worked at the store for a month and a half.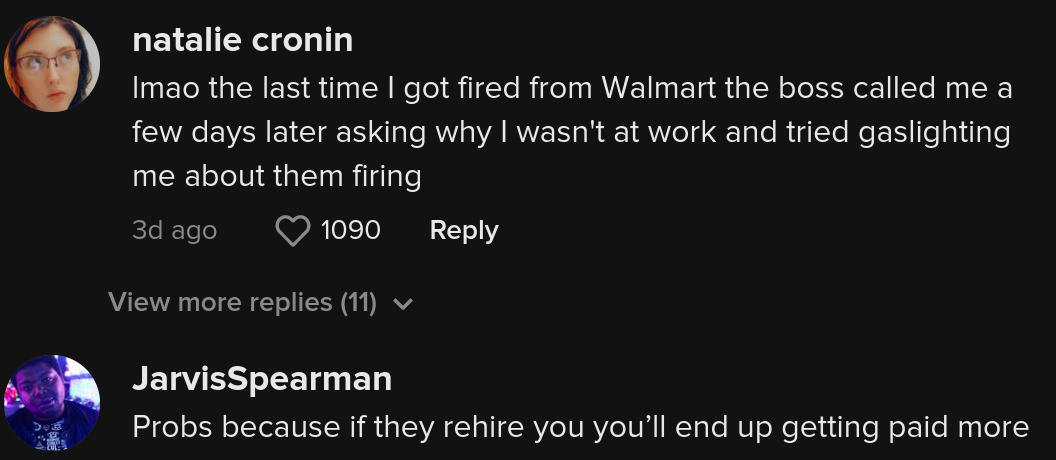 Article continues below advertisement
Alanah thought that the whole situation was indicative of just how "desperate" her store was for "people right now."
And even though she was told that her job was safe with the company and she was asked to come in early for her shift, she said that she suspects management was trying to "gaslight" her with some locker drama that came out of nowhere.
Alanah said that when she came into work for her early shift, she noticed that the locker she normally used had a lock on it and she assumed management gave it to someone else. When she spoke to her boss, they said that they didn't know anything about it, but kept asking Alanah questions about the locker that just seemed strange.
Article continues below advertisement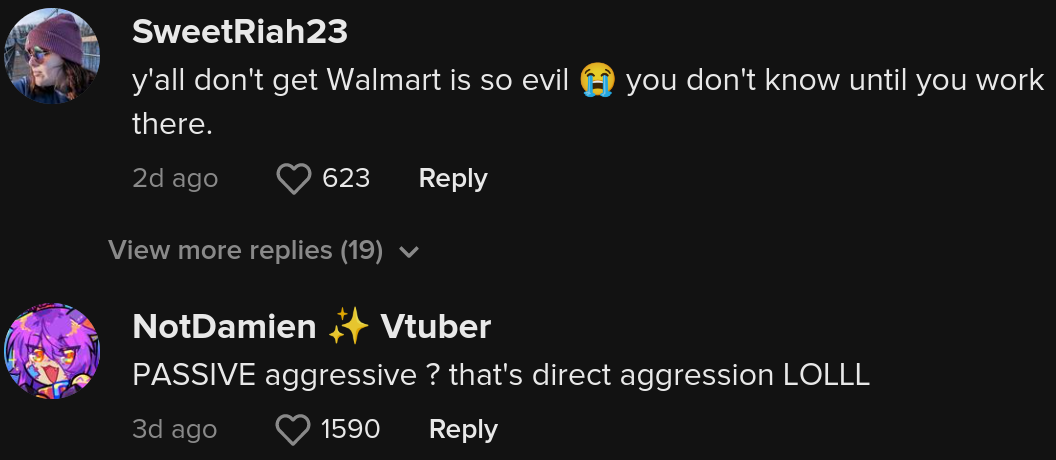 According to the Walmart employee, she said that the store coach intimated that Alanah was somehow stirring up some drama with the locker situation, almost hinting that she put the lock on it herself in order to cause a problem out of nowhere, which baffled her to no end.
Article continues below advertisement
To make matters even weirder, she said that the manager was acting passive-aggressive about the whole situation, exclaiming, "Wow someone just stole it from you that's crazy," leaving her doubtful as to whether or not she's actually fired from the job or not.
Viewers who saw Alanah's post had a variety of different responses to the workplace drama. Some saw her video and the roundabout way she told the story and expressed a sense of doom for America's future, "This generation.. we're so screwed lol," they said.
Article continues below advertisement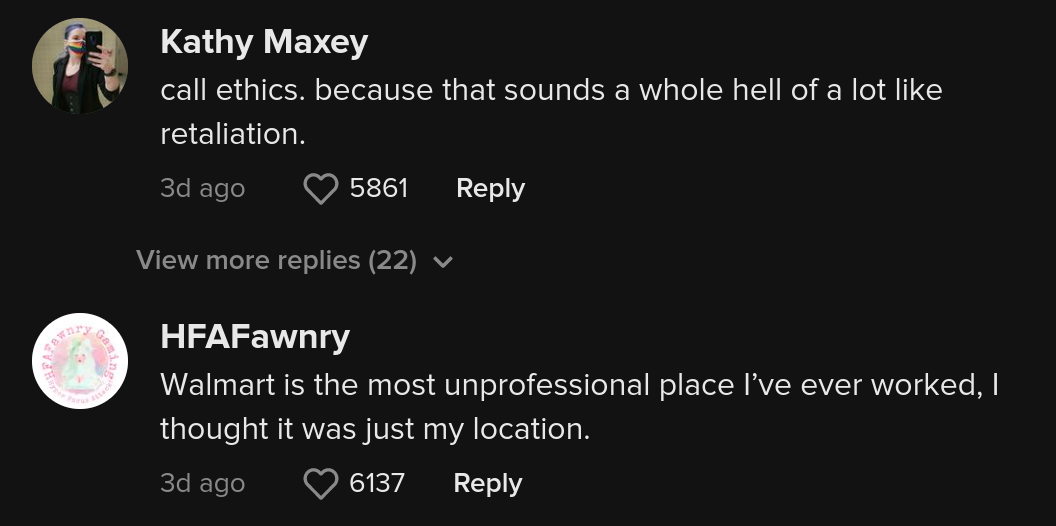 However, there were others who thought that management was trying to get back at Alanah and that she should file a formal complaint: "call ethics. because that sounds like a whole hell of a lot like retaliation," while another added, "Walmart is the most unprofessional place I've ever worked, I thought it was just my location."