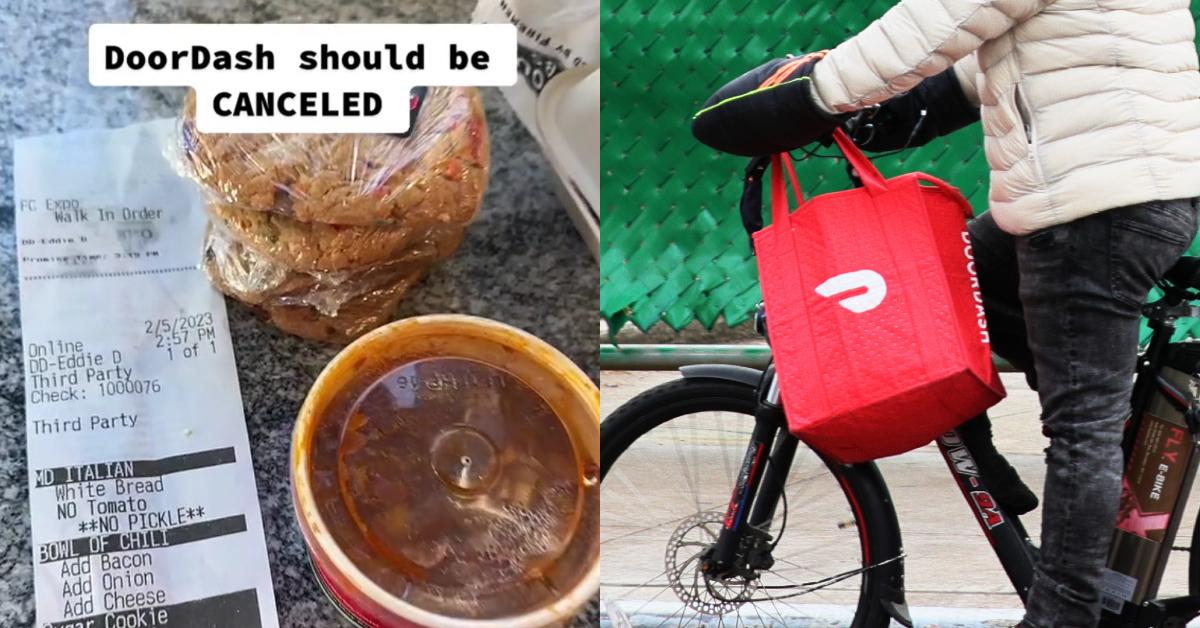 DoorDash Customer Slams Pre-tipping Policy After Driver Delivers Wrong Order
A DoorDash customer slammed the application's pre-tipping practices after she received another person's food order.
Article continues below advertisement
In fact, there are even instances online of DoorDash drivers showing off throngs of orders at restaurants that aren't picked up, presumably because there aren't any tips attached to them.
However, there are some customers who say that they don't feel comfortable tipping ahead of time on food delivery orders because they are unsure of the driver's ability to get their food to them in a timely manner, or, in the case of TikToker @nativehoney101, if they're going to deliver the correct order, to begin with.
Article continues below advertisement
In a trending clip on the platform, the woman maligns a DoorDash driver for bringing her a food order placed by a different customer, leaving her with an entirely different meal from the one she placed.
Article continues below advertisement
She says in the clip: "This is exactly why they shouldn't require you to tip ahead of time. People should do their jobs before they get their tip this is not my f***ing order my name is not Eddie. This was on the outside of the bag so the driver could clearly see this order."

Article continues below advertisement
According to the receipt the TikToker shows off in the video, the order that was delivered to her house was from Firehouse Subs, and it included a Medium Italian sandwich on white bread along with two sugar cookies, two chocolate chip cookies, and a bowl of chili with bacon, cheese, and onion.
She says that this wasn't what she ordered, however, "I ordered 2 sandwiches, that's it. And this is what I get like what the f*** DoorDash. Your drivers are f***ing idiots."
A number of TikTokers expressed their displeasure with the TikToker's video.
Article continues below advertisement
"You sound like a lovely human," one person wrote sarcastically. Another said that her ire with the incorrect order was uncalled for, seeing as if she complains to DoorDash about the incorrect order, she would get her money back and she'd get to keep the food that was brought to her.

Article continues below advertisement
"You get a refund anyway so what difference does it make?" they asked.
Another said that in many instances, customer rage is incorrectly aimed at DoorDash drivers: "my orders are always sealed so I can't blame the driver. they can't open my bag and ultimately it's the restaurant that got it wrong"
However, there also seemed to be a number of other TikTok users who sympathized with the customer's anger: "It's because door dash lets drivers pick up multiple orders at a time... I hate it!"
Article continues below advertisement
@NativeHoney101 surmised that multiple food pick-ups at the same location is a big cause of her dissatisfaction with DoorDash as a meal delivery service: "Omg yes and that's another reason why they suck! Food is ALWAYS cold"

Article continues below advertisement
Another commenter remarked that they prefer UberEats over DoorDash when it comes to tipping for orders, as they're able to change the tip amounts or rescind them if an order is incorrect.
"That's why I like UberEATS better. Tips are adjustable," they wrote.
But there were other customers who said that these types of experiences have them swearing off using food delivery applications entirely.
Article continues below advertisement

"This is happening more and more lately. Fees and tips are going up and the quality is going down," one penned. Another said, "I just get my own food now saves me hassle and the annoyance."