Here's Our Best Guess of What Marvel's 'WandaVision' Is Actually About
Marvel released a teaser trailer for 'WandaVision' during the Super Bowl. Here are some of our theories about the 'WandaVision' plot.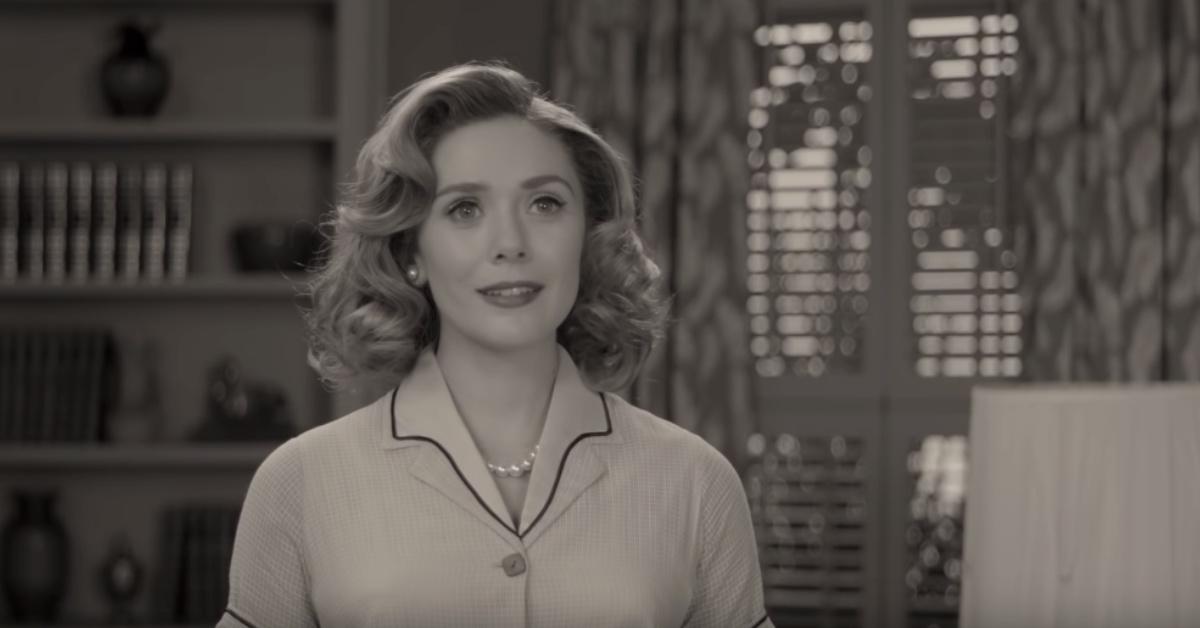 Thanks to a teaser aired during Super Bowl LIV, we now have gotten our official first look at WandaVision — the Wanda Maximoff-centric show that appears to be a sitcom taking place in several different time periods. This is some experimental stuff we're dealing with here. There's not a lot of info out there about WandaVision yet, but we are so curious about the WandaVision plot. What exactly can we expect from this show? And is it really a sitcom?
Article continues below advertisement
What can we expect from the 'WandaVision' plot?
While WandaVision is largely surrounded by a veil of mystery, you can rest assured that we have watched the teaser so many times, picking it apart frame by frame. And we've got some theories.
Article continues below advertisement
First of all, you can clearly see that the show appears to have scenes taking place in several different time periods. The first WandaVision clip we see is black and white footage of Vision and Wanda, à la Leave It to Beaver. We also see Wanda in a groovy, '70s-style getup, standing in what definitely looks like a recreation of the Brady Bunch house.
There's also a quick shot of Vision and Wanda in a recreation of the Family Ties house, which brings us into the '80s, and a shot of her in a comic-accurate red costume standing in what might be the Bewitched! house.
Article continues below advertisement
So, OK, we know there's going to be some time-hopping, but the fact that specific sitcom sets are referenced leads us to believe that a lot of the show might actually be taking place in Wanda's mind rather than in real life —maybe she's using her powers to create a happily-ever-after for herself and Vision — but honestly, we have no idea.
Article continues below advertisement
There's also the fact that Wanda definitely appears to be pregnant in one of the shots of her in the Brady Bunch set. And those are definitely pacifiers popping up from two baby carriers at the end of the teaser, right? That has led people to guess that the show will also include Wanda and Vision's twins, Billy and Tommy, who are also known as the heroes Wiccan and Speed.
In the comics, Wiccan and Speed are featured members of the Young Avengers — which means that if Marvel makes a Young Avengers movie (as has been rumored), they'd present a perfect tie-in opportunity with WandaVision. And we know Marvel is all about those tie-ins, so we can totally see this happening.
Article continues below advertisement
We also know that WandaVision ties directly into the plot of Doctor Strange in the Multiverse of Madness. Although how it will do so is anyone's guess. Still, no one is doubting Marvel's ability to connect a multi-era sitcom that might actually just take place in someone's mind to Doctor Strange. They've done much weirder stuff already.
When is 'WandaVision' coming to Disney Plus?
Originally, Disney had announced that WandaVision would be released in 2021. However, it looks like they have now bumped that up to sometime this year, presumably in order to incentivize people to join Disney Plus. That makes sense, although we have a feeling that most Marvel fans have already joined the Disney Plus bandwagon.
We can't wait to see what this show is going to be like. Hopefully we don't have to wait too long!