The Story of This Tragic Wardrobe Malfunction Will Make You Cry Laughing
In short, his pants were too tight. They exploded off his body. And he wasn't wearing any underwear.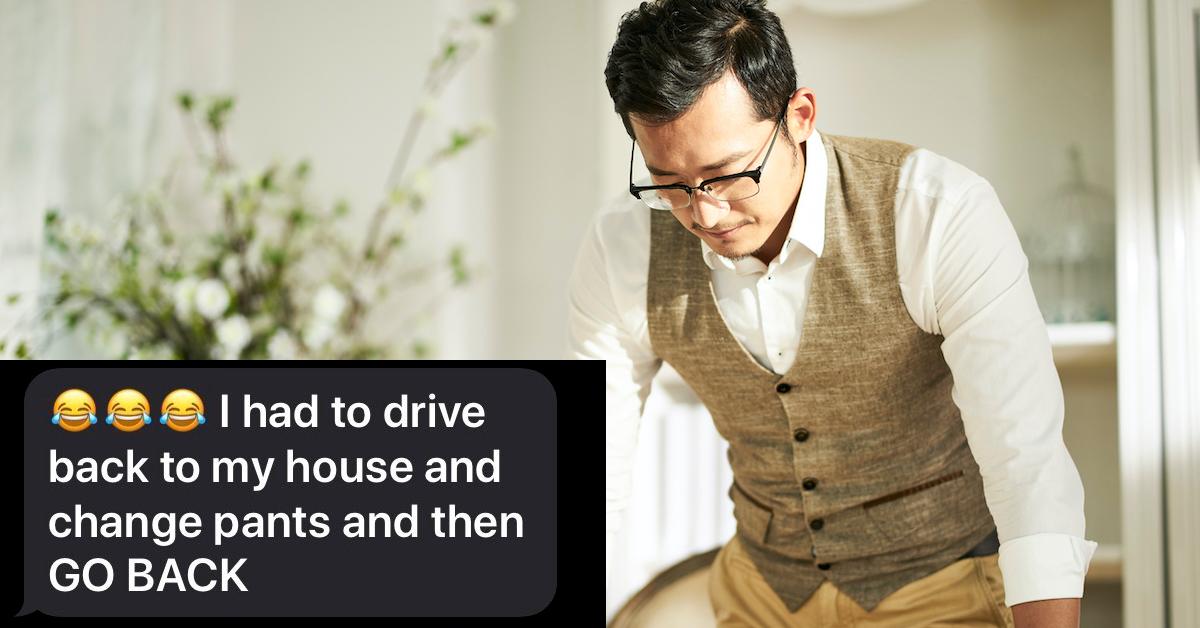 I have recently become worried about how many men do not wear underwear. In a recent video on Bon Appetit's YouTube channel, Brad Leone told millions of people on the internet that he hasn't worn underwear in years. Years! I would have thought that guys especially would like that extra support.
Article continues below advertisement
The story you are about to read is the most convincing case for why you should wear underwear at all times unless you are in the shower. Twitter user @flyaway_k shared a text exchange with his son Zack, who Zack recounted the most humiliating workplace wardrobe malfunction story in recent history. His dad gave him permission to share it on Twitter where it, of course, went completely viral.
Article continues below advertisement
He was wearing black slacks that were "a little tight" but apparently fit him nicely. But when he bent down to pick up some soup bowls, they "exploded off" of his body. It sounds dramatic, right? There's no way his pants actually exploded off of his body unless he accidentally bought those tear-away pants strippers wear.
And Zack, I'm sorry to say this, but if those pants actually exploded off of your body, they were more than "a little" tight. We often hear embarrassing stories of people's pants splitting in public. It's an old joke. But it's one of those things that I think most of us believe only happens in movies. In this case, it happened for real to Zack. And believe it or not, the details get worse.
Article continues below advertisement
I have so many questions. First, why why whyyyyyy with the no underwear at work? I would feel so exposed even if my pants didn't explode off of my body. Second, if the pants, as Zack said, completely exploded off his body, how did he gather himself to leave and run to his car? Did he have a hoodie to tie around his waist?
Article continues below advertisement
Were the pants just dangling off his naked bottom as he ran to his car? I'm picturing so many things right now, and they're all bad. Truly, though, the real nightmare of it all is that he had to return to work and face his boss, the boss who had just gotten a glimpse inside his butthole. I could not imagine that. It's a wonder he didn't leave work, buy a new pair of pants, and then also purchase a ticket for the next flight out of there, get on a plane, and never return to his old life ever again.
Article continues below advertisement
What brand of pants are these? I need to know so I never buy them. I lost it at "E v e r y b o d y at least saw cheek," and then I lost it again at "Kelly though, Kelly looked inside me."
Look, I am sure this was traumatizing for Zack. It can't have been easy to be the guy whose pants exploded off his otherwise naked butt at work. But truly, the real victim here is Kelly, who now has to look at Zack every day and try not to think about seeing the most vulnerable part of him.
Article continues below advertisement
What do you even tell HR when this kind of thing happens? I suspect a lot of conversations have to happen. If I was Zack, I think I would have to quit my job. How, how do you go to work every day and look into your boss's eyes knowing that they're not seeing your eyes at all when they look at you? I couldn't do it.
Article continues below advertisement
The fact that this happened right as 2019 was coming to an end is simply poetic. Obviously, the decade had to end with a bang. It's such a fitting close to a truly insane ten years. I hope Zack was able to have a sense of humor about it because it really is very funny.
But look, it's 2020. A chance to start anew, to put all exploding pants incidents behind us. Maybe in this new year, none of Zack's pants will explode off his body while he's at work. One can only hope.