22-Year-Old Man Blasts Family Online for Not Getting Him Enough Christmas Gifts
Reddit can't stop roasting this grown man who blasted his family for the "worst Christmas haul" he's ever had.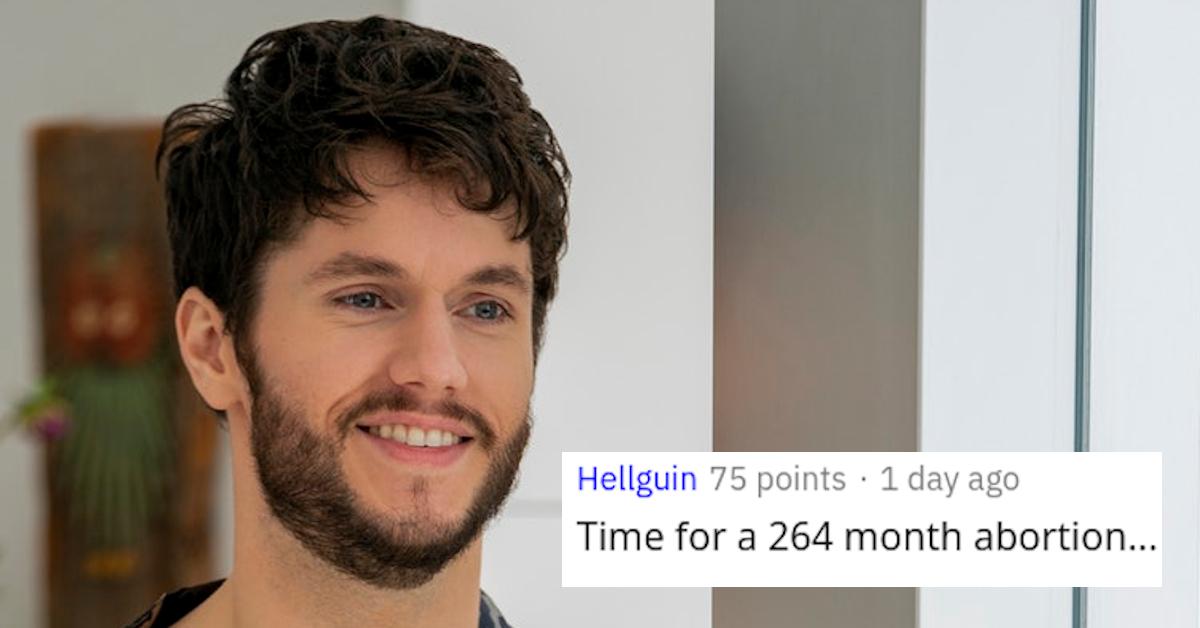 The Cringetopia sub on Reddit had a field day roasting a 22-year-old-man who went online to talk smack about his family for the underwhelming amount of Christmas gifts they gave him.
Whenever I meet adults who are basically overgrown children, I'm a bit conflicted as to who to put the blame on. Surely, their parents/guardians/environment played a huge role in how they ended up the way that they did.
Article continues below advertisement
But then again, if you're a grown-ass individual, there are plenty of examples of how one should behave freely available pretty much everywhere. Books, TV shows, movies all provide prime archetypes for what's considered socially acceptable behavior, and on the flip side, what sort of manners are reviled and deemed reprehensible.
Sadly, this dude didn't make those distinctions after all his years on earth.
Either that or he never watched a single Christmas movie that extols the virtues of "giving over receiving" or divulged the not-so-hidden meaning behind the old adage, "beggars can't be choosers."
He thought it would be a good idea to take to Twitter and put his own family on blast for their underwhelming showing of gifts on Christmas.
What's even worse, however, is what he expected to get in return.
Article continues below advertisement
His ideal Christmas gift haul sounds like something that would be on a 13-year-old's wish list, not an adult who's old enough to have their Bachelor's degree and start applying for full-time employment:
"No POP! Vinyls, no video games, no Google Play, PSN or Nintendo Network cards, no DVDs or Blu-Rays, and as the LEGO sets I get for Christmas go, this one is below-average size. I knew that my family would blow it this year."
Article continues below advertisement
This is someone who has a STANDARD SIZE FOR "CHRISTMAS LEGOS". Are there other holiday LEGO sizes we don't know about? Is the one that he got a more appropriate size for Easter? Or a half-birthday? What really seals the deal for me is the Rick and Morty t-shirt - I think we know exactly what niche of fan this dude is: absolute man-child neckbeard.
As depressing as a post like this is for our collective species, Reddit came in to save the day with choice comments like the ones below.
Article continues below advertisement
Other people started sharing their "humble" Christmas gifts and how happy they were to receive them and soon the thread changed from a forum that took turns dunking on the baby-man to a very wholesome series of comments that showed what the Christmas spirit is all about.
Or more about the fact that you know you've transitioned into adulthood when you become more excited for appliances than toys.
Article continues below advertisement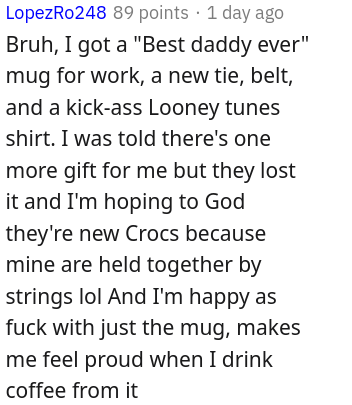 Article continues below advertisement
It didn't take long for the conversation to turn back to the petulant 22-year-old baby's rant against his parents again. Others pointed out that even though this dude has been old enough to hold down a job for more than a few years, he probably is the same type of nerd who didn't get anything for his own folks on Christmas.
Some though were a little uh...harsher in their criticism of the man.
Article continues below advertisement
And, of course, there were plenty of other commenters who made astute observations about how fittingly the young man's rants matched the gifts his parents gave him.
Article continues below advertisement
What do you think? Have you ever come across folks who were totally ungrateful for the gifts they were given, despite being old enough to drink and finance a car payment on their own?