Joan Thought She Was Pregnant in an Early Episode of 'Girlfriends'
Now that it's on Netflix, many are returning to 'Girlfriends' and wondering whether Joan was actually pregnant in an early episode of the show.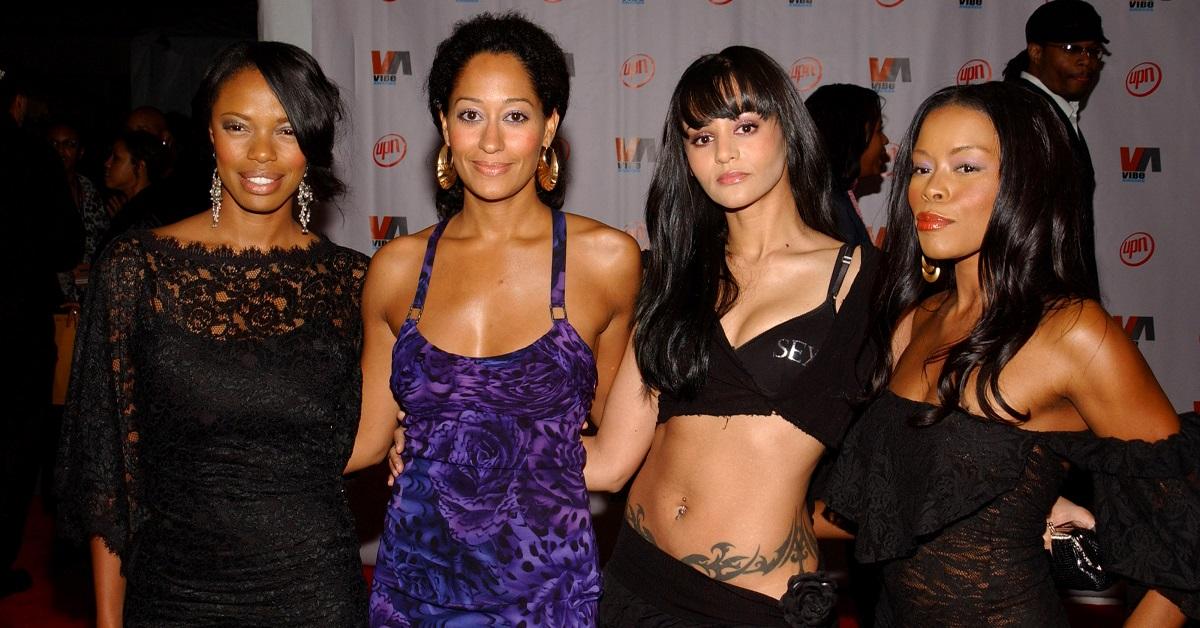 Thanks to its arrival on Netflix, Girlfriends is experiencing a popular revival. The show originally aired on UPN and The CW for eight seasons, and was popular enough to have a substantial following. Like many fairly recent sitcoms, the show's legacy was diminished somewhat because it wasn't available to stream. Now that it's on Netflix, that has changed, and many fans of the show are grateful.
Article continues below advertisement
What is 'Girlfriends' about?
Girlfriends is a fairly conventional sitcom (at least in its plotting) about four Black women living in Los Angeles. The show had a very similar feel to Sex and the City, which told a familiar story about white women living in New York. Over the course of its eight seasons, the show's fans tracked the love lives and career aspirations of its central quartet. This included the storyline where Joan thought she might be pregnant — keep reading for more details.
Article continues below advertisement
Was Joan pregnant on 'Girlfriends'?
Babies don't play an enormous role in Girlfriends, but there is one early episode called "Pregnant Pause" where Joan, who is seen as the mother-figure in the group, thinks she might actually be pregnant. She first suspects it after she's late, and then takes a pregnancy test which seems to confirm that she's actually pregnant. Joan, who is very focused on her career at this point, doesn't take the news very well.
Ultimately, though, she bucks up and realizes that even though it's not the way she planned it, a baby may ultimately be a blessing. That only leaves her more crestfallen when she goes to the doctor and discovers that she isn't actually pregnant. Although she was initially dreading the baby, the news that she isn't having one ultimately leaves her feeling disappointed.
Article continues below advertisement
Sex and the City actually features a very similar episode early in its run. On that show, Carrie suspects that she's pregnant, and envisions the end of her romantic life in New York City. Although that vision leaves her dreading her future, when she discovers that she isn't pregnant, the feeling she's left with is melancholy. Now, people can see the Girlfriends version and appreciate it fully.
Article continues below advertisement
The cast of 'Girlfriends' recently reunited.
Although the show ended more than a decade ago, the cast of Girlfriends recently reunited to commemorate the show's debut on Netflix. In a call with Entertainment Tonight, the cast discussed the show's impact on their lives, and what its legacy means now. "We've grown up together the four of us, ya know?" Golden Brooks said. "I have had so many moments with each and every one of you that I can say, 'That made me a better person, because of Tracee, Persia, Jill.'"
Tracee Ellis Ross, who played Joan in the series, also said that Girlfriends broke new ground for how Black women were depicted on TV.
"I don't have to walk around saying I am a woman of color, I am a woman of color, so it doesn't have to be every joke out of my mouth," she said. "It is who I am and I think the way the show deals with it is so refreshing."