Woman Shockingly Finds Unopened Wedding Gifts Hidden in a Box Underneath Her Veil
A year after her and her husband's big day, a woman discovered 20 unopened wedding gifts hidden under her veil. Check out the full story.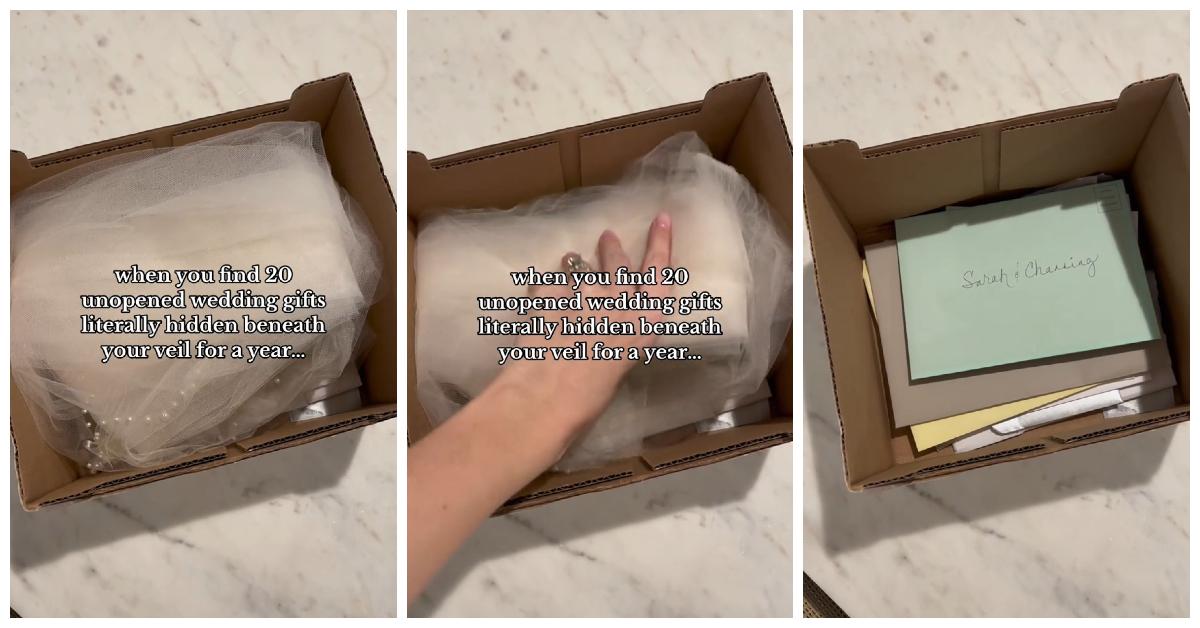 Keeping track of wedding gifts is quite a challenging task for newlyweds, especially when all they want to do is bask in the honeymoon phase. But it's too important of a responsibility to ignore, especially if you and your spouse plan on sending thank you cards to each guest who was kind enough to congratulate you on this exciting new chapter.
Article continues below advertisement
As stated before, however, it's not easy to keep a record of all the wedding gifts you receive. Most couples manage to get it done, but others turn out like TikTok user Sarah Lynn Mead (@sarah.lynn.mead), who made a shocking discovery one year after her wedding. Read on for all the known details.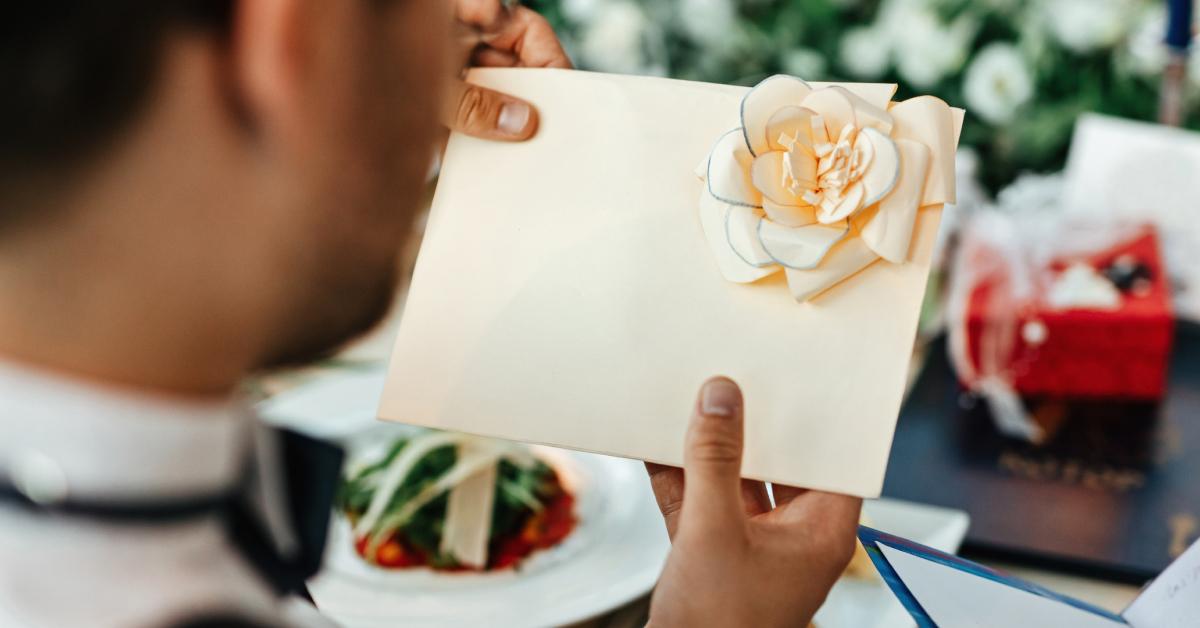 Article continues below advertisement
A woman found unopened wedding gifts hidden in a box under her veil.
In the now-viral video, which has been viewed more than 844,700 times and counting since it was posted on Aug. 30, 2023, Sarah revealed that she found 20 unopened wedding gifts and letters hidden in a box underneath her veil.
The gifts appear to be primarily letters and cards congratulating Sarah and her husband on their special day. She later noted in the post's caption that she immediately offered everyone an apology and let them know that their thank you cards were being sent out ASAP.
Article continues below advertisement
She also took to the comment section and revealed that the gifts included checks (which were quickly reissued), cash, and gift cards with no expiration dates. So, it all worked out in the end!
Article continues below advertisement
Many fellow TikTok users experienced similar situations.
Sarah shouldn't worry too much because, based on the comment section of her viral video, several other people have experienced something very similar. One person revealed that they found multiple checks nearly two years after their wedding ceremony and "cashed those real quick."
A second TikTok user disclosed that her mom recently found "seven cards that we didn't see when she was looking for my veil." As a result, she banked an extra $800, which is pretty dang nice!
Article continues below advertisement

"This SAME thing happened to me," a third TikToker added. "I found a bunch of unopened cards over a year after, with over $250 cash and a bunch of gift cards." Wow, what a lovely surprise!
Article continues below advertisement
Another person commented, "My parents were cleaning out the garage when I was in high school and came across an unopened wedding present 25 years later." If you're as big a fan of The King of Queens as we are, doesn't this sound a bit familiar? This is just like the gravy boat incident!

Article continues below advertisement
For those unaware, in the Season 4 episode "No Orleans," Doug and Carrie found an old, unopened wedding gift (the previously mentioned gravy boat) from Doug's third cousin, Ron, and his wife, Marcia.
The two eventually discovered a check for $1,500 hidden inside the boat, and they asked Ron and Marcia to rewrite it for them. But unlike Sarah's experience, things didn't go as smoothly for our favorite sitcom couple.