Brendan Leipsic Is on Blast for Leaked DMs of Misogynistic Comments
Washington Capitals' forward Brendan Leipsic got some of his DMs screenshot, but what exactly did he say that angered so many people?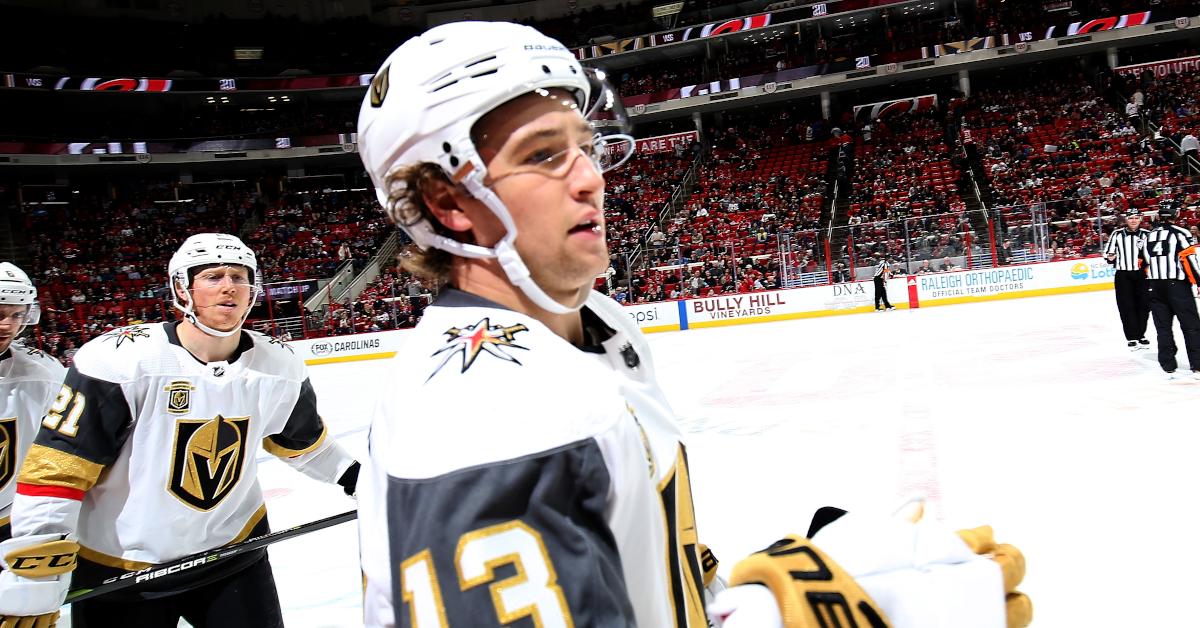 As a Pittsburgh Penguins fan who's watched the Capitals dash their Stanley Cup dreams, nothing makes me happier than to see the Caps undergo some kind of strife or lose any competitive advantage that they may have.
Which is why I'm so conflicted about Brendan Leipsic's DMs being screenshotted and shared all over Twitter. The response to his texts is pretty severe, so what did he say that caused such a great big kerfuffle?
Article continues below advertisement
What did Brendan Leipsic write in the private messages?
Instagram account @Angelszeee2020 somehow got their hands on the DMs and uploaded the screenshots online where Brendan made some mean comments about specific women. The language that he used is being deemed misogynistic by many and to top it all off, he also used disparaging remarks when describing his teammates and other NHL players.
Also in the group chat was Jack Rodewald of the Panthers, but the comments that people can't stop talking about (in a bad way) belong to Brendan.
Article continues below advertisement
Brendan referred to a woman as a "thing."
The following Twitter thread has all of the DMs from Brendan's group chat that runs the gamut of him insulting women, calling one a "thing," saying that he hopes some girls at a party are fat so he can degrade them, but if they're "smokes," or attractive, then "even better" because he can still degrade them.
In the texts, he calls one woman he slept with a "unit" and bragged about having sex with her.
Article continues below advertisement
Brendan also made fun of the partners of two NHL players.
As for his teammates, he calls them "losers" and a crew of other players "easily the worst crew in the world." In another chat, he calls the wife of Canucks player Tanner Pearson "fat" in a photo where the player is greeting her and their infant son in a game. He also took potshots at the Oilers' Connor McDavid's girlfriend for her appearance.
He seems to be obsessed with calling women fat, as another conversation revealed more disparaging and sexual remarks geared toward someone else.
Article continues below advertisement
In some of the screenshots, the players shared Instagram photos of women and lambasted them over and over again.
Another thing people found disturbing about the screenshot conversations is that members on the group chat refer to sleeping with women as "kills." Some put personal challenges as to how many "kills" they can "get in 24 hours."
Article continues below advertisement
Article continues below advertisement
Some lamented on Twitter that they feel this is the attitude of a lot of younger NHL players; it doesn't get much more "locker room talk" than this. @Angelszeee2020 deleted their Instagram account after uploading the screenshots with a caption that read, "Just a group of pathetic beta dudes bashing completely gorgeous girls."
Brendan deleted his Instagram account as well, and it looks like Capitals management caught wind of the story.
Article continues below advertisement
A spokesperson for the Washington Capitals addressed Brendan Leipsic's DMs.
A Capitals spokesperson issued the following statement regarding Brendan's DMs: "We are aware of the unacceptable and offensive comments made by Brendan Leipsic in a private conversation on social media. We will handle this matter internally."
After deleting/disabling his IG, Brendan issued an apology on social media that sounds like it's right out of the apologist's playbook:
Article continues below advertisement
Brendan has apologized for his "inappropriate and offensive" remarks.
"Yesterday my friend's Instagram account was hacked and an individual circulated images that are representative of private conversations I was a part of. I fully recognize how inappropriate and offensive these comments are and sincerely apologize to everyone for my actions. I am committed to learning from this and becoming a better person by taking time to determine how to move forward in an accountable, meaningful way. I am truly sorry."
Article continues below advertisement
The NHL itself has addressed the Brendan controversy saying that there's no place for the kind of attitudes that the Caps forward, along with Jack Rodewald displayed in their private chat:
"The National Hockey League strongly condemns the misogynistic and reprehensible remarks made by players Brendan Leipsic and Jack Rodewald in a private group chat that has surfaced on social media. There is no place in our League for such statements, attitudes and behavior, no matter the forum. We will address this inexcusable conduct with the clubs and players involved."