Dan Le Batard Criticizes President Trump on Air and Gets Suspended by ESPN — But What Did He Say?
What did Dan Le Batard say? The popular ESPN radio show host wasn't present on his Monday radio show following politically charged comments.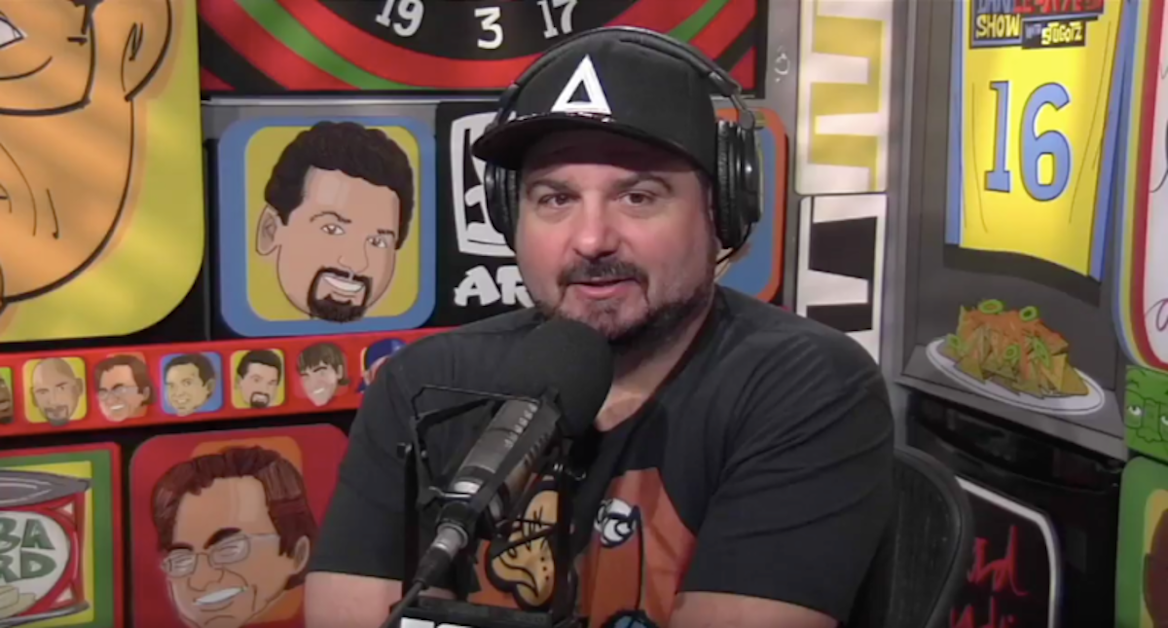 What did Dan Le Batard say that got his ESPN superiors so ticked off that he was asked to not come on air for his Monday morning radio show? Many believe that the popular host was fired from the network following politically charged comments, and rumors quickly started swirling around the internet, along with speculative outrage.
Article continues below advertisement
On Monday, July 21, Jon Weiner aka "Stugotz," Le Batard's co-host, said that "Dan is taking a day off from radio." Immediately fans began scouring the internet to find a reason for Dan's absence and it all came down to one question:
What did Dan Le Batard say?
Specifically, what did he say to ESPN President Jimmy Pataro, who has a staunch policy that prohibits on-air talent from discussing politics.
Reportedly, Dan had several conversations with Jimmy over this past weekend regarding the policy, which states that if there isn't any connection to sports, e.g. policies that will affect leagues/players' futures, etc, then it can't be discussed. The host isn't taking the matter lightly and was reportedly "prepared" to not appear on his radio program to fight Jimmy's decision.
Article continues below advertisement
Dan has called ESPN's decision to not openly discuss politics "cowardly" on The Dan Le Batard Show this past Thursday, July 18. He continued by saying that a lot of other hosts and on-air personalities don't "have the stomach" to oppose the ruling. Dan added that no other employee at ESPN "talks politics on anything unless we can use one of these sports figures as a meat-shield in the most cowardly possible way to discuss these subjects."
Article continues below advertisement
What prompted Dan's comments was the behavior of Donald Trump when, during a political rally in North Carolina, supporters began chanting "Send her back." The cry was pointed toward Muslim congresswoman Ilhan Omar, who recently butted heads with Trump.
Article continues below advertisement
Dan addressed the comments geared toward Ilhan as being hateful ones and couldn't believe that the president didn't decry members of his rally for starting such a chant (although some say that he did, after the fact). Remember when members of the audience started fear-mongering at a John McCain rally, and John fired back with this response? Perhaps Dan and others were hoping the president would act more like that?
Dan isn't the first ESPN personality to criticize the president, Jemele Hill recently drew the ire of Trump when she called him a "white supremacist" on Twitter. He requested she was fired from her post for the tweet, but she was ultimately suspended by the network over a different tweet regarding Jerry Jones, owner of the Dallas Cowboys.
Article continues below advertisement
Since Jimmy Pitaro took his post as ESPN's president in March of 2018, his policy on discussing politics was made abundantly clear: don't do it.
His vision for the network and its on-air talent is very different from his predecessor, John Skipper, who encouraged hosts that wanted to delve into discussions that weren't just restricted to sports.
Article continues below advertisement
Jimmy explained his stance on the Recode podcast: "What we don't want is people to tune into ESPN, or people to tune into an ESPN feed on a social platform and get pure political commentary. We don't believe that that's who we are. We don't believe that that's why people tune into ESPN."
Where is Dan Le Batard today? 
On Friday, ESPN sent a company-wide email to its staff reminding them of the strict no-political commentary policy, especially when it pertains to Donald Trump.
As for Dan, it seems his position in the company hasn't been affected at all. He returned to his radio show this morning and will continue to appear on Highly Questionable. It'd be interesting to see if he'll manage to keep away from discussing politics after taking such a strong stance, but time will tell.