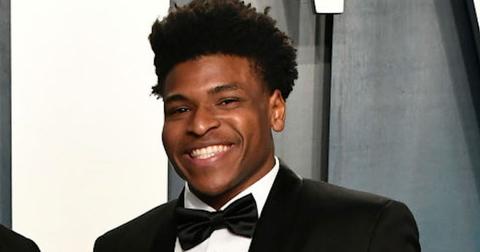 'Cheer's Breakout Star Jerry Harris Arrested on Child Pornography Charge
By Pippa Raga

Updated
The U.S. Attorney General's Office has confirmed that Cheer star Jerry Harris has been arrested on suspicion of producing child pornography as of Thursday, Sept. 17. The news comes on the heels of the announcement on Monday, Sept. 14 that the 21-year-old's Naperville, Ill. home was searched as part of an investigation.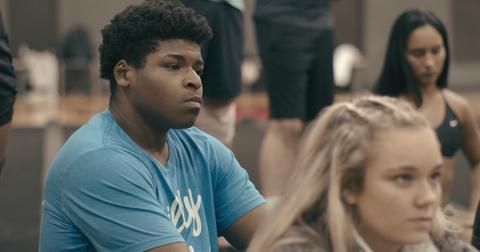 What did Jerry Harris do?
The FBI is investigating allegations that Harris solicited sexually explicit photos and sex from minors. Authorities became aware of the allegations against Harris when Varsity, a private company in the cheerleading industry, which "handles everything from uniform sales to major competitions," per USA Today, reported the "inappropriate sexual conduct" to police in both Florida and Texas back in August.
According to Burton Brillhart, Varsity's chief legal officer, the company reported the allegations "as required by law."
In his communications with law enforcement, Brillhart included two screenshots. The first is a Snapchat message, allegedly featuring Harris' face, with the caption, "Would you ever want to ****."
The second screenshot is a series of text messages which began back in May 2019. It includes a text by an individual named "jerry harris" that reads: "Hey btw I found a place for us to do stuff it's actually pretty good haha." The number associated with "jerry harris" was confirmed by law enforcement to belong to Harris.
According to a TMZ update from the afternoon, "federal authorities are investigating Jerry for alleged possession of child porn and as part of that probe they are looking into whether Jerry was allegedly soliciting minors."
Siobhan Johnson, an FBI special agent and public affairs officer, confirmed to USA Today that the FBI was "conducting court-authorized law enforcement activity."
Harris was sued following the announcement of the search.
Prior to Harris being charged on Sept. 17, he was sued in Texas for soliciting sex, sending sexually explicit messages, and asking for nude pictures from two 14-year-old twin boys.
In the criminal complaint, screenshots can be seen of messages between Harris and one of the boys in which he asked the boy how old he was, before asking for pictures of his face and "booty."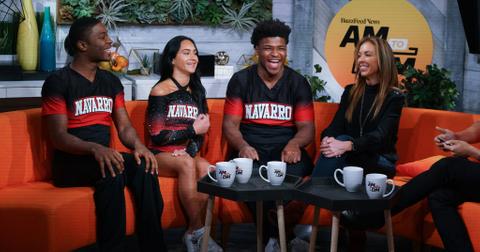 Authorities also report that Harris had sent more than a dozen explicit pictures and videos, beginning when the boy was 13 years old. Reportedly, the text that read, "Hey btw I found a place for us to do stuff it's actually pretty good haha," was sent to the boy as a part of Harris' request to have oral sex performed on him by the child. His brother alleges that the message saying, "Would you ever want to ****?" was sent to him.
The complaint also includes two more victims, from whom Harris received nude photos. One of the victims, a 17-year-old, also was allegedly paid by Harris to masturbate on a call. The criminal complaint also alleges that Harris admitted to having anal and oral sex with another minor, a 15-year-old, who was not a part of the complaint. It also claims that he admitted to "soliciting and receiving child pornography on Snapchat from at least between 10 and 15 other individuals he knew were minors."
If you need support, call the National Sexual Assault Hotline at 1-800-656-4673 or visit RAINN.org to chat online one-on-one with a support specialist at any time.