100 Gecs Has Played Around With the Meaning of Their Name for Years
100 Gecs' unique brand of music is world-renowned, but what does their name mean? Let's unpack what we know.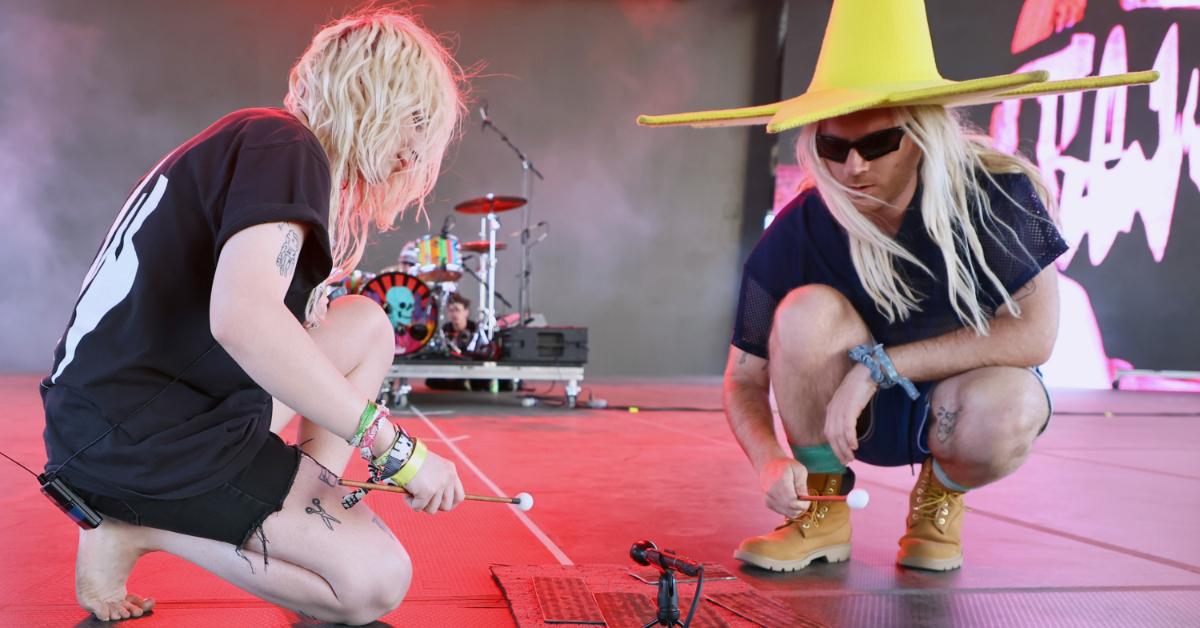 In terms of breaking conventional molds over the last few years, 100 Gecs takes the crown. The genius duo of Laura Les and Dylan Brady have taken the world by storm ever since they released their first project together in 2016. Now, with the release of their latest project, "10,000 Gecs," droves of new fans are once again discovering all that is unique and amazing about their music.
Article continues below advertisement
For some who are newer to the fandom, that begs the question: what does 100 Gecs actually mean? Furthermore, what genre of music do 100 Gecs' tunes fall into? Keep reading to find out.
Article continues below advertisement
What does the name 100 Gecs mean?
It seems as though Laura and Dylan can't agree on one meaning for the name 100 Gecs. In fact, they've given fans several throughout the years. During a 2019 Instagram Live session, Laura and Dylan bounced off of one another while they unpacked the meaning of the moniker.
Laura led off by saying Gecs stands for "Getting exceptionally calm," before Dylan chimed in with "cool," as opposed to "calm." He then finished by saying "going," before laughing and changing topics.
In interviews with The Outline and Rolling Stone, Laura claimed she attempted to order a gecko online once, but was sent 100 of them. She suggested they name the duo 100 Geckos, with Dylan shortened to 100 Gecs.
Article continues below advertisement
Another proposed origin from the group, per Pigeons & Planes, was that Laura and Dylan saw 100 Gecs spray painted on the outside walls of Laura's dorm building in Chicago. They apparently searched the term, found no results, and adopted it as their name.
Article continues below advertisement
Last but not least, during an interview with NYU, the duo proclaimed that on the same night, Dylan had a dream where the number "100" was repeated everywhere and Laura had one where "Gecs" was repeated everywhere, so they named the group 100 Gecs.
None of these origin stories can be confirmed, so it's safe to say that the two are just enjoying making a mystery out of it for fans.
What genre is 100 Gecs?
Searching for 100 Gecs on Google brings up quite a few different results, with the duo being labeled from the default as "Alternative/Indie." But to be more specific, 100 Gecs tends to make a unique genre of music called Hyperpop. According to Wikipedia, Hyperpop is "characterized by a maximalist or exaggerated take on popular music, and artists within the genre typically integrate pop and avant-garde sensibilities while drawing on themes commonly found in electronic, hip hop, and dance music."