This Is Why You're Seeing Purple Bitmojis All Over Snapchat
The latest Snapchat trend is to change your Bitmoji so that it has purple skin. Here's what purple Bitmojis mean, plus how the trend got started.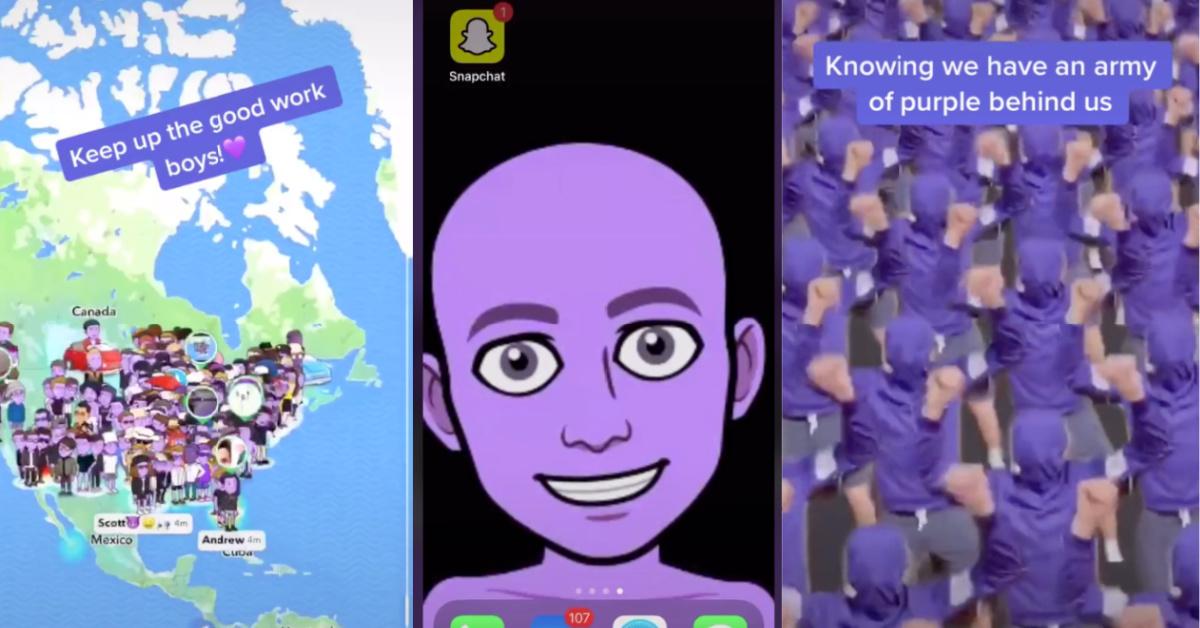 If you scroll through your Snapchat contacts right now, there's a good chance that you might see a whole slew of Bitmojis with purple skin. In case you're not aware, Bitmojis are avatars people use to represent themselves on Snapchat. Generally speaking, people design their Bitmoji to resemble themselves, although there have always been people who go against the grain in that regard.
Article continues below advertisement
Now, though, a ton of people are changing their Bitmojis to have purple skin. While seeing a bunch of purple Bitmojis can certainly be startling, you don't have anything to worry about — as far as we can tell, purple Bitmojis don't have any nefarious secret meaning. It's just another internet trend that people are participating in.
Article continues below advertisement
What does a purple Bitmoji mean on Snapchat?
From what we can tell, the purple Bitmoji trend can be traced back to a video from the @shlgboys TikTok account. "Me and the boys decided to turn all of our Bitmojis purple," one of the guys says in the video. "We're starting a movement. At this point, we have most of Iowa covered and we're starting to move international. So if you are a boy and you wanna be part of something bigger than yourself, add us @purple_bois."
So far, that video has been viewed more than 3 million times, so it seems like a pretty safe bet to say that the purple Bitmoji trend may have originated there. It also seems pretty safe to say that there isn't really a deeper meaning to having a purple Bitmoji. It's just something that people are doing.
Article continues below advertisement
Actually, it kind of reminds us of the TikTok cults that were big earlier this year. It's not surprising that people simply want to feel like they are "a part of something bigger than yourself," as the @shlgboys put it — but it is interesting to see what random things people do in order to be included.
Article continues below advertisement
Then again, it looks like this particular trend has some legs — the @shlgboys uploaded another video showing that their "movement" really has taken off. There are people with purple Bitmojis all over the United States, with some international participants as well. And, of course, people are talking about purple Bitmojis on other parts of the internet. So… mission accomplished?
Judging by the responses on TikTok and Twitter, people are pretty split on the purple Bitmoji trend. There are some people who are dedicated to the "purple gang," and plenty of others who think it's a dumb trend and that the people who participate in it are kind of pathetic. (We're not saying we're on one side or the other, here. As long as no one is getting hurt, we honestly couldn't really care less what people do with their Bitmojis.)
Article continues below advertisement
It also looks like some of the gals of social media have attempted to create their own Bitmoji trend, encouraging others to change their Bitmojis to have green skin. The result is just a bunch of Bitmojis that look nothing like the people who use them.
Again, it seems pretty harmless as far as online trends go, and anyone looking for a deeper meaning is just going to be disappointed. Now you just have to decide if you're going to change your own Bitmoji, or simply wait for the trend to blow over.