"Cheugy" Was Used to Describe a Subset of People Who Are Trying Too Hard
What does "cheugy" mean on TikTok? If you've wondered just what it could possibly mean, an L.A. copywriter breaks it down.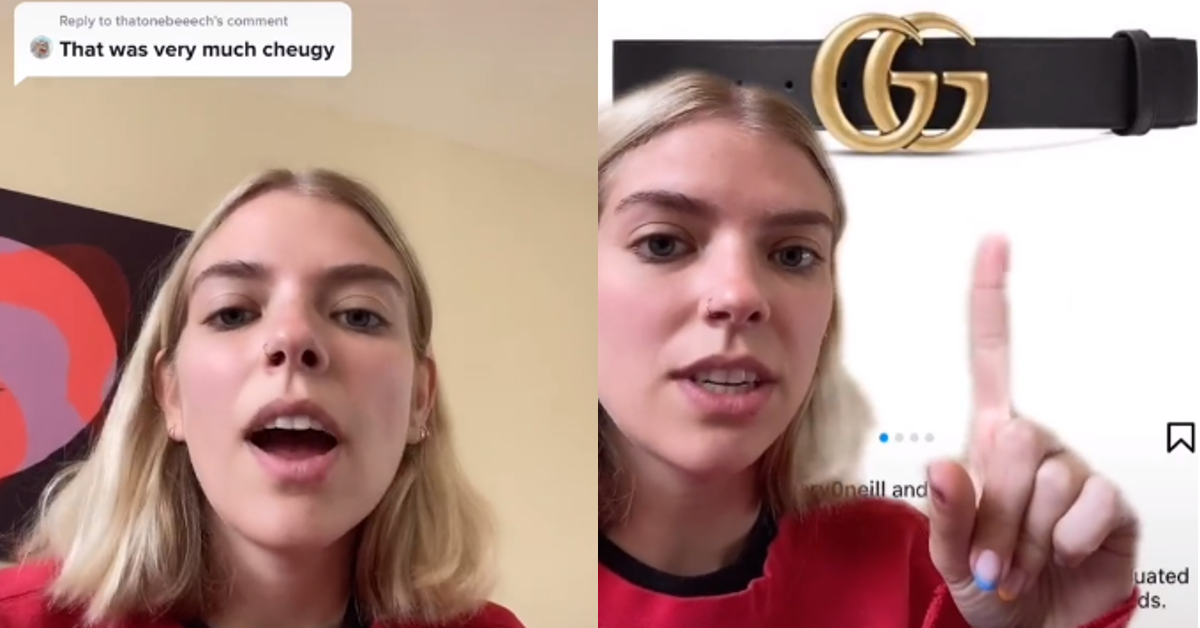 Words go in and out of fashion about as quickly as teen drama premises change on Netflix. Remember when everyone was calling their significant others, or people they were crushing on "bae"? No one is really calling stuff "lit" anymore, to the point where you're listening to Travis Scott constipatedly whispering "it's lit" in "Franchise," it can be a bit distracting.
Well there's a relatively new word that's popular amongst the youths: "cheugy." But what does it mean and why were people using it on TikTok?
Article continues below advertisement
What does cheugy mean on TikTok, and why was it so popular?
When it comes to social media networks that are popular with the youngsters, it doesn't get much more prevalent or relevant (these days at least) than TikTok, which is still experiencing tremendous growth and is well on its way to matching Tinder in terms of revenue capacity.
And in this wonderful e-wonderland of mirthless dance videos, social commentary, legitimately funny comedy skits, and legitimately awful comedy skits, sometimes new words are created.
One of these words is cheugy, which honestly describes a phenomenon that many of us roll our eyes at even though it's not that offensive. Offensive isn't even the word to describe it, but cheugy — as Hallie Cain, a copywriter from Los Angeles, indicates in her own TikTok video that was uploaded on March 30, 2021 — can broadly be explained as when someone tries too hard.
Article continues below advertisement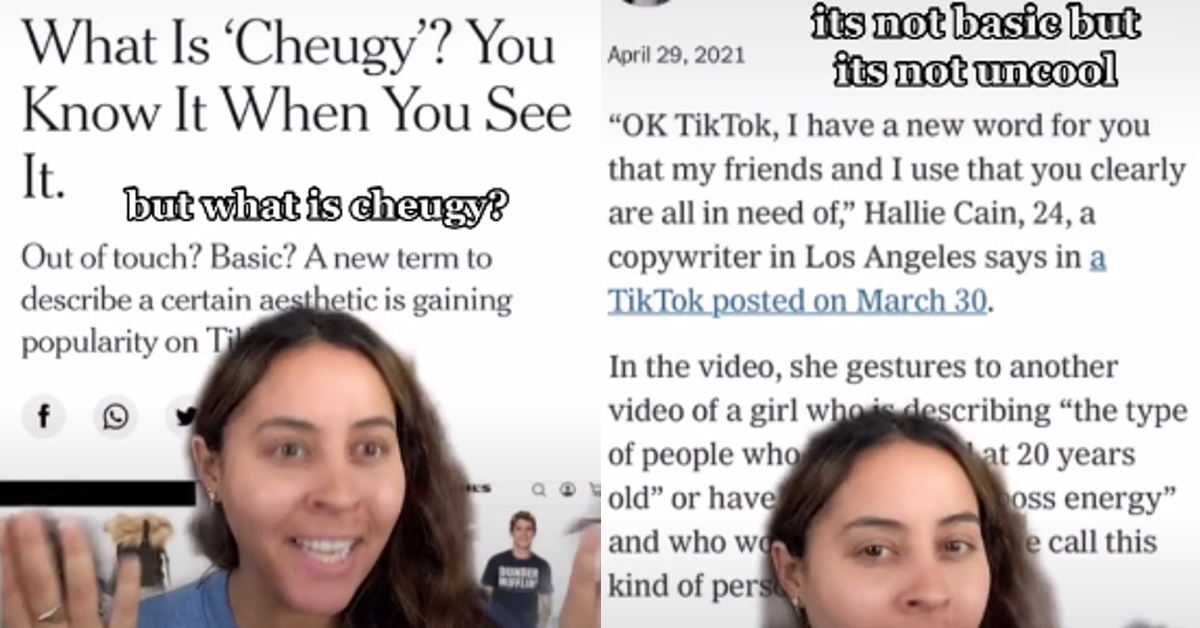 And no, it's not like "trying too hard" like when you're feeling awkward at a party and consciously know that you're really forcing a "fun" persona to ingratiate yourself with a group of people because it feels nice to belong. But you're trying too hard by jumping on an already established bandwagon of generally accepted "new truths" for the sake of being relevant.
Article continues below advertisement
It's almost like stating the obvious by not really adding anything else important to the conversation. Like someone making a video on the "profound" realization that "mental health is real, y'all." Yes, we know it's real. We know it's important to take care of your mental health. We know that there are generations of folks that didn't really address it, but psychology's been a practice since 1879. No one really thinks it's a "hoax" anymore, especially social media-savvy folks who use TikTok.
Article continues below advertisement
One of Hallie's examples in a video is a clip of a young girl who's making jokes about "the type of people who get married at 20 years old" or talk about the fact that they've got "girlboss energy."
Again, it's not exactly negative, there's just not anything particularly exciting or interesting about what people are saying because you know there isn't a genuine enthusiasm for the topic they're talking about, they're just jumping on a bandwagon for the sake of ... jumping on it.
So where did "cheugy" come from? It may have originated from a software developer.
According to Money Control, Gaby Rasson, who's also from L.A., states that she used the phrase in 2013 while at Beverly Hills High School to put a label on people who were intentionally off-trend but in a trendy way. "Looking good for yourself and not caring what other people think, that confidence exudes non-cheugyness."
Article continues below advertisement
However, doing so because you care very much what other people think of you is extremely "cheugy."
"It was a category that didn't exist. There was a missing word that was on the edge of my tongue and nothing to describe it and 'cheugy' came to me. How it sounded fit the meaning," Rasson said.
Article continues below advertisement
Abby Siegel said that she picked up the word during a summer camp that Rasson was also present at, "Everyone in our sorority knows the word cheugy."
She stated, however, that while there's something about the word that can be perceived as negative, embracing your "cheugy-ness" is fine.
"Everyone can be cheugy. Everyone has something cheugy in their closet. We didn't intend for it to be a mean thing. Some people have claimed that it is. It's just a fun word we used as a group of friends that somehow resonated with a bunch of people."
So don't feel bad about your cheugy-ness folks. I have an affinity for Arizona iced-tea themed apparel that's marketed on Instagram, and I love it.