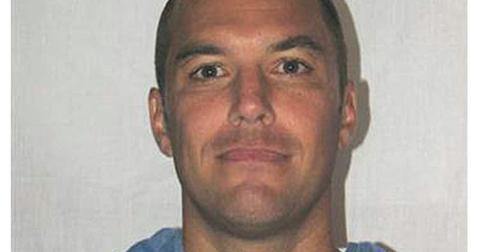 Scott Peterson Has Taken on the Role of Prison "Snowbunny," Claims Fellow Inmate
By Lizzy Rosenberg

Aug. 25 2020, Published 10:59 a.m. ET
Almost two decades after Scott Peterson was convicted of killing his wife, Laci, and their unborn son shortly before Christmas 2002, California's Supreme Court officially decided to overturn his death sentence on Monday, Aug. 24 — but the murder convictions stand. Seeing Peterson's face in the media after 18 years has been somewhat jarring, but also makes us feel as though no time has passed.
Article continues below advertisement
What does Scott Peterson look like now? The convicted murderer, now 47, whom many eerily regarded as "attractive" when he was sentenced back in 2004 — looks basically the same as he did all those years ago but his life is decidedly different.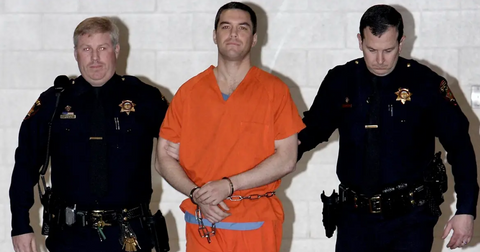 Article continues below advertisement
Scott Peterson has spent 18 years on death row.
Living on death row in San Quentin for 18 years certainly isn't easy, but according to Radar Online, he's been protected from harm after apparently taking on the role of the prison "Snowbunny."
This means he has agreed to exchange sexual favors with a group of tough inmates for protection. One inmate, 6-foot-6 Raynard Cummings, explained how he and his buddies — called "The Tribe" — have Peterson wash their underwear and give them hot oil massages in exchange for bodyguard services.
This protection agreement could explain why Peterson didn't look particularly worn down from the 18-year prison experience, but it could also be due to his "cushy" prison lifestyle. According to The San Diego Union-Tribune, Peterson has been housed in what they described to be a particularly nice part of the prison. It apparently includes a basketball court, an outdoor shower and toilet, tables, and a roof that provides the inmates with shade.
Article continues below advertisement
Minus the fear of his impending death sentence, which has officially been canceled, as well as the sexual favors he was allegedly required to provide for protection, Peterson's lifestyle in prison doesn't sound too taxing. It comes as no surprise he hardly looks haggard at all, as you can see in the mugshot taken in 2018 below.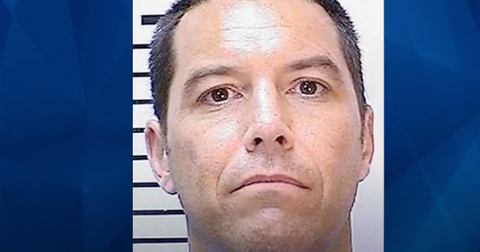 Article continues below advertisement
Where is Scott Peterson's ex-girlfriend, Amber Frey, now?
In case you don't recall, Peterson started dating a woman named Amber Frey after meeting her at a work conference in 2002 while Laci was still alive and well. He kept the fact he was married a secret from Frey, and said his wife had died, so when Frey saw Laci's disappearance on the news — in conjunction with Peterson — she was terrified. Frey informed police that she was dating him, and allowed authorities to record a phone call between her and Peterson, which was used as evidence in court.
Since the murder, Frey wrote a book titled Witness: For the Prosecution of Scott Peterson. She also told her story of the affair to A&E's docu-series Truth and Lies: The Murder of Laci Peterson in 2017 to ABC's 20/20 that same year, and most recently, to Dateline. She divorced a law enforcement agent in 2008 and had a son named Justin, but overall, Frey has kept her personal life relatively private. She now works as a real estate agent.