The Step Chickens Are Taking Over TikTok — but What Does That Mean?
A TikTok "cult" known as The Step Chickens are taking over the video-sharing app. But what does the term "Step Chicken" actually mean?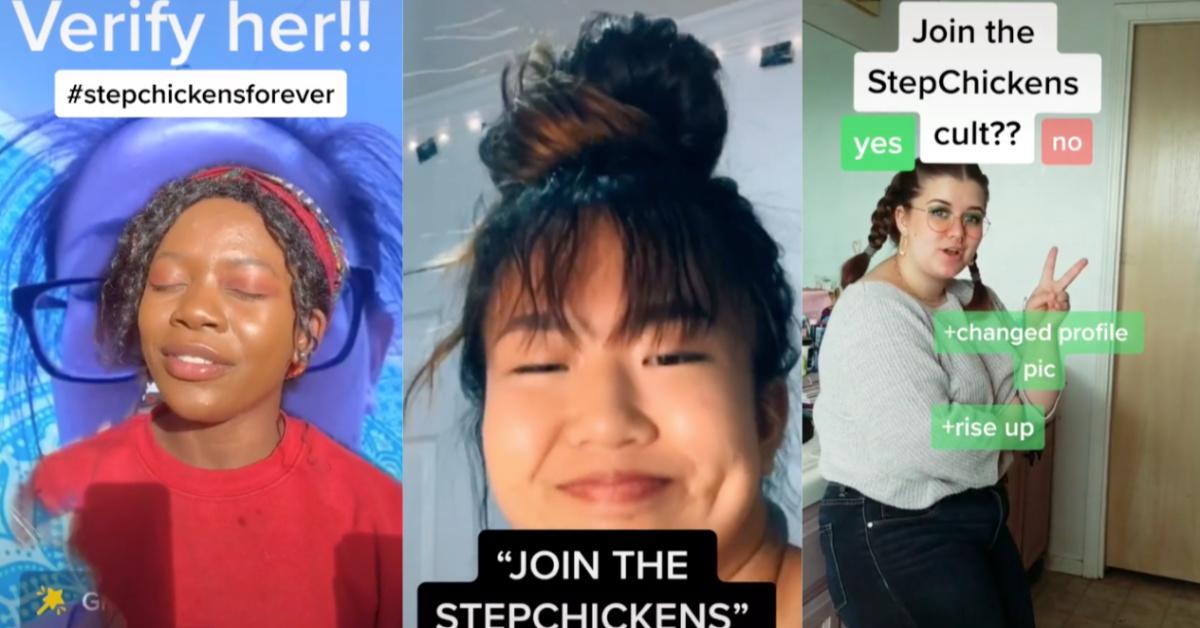 When it comes to TikTok, there are some videos and trends that become popular for obvious reasons. If a video is particularly hilarious, a hack is especially useful, or a trend is easy to replicate in people's own homes, it makes sense for those things to go viral. Sometimes, though, TikTok trends are not obvious at all and it takes some digging to actually figure out what's going on.
Article continues below advertisement
Such is the case when it comes to the TikTok Step Chickens. You may have seen a bunch of Step Chicken comments and videos recently and — naturally — you're now wondering: What does "Step Chicken" mean on TikTok? The answer is about as bizarre as you might expect.

Article continues below advertisement
What does "Step Chicken" mean on TikTok?
In order to understand all the Step Chicken comments and videos, you're also going to need to know about TikTok cults, which are a thing now. Don't worry — they're not, like, cult cults. But they do freely refer to themselves as cults, which is both super strange and, we'll admit, more than a little worrisome to most.
Right now, the biggest TikTok cult is the Step Chickens. It was officially started in early May of 2020 by Melissa Ong, aka TikTok user @chunkysdead. The name comes from a (semi-NSFW) video Melissa uploaded to TikTok in which she played the parts of two chickens who are related by marriage. Like step-siblings, only, you know, chickens.
Article continues below advertisement
Melissa's TikTok channel continued gaining more and more followers and, like any good cult leader, Melissa used her power to recruit her followers into participating in large-scale pranks. In one, she had several thousand followers tag a random TikTok account in a video featuring goats. In another, she sicced her followers on one of her friends so they bombarded him with requests to recreate a scene from Shrek.
Article continues below advertisement
Melissa's following became so large that, eventually, she asked her followers to come up with a name for their collective — and The Step Chickens cult was christened. Now, Step Chickens show their fowl fealty by flocking to "battle zones" (aka comment sections of certain videos) and commenting about being Step Chickens.
Step Chickens members also typically change their TikTok profile picture to one of Melissa's blue-filtered selfies. The Step Chicken recruitment strategy may be simple, but there's no doubt that it's effective. According to The New York Times (because, yes, this phenomenon was covered by The New York Times), Phil Swift, the creator of Flex Tape is a member. So are the Houston Rockets, the Tampa Bay Rays, the Kansas City Chiefs, The Washington Post, Adweek, and Bob Saget's wife Kelly Rizzo.
Now, the Step Chickens have their own app. And merch. And a song. If the TikTok cult continues to enjoy a meteoric rise in popularity, you'll probably continue to see Step Chicken comments and that iconic selfie all over the app (as well as on YouTube and Instagram as the Step Chickens are expanding their territory). It appears as though our only recourse is to ignore them...or just go ahead and join them.