The Pause Challenge on TikTok Is an Easy Way to Annoy Your Friends
What is the Pause Challenge on TikTok? The trend involves staying still, and users are having too much fun pranking and annoying their friends.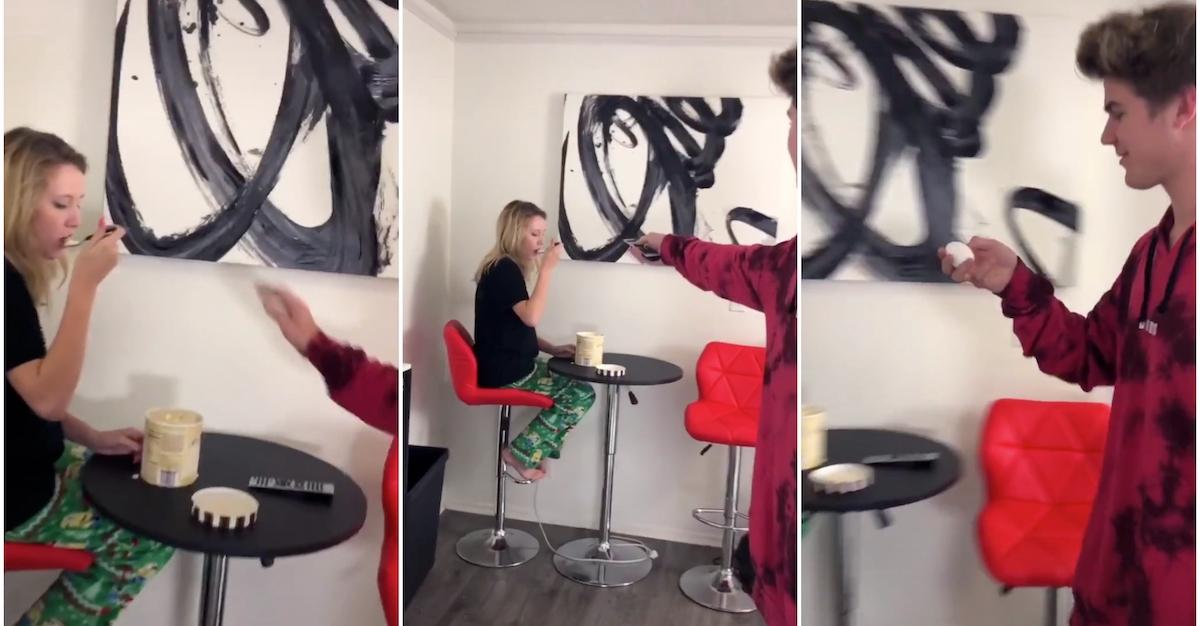 These days, people are spending much of their free time making and watching videos on TikTok, and there's a clear reason why. The short video sharing app is highly addictive, and challenges make it easy for users to engage with one another and share their takes on trendy videos.
If you've already had your fun with the Wipe It Down Challenge or you're over the hype surrounding the pancake cereal and whipped coffee, then there's a new TikTok trend that will surely give you something to plan, film, and use to bother your loved ones.
Article continues below advertisement
In the #PauseChallenge, a song lyric signifies that one user must stop what they're doing and remain absolutely still, while the other person tries to get them to move by making them laugh, throwing things, or just being a nuisance.
The Pause Challenge has gotten more than 300 million views on the video app, and users can't get enough of the hilarious videos.
What is the Pause Challenge on TikTok? Read on to find out more about what the challenge entails, and how you can partake.
Article continues below advertisement
What is the Pause Challenge on TikTok?
The trend, which has also gotten a lot of attention on YouTube too, is loosely based on the plot of the 2006 comedy Click. While Adam Sandler's character, Michael Newman, could use any of the features found on a TV remote to control his life, only the pause button is utilized in the #PauseChallenge.
The Pause Challenge generally involves two users. One carries a remote, and can yell "pause" whenever they see fit. The other user must then stop what they're doing no matter what.
On TikTok, when one participant is "paused," the other will try to distract and get them to break their focus. In a Pause Challenge video posted by Patrick Minor (@ayyPatrick), he cracked an egg on girlfriend Nicki Baber while she was staying still.
Of course, the Pause Challenge has evolved and other versions of it have been circulating on TikTok. One includes flashing multiple images in quick succession and challenging users to land on a certain one.
Article continues below advertisement
Another variation of the Pause Challenge includes flashing a hidden message or note that can only be read if the viewer is quick enough to pause the video at the right time.
While there are multiple iterations of the Pause Challenge on TikTok, it actually originated on YouTube.
Article continues below advertisement
The Pause Challenge is popular on YouTube too.
Unlike the quick nature of the trend on TikTok, on YouTube, many vloggers are performing the Pause Challenge over the course of a day. YouTuber Brent Rivera, who has more than 12.7 million subscribers, did a Pause Challenge vlog with his sister, Lexi Rivera, in 2019. He notably "paused" her while she was crossing the street, when she was putting ketchup on her lunch, and when she was trying to get out of the car.
The video went viral, and it got more than 36 million views.
Lexi Rivera got her revenge when she appeared in Lexi Hensler's Pause Challenge video in May of 2020. The video brought on a resurgence of the trend on the video platform.
You can watch Lexi Hensler's viral Pause Challenge video below.