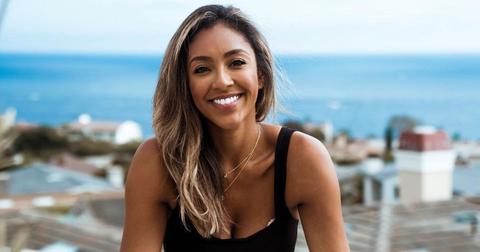 Tayshia Adams From 'Paradise' Draws Blood for a Living, Which Might Be Why JPG Gets Woozy Around Her
By Shannon Raphael

Updated
When most contestants get out of the limo on the first night of The Bachelor or The Bachelorette, their job titles tend to be along the lines of "blogger," "influencer," "entrepreneur," and, once even, "dog lover." 
When Tayshia Adams first appeared on Colton's season of The Bachelor, her job title of phlebotomist set her apart from a lot of the other women, and also had people wondering what exactly it was that she did. 
Article continues below advertisement
Tayshia is now on Bachelor in Paradise and she's hitting it off with John Paul Jones, of all people. JPJ asked Tayshia about what she did at home on the August 19 episode, and she spoke about spending time with her friends and family, leading some to wonder if Tayshia has taken a leave from her job. What does Tayshia do for a living? Details on her job title and her ex-husband.
What does Tayshia do for a living? Her phlebotomy job impressed Colton — and fans.
While most contestants talk about loving a guy's smile, physique, or hair, in Tayshia's intro video for the show, she talked about how the first thing she really notices in someone is their veins. 
Article continues below advertisement
"I'm a phlebotomist, so I actually love to poke people's veins and draw their blood, so I'm probably looking at your veins when I first meet you," she said. The 28-year-old California native was dubbed by Chris Harrison as being both beauty and brains.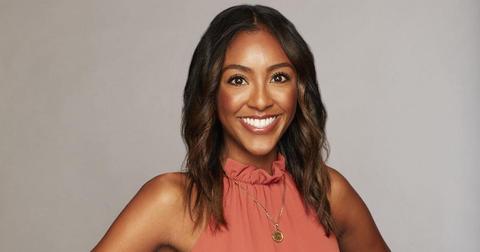 Article continues below advertisement
She works as a phlebotomist, so she draws blood from patients for purposes like research, testing, and donations. She got her Bachelor of Science degree in biology medical science from Concordia University in 2012. It seems like Tayshia's focus has been on general health, as she also has worked as a fitness instructor at places like SoulCycle. She's also interested in volunteering, which may have stemmed from the 12 years she spent as a Girl Scout helping others.
Tayshia also seems to be making some money from her Instagram account, as she now promotes several companies on her page. Seems like she can add "influencer" to her Bachelor job description. 
She may have her career figured out, but her love life has experienced some extreme changes over the last few years, even if it seems like she and JPJ are a sure-fit on Paradise. She opened up about her divorce on Colton's season, and how she felt like a failure for ending her marriage. 
Article continues below advertisement
Tayshia got divorced from Josh Bourelle in 2017.
Colton and Tayshia had a strong relationship because they both had a firm belief in God and religion. Tayshia's religious beliefs are part of the reason why her 2017 divorce devastated her so much. Tayshia talked about how she was married to her first serious boyfriend, Josh Bourelle, after they dated for six years. Their strong foundation had her believing that their marriage would make it, but the two split after only 18 months of marriage.
Article continues below advertisement
Josh works for his own roofing company in California, and he also seems to have a love for volunteering in common with his ex-wife. He and three friends founded Gentleman of Orange County to help disadvantaged kids in the area. Tayshia had said on The Bachelor that her split was due, in part, to the fact that her husband didn't want to be married. 
Tayshia's failed marriage wasn't going to deter her from falling in love again, and she talked about wanting to get married to someone who is dedicated to making a marriage last. Will John Paul Jones be that guy for Tayshia? 
Bachelor in Paradise airs on Mondays and Tuesdays at 8 P.M. on ABC.