Russian Tanks Invading Ukraine Are Painted With "Z" and Other Symbols — What It Means
Viewers who are seeing the shocking developments occurring in Russia's attacks on Ukraine noticed some tanks are painted with "Z." What does it mean?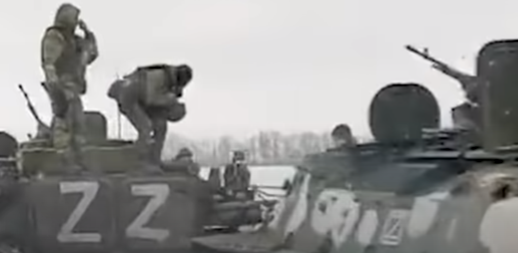 Russia's invasion on Ukraine has massive global implications that involve many other nations, chief among them China. Many have stated that the current presidential administration's botched response to the situation in Afghanistan where many U.S. citizens were left abandoned and the Taliban took over emboldened Putin to march into Ukraine and gain control of the region. As of this writing, 137 reported deaths have occurred, and the imagery of Russian military advancements has raised a lot of questions. Many viewers watching aghast at home want to know: What does the "Z" mean on Russian tanks?
Article continues below advertisement
What does the "Z" mean on Russian tanks?
Video footage of Russian military vehicles invading Ukraine have shown them decorated with different symbols; however, a recurring image of a tank emblazoned with a "Z" has made many appearances on U.S. media outlets.
The "Z" along with other markings indicate which sectors of Ukraine they're heading to.
The Independent reports: "The 'Z' marking, along with other symbols, are painted to communicate where the military units were headed shortly before deployment, according to military experts."
The markings are most likely not part of a systemic or communal marking system and are probably particular to a pre-determined map or "zones" which shows a demonstrated invasion tactic on Russia's part.
Article continues below advertisement
President Biden's administration has faced heavy criticism in how it has handled the situation in Ukraine, especially with regards to the safe evacuation of U.S. citizens and civilians in the region. Crowdsourcing initiatives have been launched to help create safe passages for U.S. citizens to exit the area, as the U.S. government hasn't made any special accommodations for their exit.
Article continues below advertisement
Then there is still the question of Ukrainians, including civilians, who are arming themselves to defend their sovereignty. From elderly women to individuals without former military training, there are private citizens taking up arms despite the fact that they were disproportionately outnumbered.
Article continues below advertisement
Russians are protesting Putin's decision to invade Ukraine.
There's been a ton of global blowback from Putin's orders to invade Ukraine, including resistance from Russian citizens themselves. Throngs of individuals have taken to the streets in the country and are being arrested, beaten, and purportedly killed as they call for an end to the invasion of the neighboring country.
Anti-war demonstrations have cropped up in Moscow and St. Petersburg. NPR reports: "Shocked Russians turned out by the thousands Thursday to decry their country's invasion of Ukraine as emotional calls for protests grew on social media. Some 1,745 people in 54 Russian cities were detained, at least 957 of them in Moscow."
Article continues below advertisement
"I want to ask Ukrainians for forgiveness. We didn't vote for those who unleashed the war," Tatyana Usmanova, a Russian activist, wrote in a social media post.
Article continues below advertisement
Political analysts and former President Donald Trump have speculated that other nations with histories of attacking neighboring countries, like China with Taiwan, may take a page out of Putin's book.
Trump highlighted Biden's tweets from two years ago where he stated that he's previously gone "toe to toe with Putin."
Trump stated that "China is going to be next" and that Xi Jinping would "absolutely" be planning an invasion on Taiwan. China has a long-chronicled bloody history with the neighboring country, not to mention the 2 million Uyghur Muslims in the country who have been placed in concentration camps.