Mooptopia Reportedly Quit TikTok After Her Address Was Leaked
What happened to Mooptopia? The TikToker shot to fame with subversive content that's anything but your average dance duet. Why did she quit?
Mooptopia, the uncrowned queen of Alt TikTok, announced that she quit the platform on Wednesday, July 15. She released a new line of merchandise the same day.
The influencer garnered immense popularity with videos that go against prevalent trends, creating oddly sensuous footage of the plants growing in her backyard, or posting extreme closeups of her toes. So, what happened? Why is Mooptopia leaving TikTok?
Article continues below advertisement
Why did Mooptopia quit TikTok?
"i'm sorry moops but its [sic] been a hard time for me lately and i must part away from tik tok. this has been fun journey thank you for all the kindness and laughs," the content creator said in a TikTok posted on Wednesday, July 15.
"- i still, and never will support trump or anything he stands for," she concluded.
Instead of her usual content — which tends to relish in the absurd — the new clip only features a black square with a few sentences scribbled over it.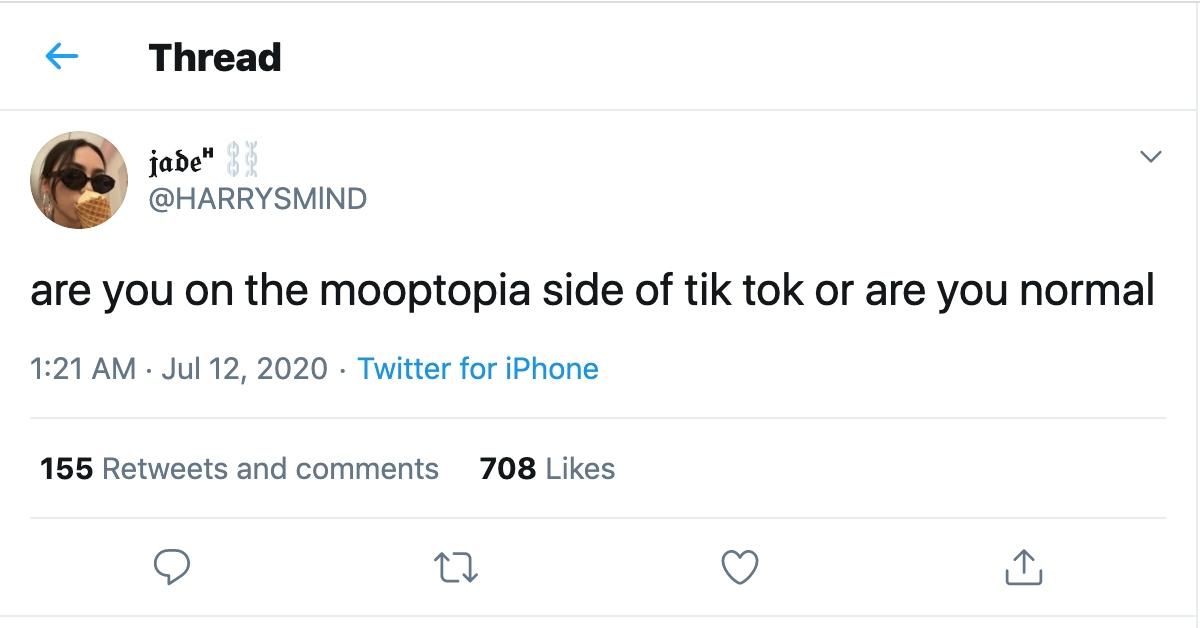 Article continues below advertisement
Fans reacted to the news with a great deal of confusion, with many taking it to Twitter to debate the real motifs behind the abrupt move.
"the straights bullied mooptopia off tiktok bye, we can never have anything good," wrote a person.
"she really left because some of y'all accused her of supporting trump AND leaked her socials which she obviously didn't want to be put out there if she didn't link it to her account. i feel bad for moop ilysm mooptopia," tweeted somebody else.
"mooptopia isn't a trump supporter y'all bullied her off tiktok i'm broken," wrote a devastated fan.
According to a rumor circulating on Twitter, Mooptopia was forced to leave TikTok after her address was leaked.
For a content creator notoriously protective of her privacy — Mooptopia has stringently refused to reveal her real name or any information about her other social media accounts on TikTok — the latest developments were anything but welcome.
Article continues below advertisement
As others claim, a badly judged video that saw her strike a daring pose in front of a Trump supporter flag might have contributed to the decision as well.
Although Mooptopia is renowned for her left-leaning views, some have deliberately misinterpreted the footage as a telltale sign indicating that she wasn't fully open about her real political sympathies on TikTok.
Article continues below advertisement
According to some sources, Mooptopia's real name is Anastasiya Boryslavska.
Mooptopia has purposefully dodged every opportunity to reveal anything about her real identity. Her date of birth, place of birth, and relationship status are subject to debate.
However, some claim that they have managed to crack the code and dig up information about her real name, which is believed to be Anastasiya Boryslavska. According to an enthusiastic fan, Mooptopia runs an art-themed Instagram account with the handle sugarihoney.
Article continues below advertisement
Others have gone even further, creating YouTube videos that attempt to uncover the secret behind Mooptopia's success, or else, explainers that shed light on some of the discrepancies found in her videos.
Take "MOOPTOPIA MUST BE STOPPED," a four-minute-long clip exploring what makes Mooptopia's content so paradoxical. As YouTuber Joey Barke chalks up, her red, bloodshot eyes may indicate that she is a communist with close ties to Beijing-based ByteDance, the company behind TikTok. While the hypothesis lacks any factual basis, one thing is for sure. Mooptopia's videos are addictive, and nobody knows why.