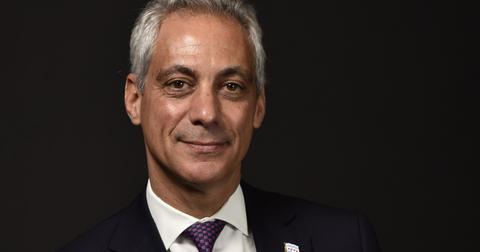 What Happened to Rahm Emanuel's Middle Finger? Here Are the Gory Details
By Leila Kozma

Updated
As an on-air contributor at ABC News, Rahm Emanuel frequently shares his take on the most important issues in politics, including the forthcoming presidential elections or the role local governments play in tackling the coronavirus pandemic.
What most people are likely to be unaware of is that the former Chicago mayor suffered a dreadful injury long before his career began. We investigate: What happened to Rahm Emanuel's finger?
So, what happened to Rahm Emanuel's finger?
As the most eagle-eyed viewers have probably noticed, Rahm is missing the middle finger on his right hand.
As he explained in a previous interview with Eater, the beauty flaw was the result of a workplace accident gone horrendously wrong. As a high-schooler, he used to help out at an Arby's restaurant — until the catastrophe took place.
One day, while cleaning the meat slicer, Rahm lacerated his long finger.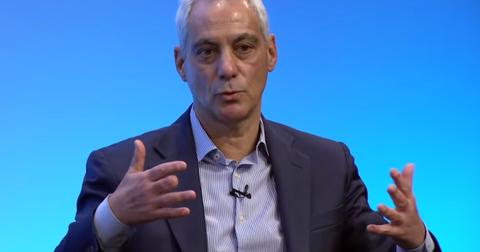 He kept silent about it, thinking he would be able to get the injury looked at after the high school prom he was longing to attend was over.
Things didn't go to plan, however, as he developed a severe infection.
"I ended up with two blood infections, two bone infections, gangrene," Rahm told Eater, adding that "two week[s] in the hospital, a 105 fever, and was about one day away from looking at the other side of the ledger."
The finger had to be amputated.
Rahm Emanuel's finger comes particularly handy for those eager to criticize his work as a politician.
The former Chicago mayor garnered scrutiny for his failure to meaningfully address issues like police brutality or the shortcomings of Ventra, the city-wide transport system introduced in 2013.
According to a previous article by The New Yorker, the politician maintains close ties with various Republican donors. Take, for instance, Bruce Rauner, who helped him land a job as an investment banker at Wasserstein Perella in 1998.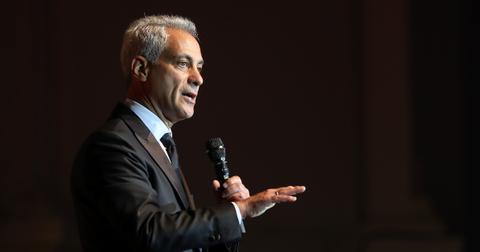 His unparalleled ability to carry out successful fundraising campaigns — he famously helped raise $72 million during the 1992 elections — and his broad network of connections within the banking sector earned him criticism as well.
Rahm's middle finger tends to come particularly handy for those eager to attack him for his shortcomings as a politician.
The missing digit has become a talking point within leftist circles, with some venturing so far as to appraise Arby's restaurants as the place where Rahm endured the horrid injury.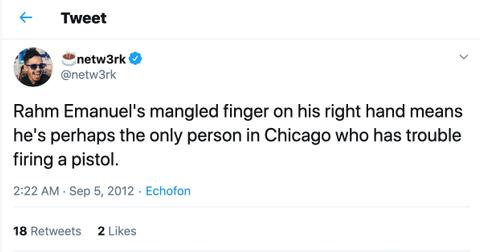 "Arby's may not have the best fast food but I'll always support them for: 1. having good curly fries 2. causing Rahm Emanuel to lose a finger," tweeted a person.
"Rahm Emanuel's mangled finger on his right hand means he's perhaps the only person in Chicago who has trouble firing a pistol," remarked someone else.
"Watching #Chicagoland, you realize that Rahm Emanuel's finger is on the pulse of the city. You just wish that finger was still attached," wrote someone else.
"Have been asked to limit political speeches over dinner w/ friends 2nite. Like Rahm Emanuel's loss of middle finger, will be rendered mute," tweeted another person.