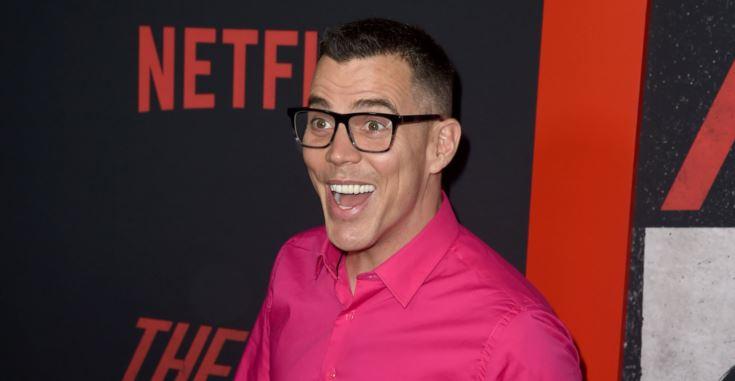 'Jackass' Star Steve-O Shows His Softer Side on 'Hollywood Medium'
Here's what happened to Steve-O's voice over the years, plus, check out a clip of the 'Jackass' star on 'Hollywood Medium'
Known for his insane and (sometimes) frightening pranks, we're sure the name Steve-O resonates with you, especially if you (like us) were watching MTV in the early 2000s. The reality star was always a standout in the group because of his signature grin and his voice. Yes, his tone has certainly been fan favorite, though some may question what happened for his voice to have such a raspy pitch.
Article continues below advertisement
His tone reflects his turbulent past, as he's previously opened up about former drug and alcohol abuse issues. In a 2016 interview with GQ, Steve-O (real name: Stephen Glover) revealed the incident in which he was at his lowest point.
"I struggle to believe how I got to a place where I'm in this f--king drug dealer's place... I was scraping up blood and cocaine, and I f--king snorted it," the 44-year-old told the outlet. Now sober, the comic will soon be continuing his comedy tour throughout the summer and fall.
Article continues below advertisement
While the Jackass star is usually known for making fans laugh, audiences will soon get to see a more vulnerable side. In the next episode of Hollywood Medium, Steve-O gets a spot-on reading from Tyler Henry about the trauma his late mom suffered.
Article continues below advertisement
In a brand new preview clip, Tyler explains to the daredevil that he's seeing a "decline" in her life that took place during an incident that happened before her passing.
Steve-O is visibly shaken as he says, "The point of decline was five years before mom died." The reality star continues to explain that his mom suffered an aneurysm and her then-partner "failed to call for an ambulance" immediately, which left her "physically and mentally disabled."
Article continues below advertisement
Steve-O added, "That pain that she was in…I still can't really handle that very well. I have a lot of personal trauma over the pain and suffering that my mom went through."
Steve-O also suffered a gruesome ear injury. 
Just because the show Jackass is over, that doesn't mean Steve-O is done pulling off insane stunts for the sake of comedy. Most recently, fans were left (very) grossed out after the reality star posted a picture of his tattered ear after shooting a stunt in October.
"Last night in my quest to get #CauliflowerEar, something weird happened and I ended up needing stitches," he captioned the gruesome shot. "I put a bunch of glue on it instead, so we could keep filming, then we had another total freak accident and I had to keep piling on more glue to close it again [sic],"
Article continues below advertisement
Instead of going to the hospital to seek medical attention, Steve-O hopped on a plane to his next gig. No, we're not kidding.
"Now I'm off to Columbus, Ohio, where my shows are already sold out," he continued, "it's really the next level of stupid...[sic]"
Watch new episodes of Hollywood Medium With Tyler Henry Thursdays at 8 p.m. EST on E!.