What Happened to Tekashi 6ix9ine's Arm? He Says He Tripped Over His Dog
Rapper Tekashi 6ix9ine posted a video on Instagram that shows him getting a cast on his arm. Fans are wondering what happened to him.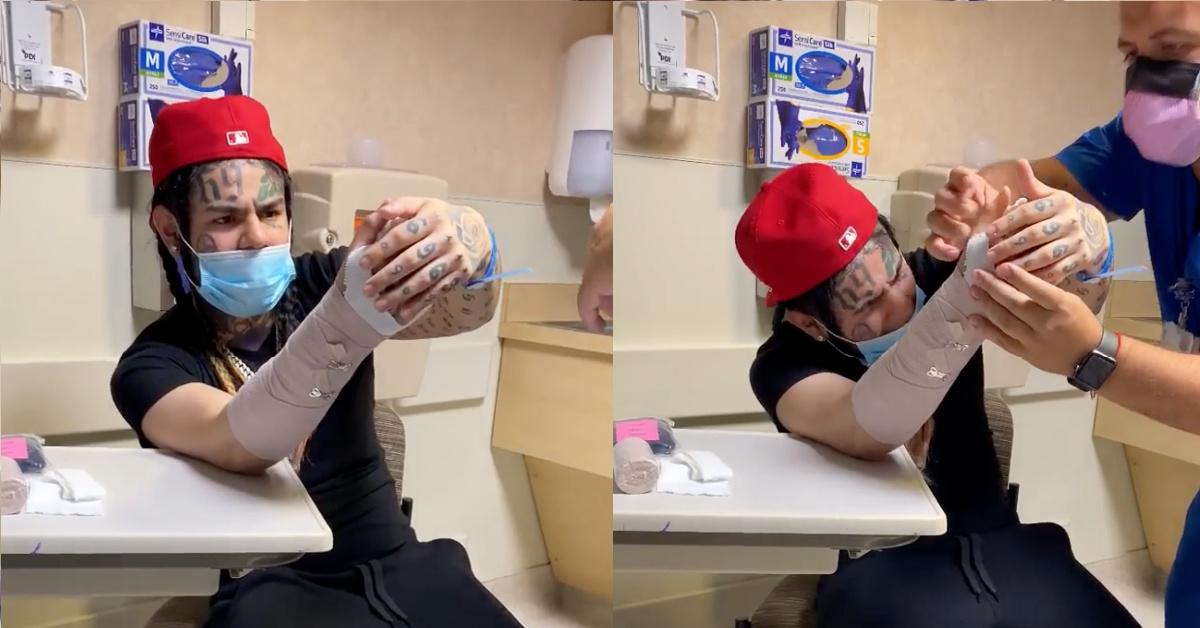 It's already been quite an eventful month for Tekashi 6ix9ine. For the first time in 21 months, he's officially free, having been released from home confinement at the beginning of August. He's spent his newfound freedom visiting places around New York, always accompanied by his new security team (and often with huge stacks of cash, too).
Article continues below advertisement
At least on social media, Tekashi 6ix9ine appears to be having a pretty good time — but it's not all fun and games. He posted a video on Instagram that appeared to show him at a hospital getting a cast put on his arm and wincing in pain. Naturally, people are wondering what happened. Here's what we know.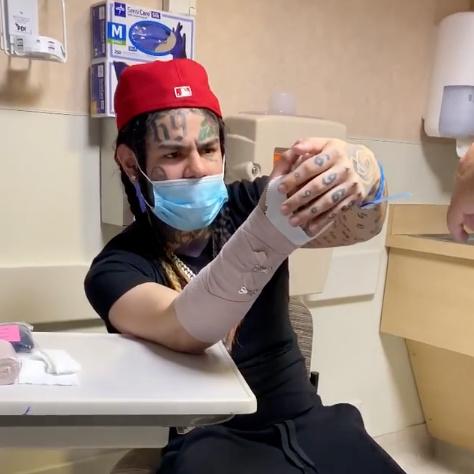 Article continues below advertisement
What happened to Tekashi 69's arm?
As soon as Tekashi 6ix9ine (whose real name is Daniel Hernandez) posted the video of him in the hospital on Instagram, people flooded the comment section wondering what had happened. The caption on the video was pretty cryptic — it just said, "[I] got caught lacking in these streets :/." Not a lot of info!
Luckily, TMZ apparently has something of an inside scoop. They reported that Tekashi 6ix9ine's hospital trip was the result of a truly bizarre accident in his home. Apparently, he was going downstairs around 3 a.m. to get something to eat when he tripped over his 1-year-old French bulldog, poppy. His hand got caught in the stairway banister as he tried to break his fall — and he broke a bone in his wrist instead.
Article continues below advertisement
Apparently, he went back to bed, but when he woke up the next morning and his wrist still hurt, he decided to head to the doctor. There, x-rays revealed he had fractured his wrist — thus, the cast. He'll reportedly spend the next three to five weeks in the cast. Luckily, it doesn't appear as though he'll have to get one of those super uncomfortable fiberglass casts. That's something, right?
Article continues below advertisement
Some people might use a recent injury as an excuse to stay home and take it easy, but after spending nearly two years in either prison or under house arrest, we're guessing that option doesn't much appeal to Tekashi 6ix9ine. Shortly after sharing the video of him getting his cast put on, he posted another video of a crowd gathering around him during another one of his outings in NYC.
Many think 6ix9ine should at least consider laying low rather than appearing to brag about all of his many NYC adventures. For one, his reputation as a snitch could very well mean there's a target on his back (hence the many security guards who also follow him around on his excursions). Let's not forget there's also the whole pandemic situation to consider. The trip to the hospital to get a cast was probably necessary. The rest of his adventures, though? Mm, maybe not so much.
Article continues below advertisement
Judging by his social media posts, 6ix9ine really, really wants people to know one thing: He's not afraid. His wrist may be broken, but his ego doesn't seem to have taken a hit.