YouTuber Annabelle Ham Died at Only 22 — What Happened?
College student and YouTuber Annabelle Ham has been the subject of tragic online rumors, but what actually happened to her, and are the rumors true?
Fans of Annabelle Ham were devastated to learn that the popular YouTube star had passed away on July 15, 2023, at only 22 years old. Amid rumors circulating online in recent days, folks are wondering what exactly happened to the Atlanta native.
Article continues below advertisement
Here's what we know about the college student's tragic passing, including the statement that her heartbroken family gave.
Article continues below advertisement
What happened to Annabelle Ham?
The rumors that initially circulated online suggested that Annabelle had been in a car accident. There were also rumors that her death was related to a social media post from Alabama police on July 15 about "a missing person who was last seen walking on the pier at the end of Molokai Lane, located in Fairhope." The message went on to read that officials "located [the] deceased" and "are currently investigating," while "no foul play" was suspected at the time.
That same day, Annabelle's sister had posted to Facebook (per the Daily Mail): "'My sister is missing. We have her phone. She might have fallen off pier."
Annabelle had reportedly been at a bachelorette party in Fairhope when she was reported missing.
Then, on July 18, 2023, Annabelle's family posted a message to her Instagram page, shedding more light on the tragic situation.
Article continues below advertisement
"This is Annabelle's family," the post began. "We're writing this with heavy, heavy hearts. Annabelle experienced an epileptic event and has gone on to the gates of heaven. She struggled with this for a long time and wanted to raise awareness for it, which we will do in honor of her."
Article continues below advertisement
The family's statement continued: "Annabelle was beautiful and inspiring and lived life to the fullest. Everyone she met was inspired by her energy and the light inside her soul that shined so bright. She was, and will forever be, so so loved. We're asking for your prayers of peace for her family and friends during this difficult time, and to allow all of us the chance to grieve and work through this as a family."
The statement concluded with a request that folks refrain from spreading rumors about Annabelle's passing: "Please don't post or spread speculation or details that are unfounded. There will be a time to share more details and to go deeper into her life. Her accounts will be used to share what she went through and the joys she brought to all of us. Unnecessary comments only serve to hurt us all, this is a time for remembrance and mourning. Thank you."
Article continues below advertisement
On July 18, the Alpha Omicron Pi fraternity, which is affiliated with Annabelle's sorority Beta Zeta at Georgia's Kennesaw State University, posted a tribute to Annabelle as well.
Article continues below advertisement
"Alpha Omicron Pi is mourning the loss of Annabelle Ham, Beta Zeta (Kennesaw State U), who passed away on July 15, 2023," the post read. "Annabelle lived a vibrant life, brought smiles into every situation, and was cherished by all who knew her. Our sisterhood is completely heartbroken for the Ham family and for a beautiful life tragically cut short."
"The Fraternity will share more details as available regarding how to honor Annabelle's life, how to support the sisters of the Beta Zeta Chapter during this time of grief, and instructions for the formal draping of the badge to honor our sister," the statement concluded.
Following the news of Annabelle's death, many wanted to pay tribute to her, and did so by posting to her Instagram page.
Article continues below advertisement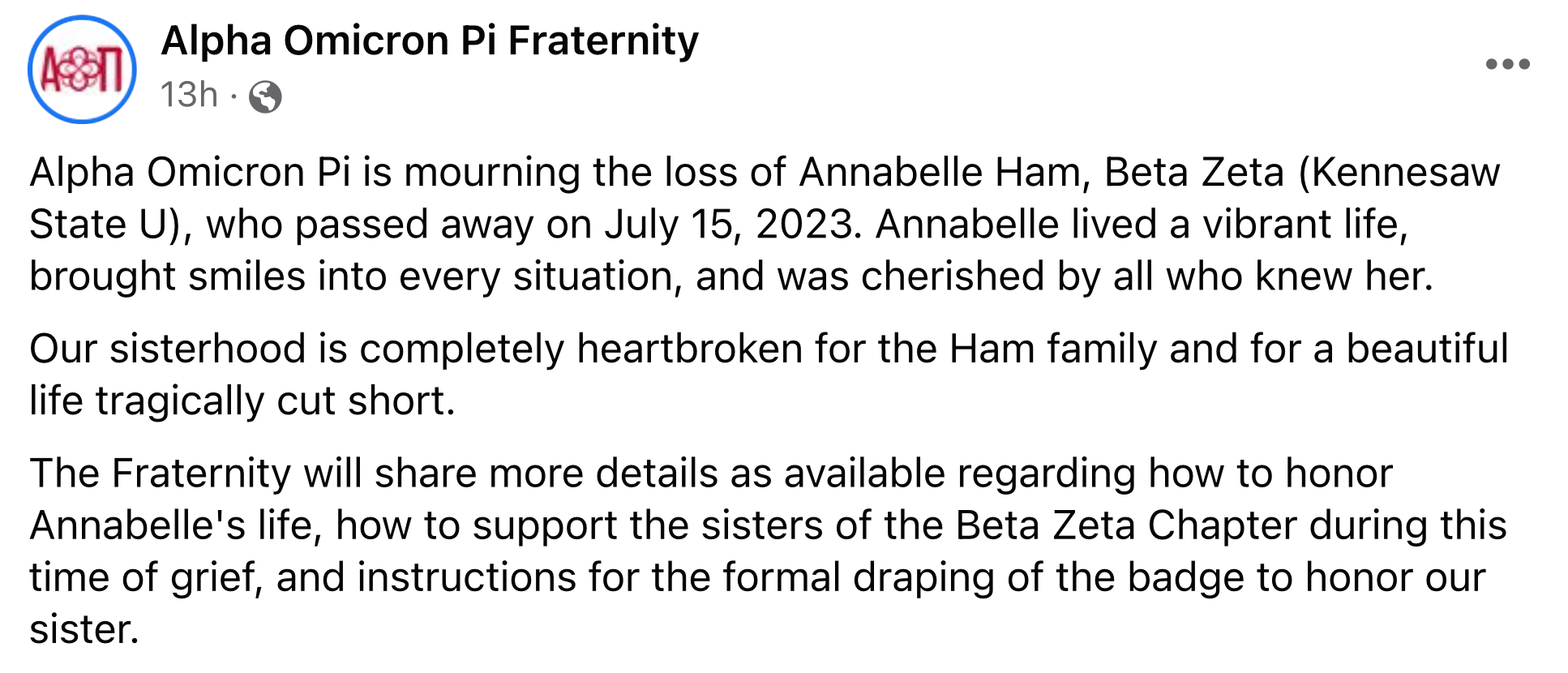 Tributes poured in following the news of Annabelle's death.
In the comments on her most recent Instagram post, fans, friends, and followers wrote tributes that discussed how much she meant to each of them.
"Rest in peace, angel. You made an impact in so many lives, including mine. I loved watching your videos, they always brightened my days," one person wrote.
"Love you AB. I will see you again some day. I miss you so much," another person added.
Annabelle was a content creator in addition to being a college student, and her Instagram page had more than 70,000 followers at the time of her death. Given the fact that she was still in college, it's only natural to feel deeply saddened by how young she was. Her family and friends are certainly in mourning, as are those who only knew her through her videos.