Unable to Watch Your Favorite TV Shows on COZI-TV? This Is What's Causing Trouble
What happened to COZI-TV? Some viewers have been unable to keep up with their favorite programs on the channel. Fortunately, we have a solution.
NBCUniversal launched COZI-TV on Jan. 1, 2013. Originally intended as the replacement of the Nonstop Network, the multicast channel earned popularity with its curated selection of cult-classic shows and local programming.
Unlike most free channels, COZI-TV aired fan-favorite shows like Charlie's Angels, The Bionic Woman, and Magnum P.I. So, what happened to the channel? Why do some viewers struggle to access it?
Article continues below advertisement
Having trouble watching COZI-TV? Here's what might have happened.
COZI-TV is available nationwide. Viewers only need an antenna to enjoy fantastic TV shows like Will & Grace, The Nanny, or Frasier from the comfort of their homes.
In addition, the channel is also accessible for FuboTV, YouTube TV, and Hulu + Live TV subscribers, and those with an Orby TV receiver.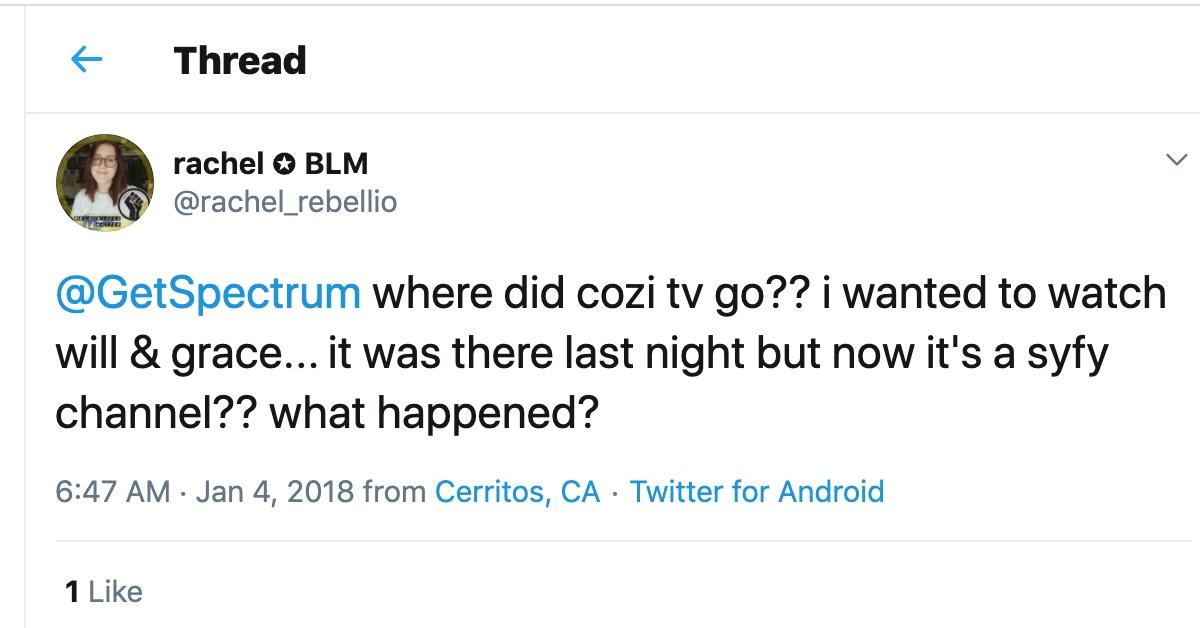 Article continues below advertisement
However, dozens of viewers have voiced complaints on Twitter about unexpected difficulties over the years.
"@COZITV What happened to Cozi TV in Vegas...its not on channel 123 anymore [sic]," wrote a person in January 2016.
"@TWC_Wisconsin What happened to Cozi TV that was on channel 991? I liked Cozi TV," tweeted a person in January 2017.
@GetSpectrum where did cozi tv go?? i wanted to watch will & grace... it was there last night but now it's a syfy channel?? what happened?" wrote somebody else in January 2018.
"@41actionnews what happened to cozi tv over antenna? Used to be 41.2 but now it is grit," tweeted another viewer in February 2020.
Article continues below advertisement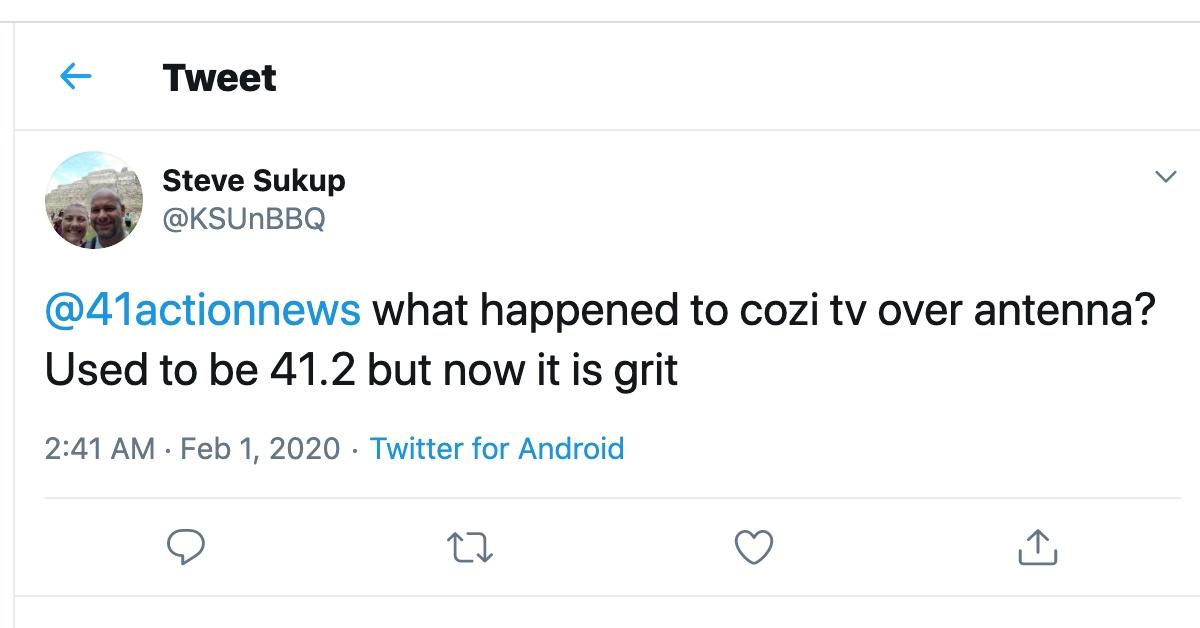 According to NBC Philadelphia, frequency changes are one of the main reasons some viewers might experience temporary disruptions or even find themselves unable to access their favorite shows.
As the outlet reveals, this difficulty is easily remediable. The antenna has to be rescanned — which, in theory, should rectify all complications.
Article continues below advertisement
Larger-scale broadcast transitions can yield to irksome problems as well. According to the Federal Communications Commission, a number of channels have changed their frequencies over the past few months. Broadcasters are required to give notice of the modifications at least 30 days before they take place.
However, some viewers might have forgotten about rescanning their antennas in a timely fashion, which could have aggravated the situation further.
Article continues below advertisement
"Relax. @NBCDFW is not gone. We've had a few messages today from some of our clients who are new to the Dallas/Ft. Worth area. NBC 5 and COZI-TV have moved to a new frequency. If you're using an over the air antenna for TV reception you just need to rescan," a Texas-based real estate company reassured its clients via a tweet posted on May 31, 2018.
It's worth bearing in mind that antenna users are the most likely to experience unexpected difficulties. Those with a YouTube TV, Hulu + Live TV, or FuboTV subscription should be able to enjoy the programs available on COZI-TV without any disruptions.
'The Nanny' and 'Frasier' are just some of the programs currently available on COZI-TV.
At present, COZI-TV broadcasts shows like Charlie's Angels and Emergency in the morning hours and programs like The Munsters or Roseanne in the afternoon.
It's the perfect channel for those eager to throw a good, old-fashioned movie marathon — or anyone with an unceasing appreciation of the classics.